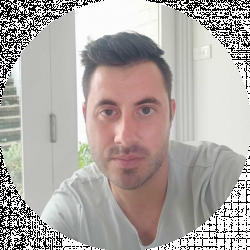 Latest posts by David Borgogni
(see all)
hildren used to love playing outdoors, but nowadays, they tend to stay indoors and play video games if they're not encouraged to spend time outside. Aside from providing them with a reason to stay away from gaming consoles and computers, getting one of the best kids ATVs might make your child feel more confident.
These vehicles are available for children of all ages, as you can find models designed for toddlers or teenagers. Hence, kids' ATVs can help you find a way to spend more time with your children or spark their interest in physics or mechanics.
The model you pick needs to be adjusted to your child's age and ability to control a vehicle. So, in this guide, I am going to show you how to find the best kids ATV and suggest several models that might be the right choice for your child.
Read our guide to the best ATVs to find out more about these off-road vehicles.
What is a Kid's ATV?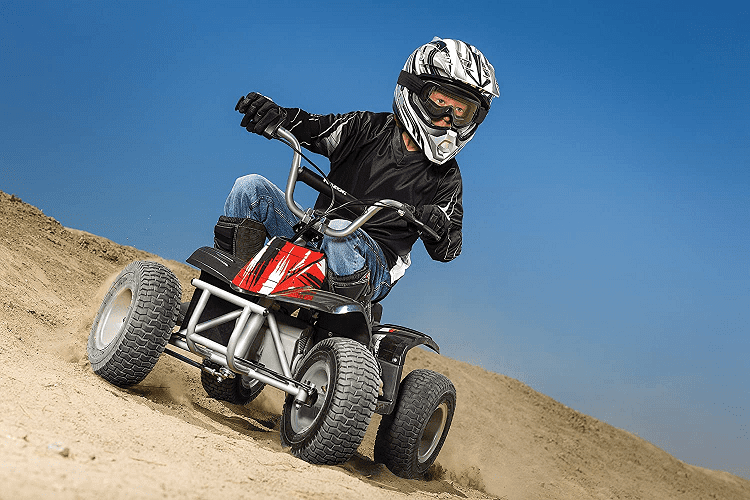 As implied by their name, all-terrain vehicles are designed for dirt roads and off-road conditions. Consequently, ATVs have powerful engines that offer up to 700cc displacement and develop speeds up to 100 mph.
Kids ATV are equipped with less powerful engines that have displacements in the range between 50cc and 120cc. Most manufacturers advise against allowing children under the age of 11 to drive ATVs equipped with engines that have over 70cc.
Despite the fact that brands like Kawasaki or Polaris offer kids ATVs that have engines with displacement above 100cc, these vehicles can be too powerful for children under the age of 16.
Also, the dimensions of ATV aimed at children are adjusted to their age group, so models for six-year-olds are considerably smaller than the models designed for kids older than 12. Check out our Kawasaki Mule Pro FXT review if you're looking for a utility terrain vehicle.
Types of Kids ATVs
You're going to encounter terms like quad or four-wheeler during your search for a kids ATV. It is important to know that each of these terms denotes off-road vehicles that have four wheels.
So, kids' ATV with four wheels can sometimes be labeled as a quad, while a model equipped with a four-wheel drive and as many wheels are usually referred to as a four-wheeler. A model that has three wheels will commonly be labeled as an ATV.
Depending on the type of fuel they use, kids' ATVs can belong to one of the following categories.
Electric
ATVs equipped with electric motors can't run continually for more than an hour or develop speeds over 10mph. These properties make them a great choice for children that want to learn how to ride an ATV. The only downside of electric models is that kids outgrow them quickly.
Gas
These ATVs are designed for specific age groups, as models aimed at six-year-olds have 50cc engines, while gas-powered ATVs for 14-year olds can have motors capable of developing speeds up to 25mph.
Go through our Yamaha Kodiak vs. Grizzly comparison to learn more about the differences between ATVs from these two series.
Getting the Kids ATV Sizing Right
Allowing a child to ride an ATV that is too big for them can be dangerous, as they won't be able to control the vehicle properly. Also, you shouldn't allow children under the age of six to ride a gas-powered ATV with an engine that has more than 50cc displacement.
Instead, you should consider getting a model with an electric engine with a speed limit if your child is still too young to ride regular kids' ATVs. But, first, let's go through the parameters you need to check to determine if your child is tall enough to ride a specific ATV model.
Leg position – Your child must be able to place each foot on the vehicle's pegs, while the knees must be at a 45-degree angle. Also, the thighs should be parallel to the arms.
Grip reach – The length of the child's arm must be sufficient to reach the vehicle's grip while sitting in the upright position. An ATV is too big for your child if it has to lean forward to reach the grip.
Turning reach – In case a child cannot turn the handlebars from one side to the other while keeping both hands on them and maintaining control of the brake and throttle, you should consider a smaller model.
Brake reach – The fingers should be extended beyond the brake lever once the hands are placed on the handlebars.
Browse through our guide to the best ATV tires for snow to find out how to prepare an ATV for extreme winter conditions.
Kids ATV Engine Sizes and Fuel Consumption
The laws and regulations for ATV riders aren't the same in all states, as in some parts of the country, children aged ten or older are allowed to ride these vehicles if an adult supervises them with an ATV license.
However, some states don't allow kids younger than 16 to ride ATVs and require a safety certificate. Also, the Consumer Product Safety Commission has put together a safety guideline that recommends specific engine sizes for different age groups.
Children younger than six years old – It is not safe for children in this age group to operate ATVs with engines larger than 50cc. Ideally, you should choose a model that has a 30cc or 40cc electric motor if your child is six years old or younger.
Children aged 6 to 11 – The recommended engine size for children younger than 11 years old is 70cc.
Children aged 12 to 15 – The kid's quad or ATV shouldn't have an engine larger than 90cc if your child is between 12 and 15.
Teenagers over 16 – Although there are no restrictions in engine size for youths in this age group, you shouldn't allow your child to operate an ATV with an engine larger than 120cc.
The fuel consumption of kids ATVs depends on the engine they have, and in most cases, these vehicles can cover more than 20 miles on a single fuel tank. Go through our guide to the best ATV gear if you want to ensure that your child is safe while riding an ATV.
Safety Features and Parental Controls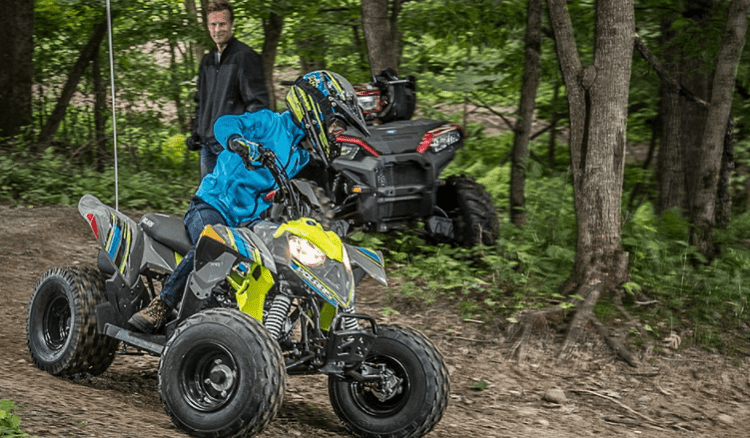 ATV accidents are common because controlling these vehicles can be challenging even for an experienced rider. That's why kids ATV have a variety of features designed to keep a child safe.
Getting a four-wheeler equipped with parental controls will enable you to switch off the engine in case your child loses control of the vehicle. This feature also allows you to set a speed limit and prevent a child from riding at the ATV's maximum speed.
Some kid's quads and four-wheelers feature a safety string that attaches to the child's clothes and switches off the engine if a child falls off the vehicle. However, you shouldn't opt for a model that doesn't have a safety belt, especially if your child is still learning how to ride an ATV.
Check out our guide to the best GPS systems for ATV trail riding to find out how you can use these gadgets to increase your child's safety.
The Most Important Factors to Consider While Choosing a Kids ATV
Approaching the kids ATV market can be challenging if you're not familiar with the performance capabilities of different types of ATVs.
Your child needs to have the physical strength and the coordination to operate these vehicles, so getting a model that is too powerful for your child's age can jeopardize their safety.
Also, you shouldn't get a kids ATV that is too big for your child, hoping that they will grow into it because they might struggle to control it. I've shortlisted some of the key aspects you need to take into consideration while searching for a new kid's ATV, so let's take a closer look at them.
Child's Age
The model you choose should be suitable for your child's age, and you shouldn't get an ATV aimed at 11-year olds if you're child is only 9. The easiest way to check if your child can ride a particular ATV is to look at its engine size.
You should also pay attention to the child's height since an ATV might be too big for them, even if it's designed for their age group.
Moreover, your child needs to be strong enough to handle the vehicle in off-road conditions. That's why checking the model's weight can help you determine if it's a good choice for your child.
ATV's Maximum Speed
Youths are prone to speeding, but riding an ATV at a high speed often leads to accidents. Most ATVs for kids under the age of 12 can't develop speeds above 30mph. Models aimed at children older than 14 usually have the maximum speed in the range between 20mph and 40mph.
Opting for a model that has parental controls will enable you to limit the maximum speed the vehicle can achieve and prevent your child from riding too fast. Moreover, this feature allows you to gradually increase the vehicle's speed limit as your child becomes more confident in operating the vehicle.
Three-Wheeler ATV vs. Quad
Regardless of how big or small they are, all ATVs have stability issues. Keeping control of three-wheel models is challenging even for an experienced rider since turning or adjusting to the terrain requires excellent skills.
That's why you should get a quad or four-wheeler ATV for your child, especially if they still have to learn how to ride these vehicles. Moreover, using an ATV on a paved road enhances the stability issues because their tires are designed for rocky terrains and dirt roads.
Protective Gear
You shouldn't allow a child to ride an ATV without protective gear, even if they're using a model with an engine smaller than 50cc. That's why besides a quad or a four-wheeler, you must also get a helmet, goggles, and gloves.
In addition, your child must wear long pants and a long-sleeved shirt or a jacket to avoid injury in case of an accidental rollover. It is also important to wear appropriate boots that will protect the feet from the gravel and the heat generated by the engine.
Price Range
All major ATV brands also manufacture youths and kids versions of these vehicles. Polaris, Kawasaki, or Suzuki produce some of the best kids ATVs on the market, but models manufactured by either of these brands can cost you thousands of dollars.
Companies like X-Pro or Dirt Quad offer more affordable models priced under $1000. Knowing the price range, you're aiming for can help you narrow down your choices and find the model that fits your child's expectations and your budget.
The Advantages of Kids ATVs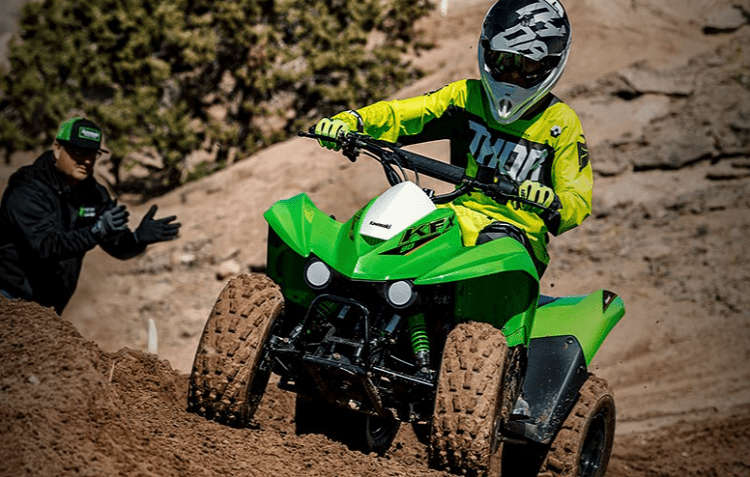 Encourages Children to Spend More Time Outdoors
Kids ATVs allow children to be more adventurous and to spend more time away from phone or computer screens. Even toddlers can use some versions of these vehicles to play in the backyard.
Teaches Children Responsibility
Taking care of an ATV at an early age can help children develop a sense of responsibility. Besides learning how to ride a quad responsibly, children also learn to take care of their safety and the safety of others.
Inspires a Competitive Spirit
Participating in ATV races teaches a child to be competitive, but it also fosters sportsmanship. Your child can start competing at the age of six, which provides you with an opportunity to teach them about the importance of healthy competition.
Parents Spend More Time With Their Children
Children cannot use ATVs unsupervised, as they can only ride these vehicles in the presence of someone who owns an ATV license. This creates a platform for parents to spend more time with their children, enjoying their favorite outdoor activity.
Fosters Socialization
Permitting your child to join the local ATV club will put them in contact with children that share the same interests. Forming friendships with children that enjoy riding ATVs can make your child feel more confident and encourage them to be more social.
The Disadvantages of Kids ATVs
Children Outgrow ATVs Quickly
Quads and four-wheelers for children are designed for specific age groups, and they have dimensions that fit the average height of each age group. However, your child won't be able to use the same ATV before the age of 15 for more than two to three years because they will outgrow the vehicle.
Kids ATVs Can Be Very Expensive
You will have to spend a substantial amount of money to get an ATV manufactured by some of the best brands in the industry.
Selection Criteria
There are thousands of kids ATV models on the market equipped with powerful engines and excellent safety features. Aside from the engine's properties, you also have to pay attention to the suspension system an ATV uses, the size of its wheelbase, or the capacity of its fuel tank.
Besides the model's features, I used several other parameters to find the kids ATVs that can meet the requirements of children aged 6 to 16. Here are some of the most important parameters I used to select the ATVs featured in this article.
Engine Size
The models I selected have differently sized engines so that you can choose the option that is best suited for your child's age group. My selection of the best kids ATVs includes models with 2-stroke and 4-stroke engines.
The Number of Wheels
ATVs can have three or more wheels. Due to well-documented stability issues, I decided to exclude three-wheel models as they're prone to rollovers. That's why all kid's ATVs listed in this article are either quads or four-wheelers.
Safety Features
Adjustable speed limiters or safety belts are some of the features I used to select the best kids ATVs.
Top 5 Kids ATVs
An ATV with the largest engine and the best transmission system isn't always the best choice for your child. That's why you should look for a model that will enable your child to improve their riding skills while keeping them safe at the same time.
Children under the age of 16 cause almost a third of ATV accidents. This information shows just how important it is to select a model your child can control regardless of the current road or weather conditions.
I've shortlisted some of the best kid's ATVs on the market, so let's take a closer look at their properties.
Dirt Quad Razor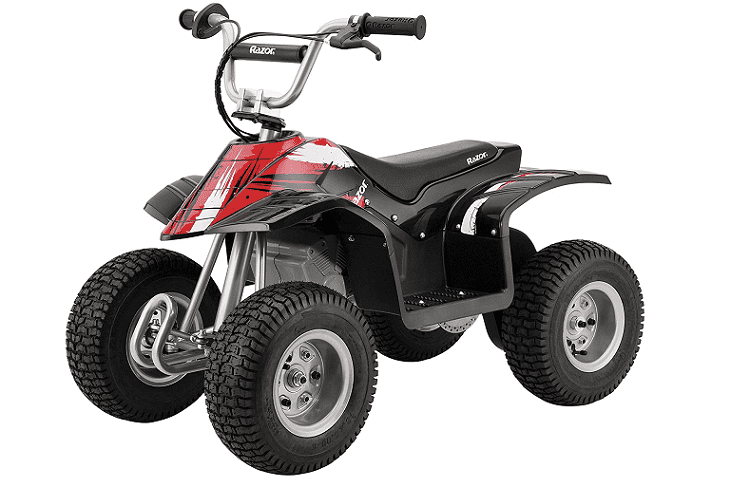 With a maximum speed of 8mph, the Dirt Quad Razor is a great option for children older than 8 years old. This ATV has a 350W variable speed electric motor that is powered by a 24V lead-acid battery.
You can use this Dirt Quad's model for 40 minutes continually, and you cover distances of up to 5 miles on a single charge. The vehicle has 12-inch pneumatic tires, and it utilizes the rear braking and suspension systems.
The ATV has a lightweight construction as its frame is made of alloy steel, while its fairings are made of shatter-resistant plastic.
Polaris Outlaw 110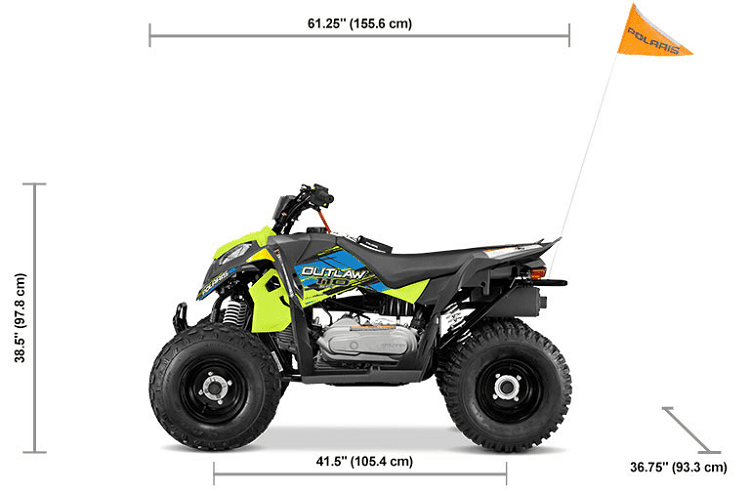 Excellent safety features, a large fuel tank, or a powerful braking system are some of the features that make the Polaris Outlaw 110 one of the best kids ATVs on the market. The 4-stroke single-cylinder engine has 112cc displacement, and it utilizes the electronic fuel injection system.
The Polaris quad is equipped with a 2-wheel drive system that makes steering the vehicle easier and extends its turning radius. Despite this, keeping control of the Polaris Outlaw can be challenging because it weighs almost 280lbs.
The maximum speed this Polaris model can develop is 15mph, but you can use the adjustable speed limiter to prevent your child from riding the ATV at the maximum speed. The Outlaw 100 has stamped steel wheels fitted with 18-inch rear and 19-inch front Duro tires.
Suzuki QuadSport Z50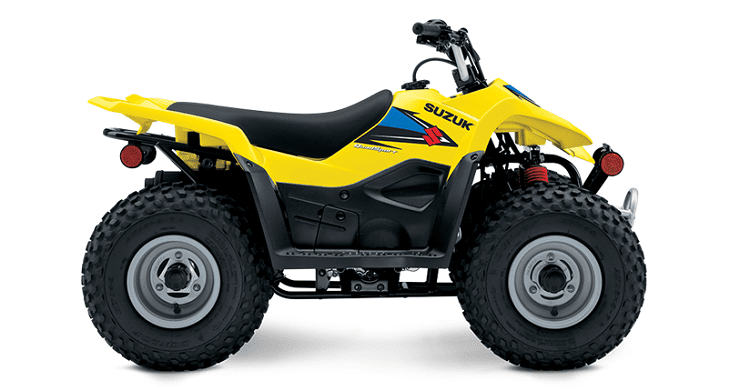 Even though the manufacturer claims that the Suzuki QuadSport Z50 is designed for riders older than six years old, this ATV might be too powerful for young and inexperienced riders.
It has an air-cooled 4-stroke 49cc engine that uses the Mikuni VM13 fuel system, and its fuel tank can hold up to 0.7-gallons of gasoline. Suzuki's model utilizes automatic transmission and a 2WD drive train system.
The Z50 is 50-inches long, while its wheelbase is 32.7-inches wide, and it offers 4.7-inches of ground clearance. The ATV utilizes an electronic ignition system, and it features a tether-type engine-stop switch that enables you to turn off the vehicle during an emergency.
Kawasaki KFX90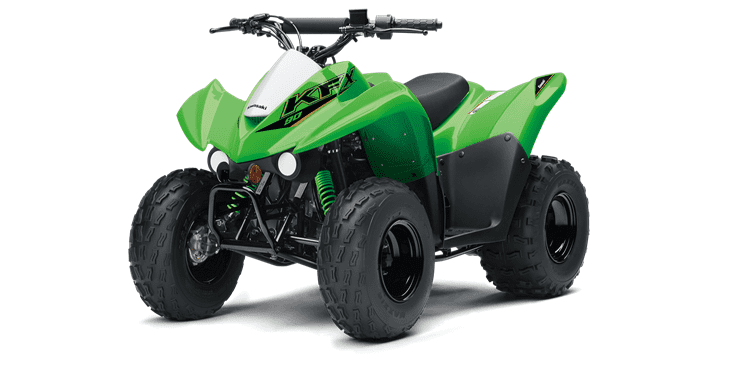 The maximum speed the Kawasaki KFX90 can develop is 15mph. Despite this, the manufacturer doesn't recommend this model for children below the age of 12. The ATV has an 89cc four-stroke air-cooled engine that uses the Mikuni PTE 16 fuel system.
The KFX90 features an automatic transmission system and a 2WD drivetrain. Its rear Swingarm suspension system allows for 2.9-inches of wheel travel, while the Single-A-arm front suspension system offers 2.8-inches of wheel travel.
The model utilizes dual mechanical drums on the front brakes and hydraulic disks on the rear brakes. The fuel tank capacity is 1.5-gallons, but the manufacturer doesn't offer any information regarding the KFX90's fuel consumption.
You will get a one-year warranty if you decide to purchase this kids ATV, with an option to extend the warranty period for 12, 24, 36, or 48 months.
X-Pro 40cc Kids ATV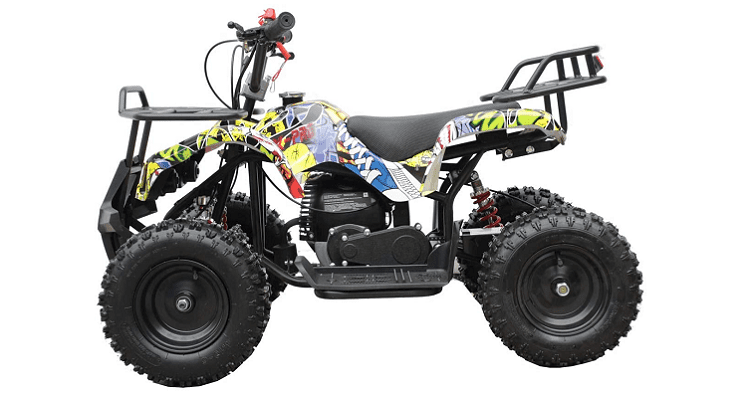 Despite having a 40cc 4-stroke single-cylinder engine, the X-Pro kids ATV can run at speeds up to 22mph. However, its fuel tank can only hold 0.48-gallons of gasoline, limiting the mileage you can cover with this vehicle without refueling it.
The model has a built-in speed limiter that lets you control how fast your child can go, but despite this, its safety features aren't impressive. Also, the X-Pro's ATV can't carry more than 70lbs of weight, making this model only suitable for children under the age of 10.
This ATV comes with a pair of X-Pro gloves, handgrips, and goggles, so you won't have to buy these protective accessories separately.
Frequently asked questions about kids ATVs
Question: How Many Children Can Ride on a Kids ATV?
Answer: These vehicles are designed for just one rider, and taking passengers increases the risk of an accident.
Question: Can You Ride a Kids ATV on a Paved Road?
Answer: Riding ATVs on highways or any other type of paved road is prohibited, and you can only use these vehicles on dirt roads or for off-road riding.
Question: Does my Child Need a Safety Certificate to Ride a Kids ATV?
Answer: In most states, your child won't need a safety certificate to ride an ATV on private property. Nonetheless, you should check the local ATV laws to find out which documents your child needs to operate these vehicles.
Question: Why do Kids ATVs Have Flags?
Answer: Flags increase the vehicle's visibility, and your child's ATV should always have a flag attached to it.
Final Thoughts: Deciding Which Kids ATV is the Right Choice for Your Child
Although most brands don't recommend ATVs for children younger than six years old, you can start teaching your child how to use these vehicles as soon as they turn 4.
The ATV you choose needs to be the right size for their age since a child may struggle to reach the handlebars or the brake lever on a model that is designed for older children.
I recommend getting the Suzuki QuadSport Z50 or the Dirt Quad Razor if you're looking for your child's first ATV. A model like the Polaris Outlaw 110 or the Kawasaki KFX90 might be a better option for you if your child already knows how to operate an ATV vehicle.
I hope that this article has helped you find the best kids ATV for your children. Let me know in the comments or continue reading our guide to the best aftermarket ATV axels if you want to replace the quad's original component.