We're experienced ATV lovers, just like you, so our passion lies in ensuring your ATV experience is the best that it can be. You should only have to spend your hard-earned money on the highest quality products to make your journey more enjoyable, safer, and easier.
However, that's not always possible, especially when you're overwhelmed with buying options that you know nothing about. So many people spend way too much time, energy, and money on things that simply aren't right for them.
That's why, no matter whether you're new to the ATV world or you've been in it for a long time, we offer useful information you can benefit from.
ATV Guyde can guide you to the best ATVs, parts, accessories, and gear. We'll help you decide which helmet is the safest, which ATV is the most rugged, and what accessories you need for every ride. Plus, we'll walk you through how to use and maintain your equipment to make it last longer and perform better.
ATV Guyde offers guidance on how to get the most out of every ride. We have never-ending resources to get you back out on the trail so you can spend more time having fun and less time worrying about whether your gear will hold up when you need it to. You'll find guides to every outdoor adventure, from mudding to trail riding to enjoying your ATV in every season.
How It Works
Before we review a product, we test it for a few months to make sure our reviews are unbiased and honest. We don't base our reviews on one single performance. We evaluate its performance in all scenarios.
You're going to put your ATV through hundreds, if not thousands of rigorous miles and you're going to wear your gear through all kinds of weather, so we make sure it's going to hold up, no matter what your plans are.
We take this approach to every article we write, whether it's a product roundup, review, or comparison. The goal is to give you the information you need before you invest in something you don't need.
We want your rides to be the best they can be, and we don't want you spending money on things that simply won't work for you. You deserve high-quality, reliable products that make your experience safer and more fun.
Depending on the product and how it should be used, we conduct a customized review. However, here's how we approach these reviews to offer you the best:
We find a product that looks interesting, or someone recommends a product they love. We don't accept items from the manufacturer because we want everything to be fair and unbiased.
We test the product in an appropriate environment for a significant amount of time to accurately test its performance. Safety gear will be worn over the course of several months in all situations, and large equipment will be taken out in all weather and all-terrain.
While we test, we keep a log of our personal experience.
Every article is written by the person who conducted the research. We don't take notes and then pass them off for someone else to interpret. We're invested in testing and telling you about it directly.
Every piece is updated as needed to answer questions from the community we care so much about.
You spend every day striving to get the most out of your ATV experience, and you're pretty awesome at it. Your goals of traversing even the most adventurous terrain are closer than you thought. We know you're a person with great dedication and perseverance, and we want to foster your excitement for taking on the highest risk. We're glad you're along for the ride.
Our Core Values
Speed
Adventure
Safety
Trustworthiness
Passion
Excitement
Our Team of ATV Pros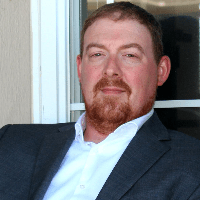 Justin Caldwell – Riding Gear Genuis
No matter if you're looking for reviews on gear, accessories, or parts, Justin wants to be truthful with you. When he isn't writing about ATVs, he's riding his and testing out as many different accessories as he can. He doesn't want you to waste your time and money on ATV parts and pieces that aren't going to work for you. Plus, he's here to share with you how to properly care for your ATV, so you can enjoy riding on your machine for many years to come!
Why am I giving advice on ATV Guyde?
I enjoy getting out on my four wheeler or side-by-side and just cruising. I also like finding new and exciting places to drive and get my adrenaline flowing. It's so much fun!
Where was the first place you went ATVing?
My grandpa owned fifty acres in North Carolina. On the back of the property was a dirt trail that wound through the woods. I'd hop on the back of my cousin's four wheeler and away we would go!
What's your favorite terrain to drive on?
I've always been the type of person who enjoyed riding in the woods. There's just something about finding challenging terrain that really gets my adrenaline running!
What's your all-time favorite ATV?
I'm not beholden to any particular brand, but I really like my Yamaha YFZ450. It's durable, reliable, and fun to ride.
What's your biggest success while out driving?
There's no one certain thing that comes to mind. It's nice to just get outside and disconnect and let go for a few hours.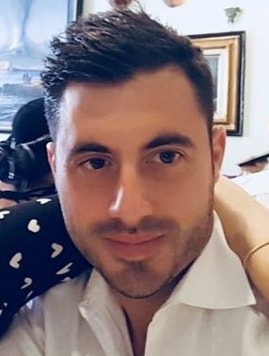 David Borgogni – Passioante Adrenaline Chaser
David's passion in life lies in sharing information about ATVs with those who are looking to pursue their passion for riding. He knows how frustrating it can be to not understand where to get started with an ATV journey, which is why he's sharing all of tips, tricks, and reviews with you here.
There's no question that David can't help answer. He's excited to help get you on an ATV with serious horsepower behind it to help you find the confidence to take on any ATV.
Why am I giving advice on ATV Guyde? 
I like testing the limits of all ATVs I review and sharing my opinions about them with fellow ATVers. Being a part of the ATV Guyde community gives me an opportunity to do what I love the most and allows me to keep up with the latest industry trends. 
Where was the first place you went ATVing?
I started ATVing as a kid at my family's estate in Arkansas. The Joe State Park in Missouri was the first place I went ATVing as an adult. 
What's your favorite terrain to drive on?
I like to drive on all types of terrains, but I enjoy long trail rides the most. 
What's your all-time favorite ATV?
The Polaris Sportsman 570 is one of my favorite models on the market right now, but I also like vintage ATVs like the 1982 Suzuki LT 125 or the 1988 Honda Fourtrax 300 4×4. 
What's your biggest success while out driving?
I consider riding through the Ozark National Forest on the Brook Creek Trail my biggest outdoor adventure. 
Coty Perry – Airtime Champion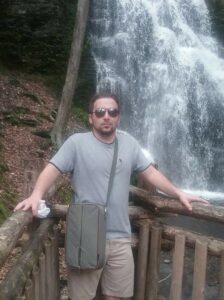 Coty grew up tearing up the dirt road terrain in Pennsylvania. Now that he's grown up, he travels all around the United States just to find new places to ride! While he's always trying to beat his personal best airtime record, he isn't just focused on improving his own riding skills.
A lot of the joy that Coty finds in ATVing is helping other people get started. He wants to help teach you (yes, you) how to feel confident behind the wheel and not fear a rollover.
Why am I giving advice on ATV Guyde?
I grew up riding the dirt roads and trails throughout Pennsylvania. It's something we just did, everyone rode. Now I get the privilege of sharing my experiences with you!
Where was the first place you went ATVing?
I was actually lucky enough to grow up in a dirt road development about 20 minutes outside of Scranton PA. I got on and rode around the neighborhood. I'm pretty sure I went to show off to my friends!
What's your favorite terrain to drive on?
I love wooded trails with a lot of rocks and roots to make it really challenging. Steep inclines and declines…just roughing it. It's an adrenaline rush every time.
What's your all-time favorite ATV?
I'm a Polaris man so I have to go with the Polaris Sportsman 570. 44 horses atop 26-inch tires is perfect for tearing up dirt on backwoods trails.
What's your biggest success while out driving?
I just do it for fun. It's a great way to disconnect from the world for a while. I'm a whole-blooded outdoorsman at heart. Fishing, hiking, camping, you name it.
What are my social media links?
Here's my LinkedIn