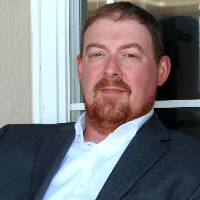 Latest posts by Justin Caldwell
(see all)
Many outdoor enthusiasts purchase ATVs to enhance their riding experience, and they're a popular purchase. Almost anyone can ride an ATV with very little difficulty because they have four wheels and they're easy to balance, whereas a dirt bike is more difficult.
Unless you're careless and drive it into the river or up a tree, it's pretty easy for a beginner to learn. However, it's not necessarily safer, so it does take time to get the hang of it. It's a powerful machine that takes experience and the proper safety precautions to master.
Buying something with an engine too big can be fun, but just as hazardous as driving a car. While four wheels significantly reduce the learning curve for younger people, it's important to study up on the right kind of ATV for maximum enjoyment and safety.
Age and experience will determine the best ATV for you, and there are a lot of options out there from physical ATV size to engine size and options. For instance, it's best to start children on an engine size of 70cc or smaller.
Another important consideration is how you plan to use the ATV. You can hunt, trail ride, race, or work.
Of course, these are all suggestions. Someone with a lot of experience driving a car will find a small ATV quite boring while a green 10-year-old may feel just the opposite. In the case of ATVs, it's always better to go too small than too big.
What is an ATV?
Sometimes an ATV is called a four-wheeler. No matter what you call it, it's the same thing. Ever since three-wheelers disappeared from the market, four-wheelers rose to prominence. They had four all-terrain tires, a robust suspension, and high ground clearance.
With the ability to tackle a variety of rugged terrain, they quickly became some of the most popular off-road vehicles in the world. They have four-wheel drive capabilities and can travel a lot of rough ground like water, mud, rocks, hills, and more.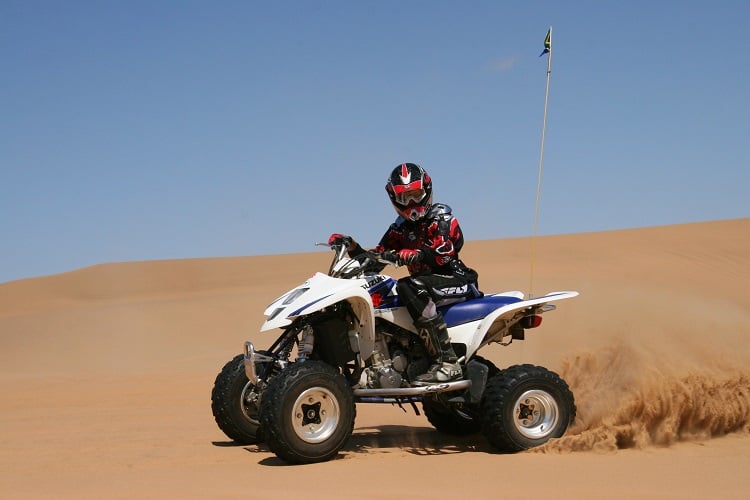 They can also tow and haul large loads over these terrains. An ATV is exactly what it sounds like. It's an all-terrain vehicle that can work and play hard. It opens up a wide world of adventure for serious ranchers and avid players alike.
ATVs can be used in a variety of ways. They include, but aren't limited to:
Recreational trail riding
Lawn care or landscaping
Farming and ranching
General utility tasks
This amazing versatility is what made ATVs so popular. Work and play attracts a wide range of users to the market and allows manufacturers to incorporate many different features that can increase performance and usability.
ATV or UTV?
Many beginners are confused by the terms, so it's time we clear them up. It won't take much time. Both are technically all-terrain vehicles. They are equipped with all-terrain tires and have the features and performance to tackle both work and play.
However, a utility terrain vehicle (also known as a UTV or side-by-side), is larger and better equipped to handle multiple riders. They're safer because they often have bucket-like seats and a roll cage. They have ample storage space and are designed to haul.
ATVs are for single riders and are better equipped to handle quick turns or tight spaces. They're open-air vehicles that demand more physical strength to ride. You have to straddle them and they require balance for more control.
Types of ATVs
There are plenty of different ATV models out there, but they can be broken up into several different categories offering a broad range of options. How much power you need will depend on how you're using it, your age and experience, and how much time you're spending on it.
Youth ATVs will match age will skill while full-size ATVs offer a wider range of options. ATVs for hauling and towing will require more performance, more horsepower, and higher displacement.
However, if the price is something you're worried about and you still want something with plenty of features, you'll want to look into a brand that offers a great value ATV.
Youth ATVs
These are the smallest ATVs, but they still come in a variety of sizes and power options for different age groups and abilities. Small ATVs are a great way to get children interested in the sport while raising awareness of the safety measures needed to ride.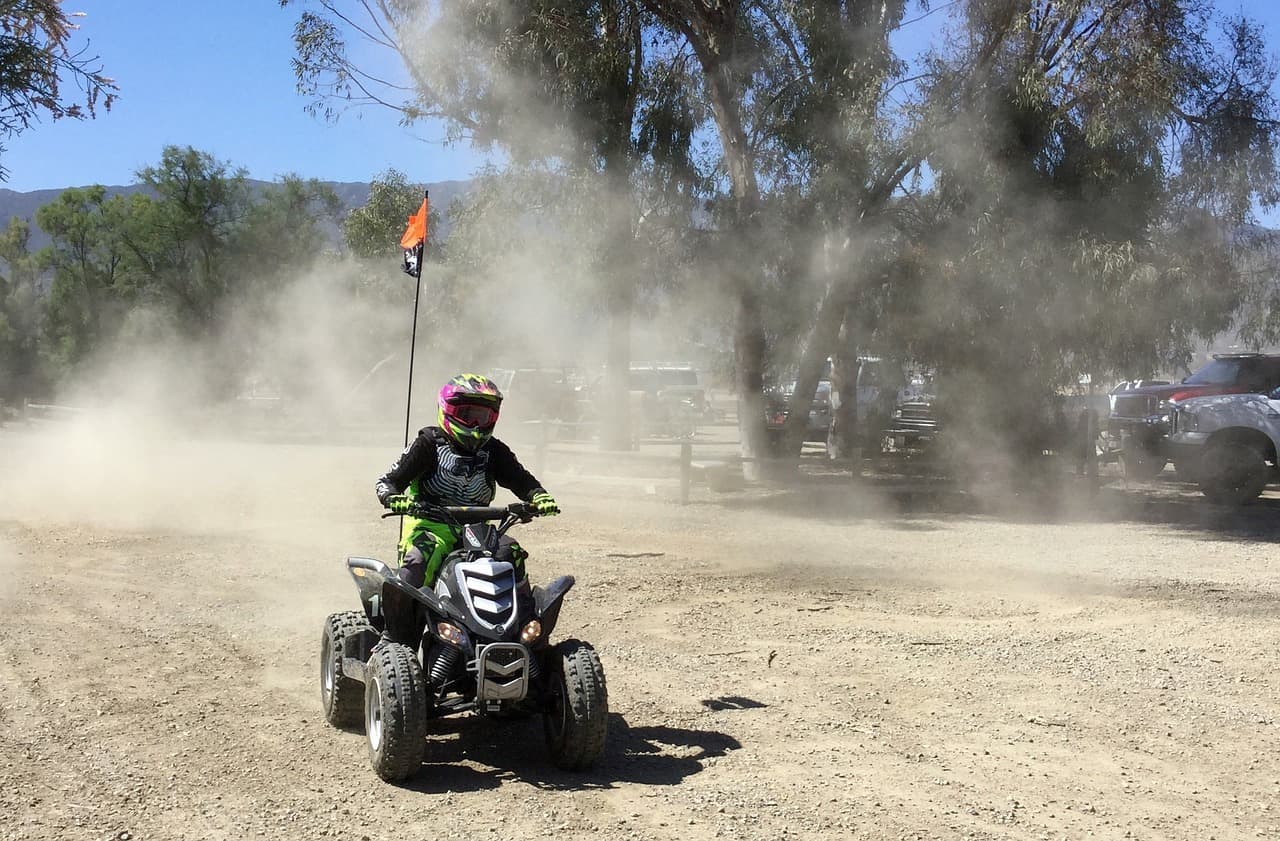 Youth models are smaller, lighter, cheaper versions of full-size ATVs and they're almost all designed for recreational trail riding and play with the family, although some models can be used competitively.
There are even some models designed by lesser-known brands that come at great prices. Engine sizes range from 50cc to 125cc. Here's a good guide for starting your child out on the right ATV:
70cc and under – up to 11 years
70cc to 90cc – 12 to 15 years
125cc to 250cc – older teens and beginner adults
250cc and up – intermediate and advanced riders
Entry-level ATVs
This next step up offers a bigger size and higher price. It's also sometimes called the recreational trail class. They're designed for easy riding and handling. The handling and power aren't excessive.
They sometimes even have automatic transmissions, but even if they require shifting, there's no clutch.
They're excellent for teenagers or adults who've never ridden off-road vehicles before or for people who are physically smaller or don't like to go fast.
However, one thing to be aware of is that these machines can't conquer tough trail situations like boulder fields or muddy trenches like larger ATVs can.
Utility ATVs
Utility ATVs are designed for heavy-duty work like hauling cargo. They have front and rear racks, they can pull trailers, and push plows. They're popular with ranchers and other people who own land.
Utility ATVs are much easier to navigate through gates and other small spaces as well as through rough fields and over large amounts of land. They're more efficient than a large vehicle.
You may also see industry workers or law enforcement use this type of ATV. Hunters, fishermen, and campers also enjoy them.
Four-wheelers are excellent companions for heavy-duty work and rugged play. They cross over easily and can navigate rocks, hills, mud, water, and a whole lot more. They have high ground clearance with excellent traction.
There are also tons of extra features you can look for like electrical outlets, storage boxes, independent rear suspension, liquid-cooled engines, and removable headlights.
Sport utility ATVs
This category has increased the popularity of ATVs more than any other. They combine both the working and the recreational abilities of the machine into one that features both performance and workmanship. They're flexible and versatile.
You could view sport utility quads in a couple of different ways. They're either sporty machines with utility racks, trailer hitches, and four-wheel drive or they're utility quads with longer travel suspension and faster engines.
Digging deeper, what you'll find is that most manufacturers actually base their designs on existing sport or utility models. They'll take a sport model and add utility features or they'll soup up a utility model with a sporty engine.
The greatest thing about this line of ATVs is that you can mow and feed cattle in the morning and then use the same machine in the afternoon to go trail riding.
Sport ATVs
These ATVs were built with only one goal. Speed. They have long travel suspensions and responsive power with a light overall weight and great handling. They're perfect for the track and the trail.
They can hit jumps, slide corners, pop wheelies, and ride through the rough stuff. The most experienced riders will get plenty of exercise by flying through courses keeping their balance and staying mounted.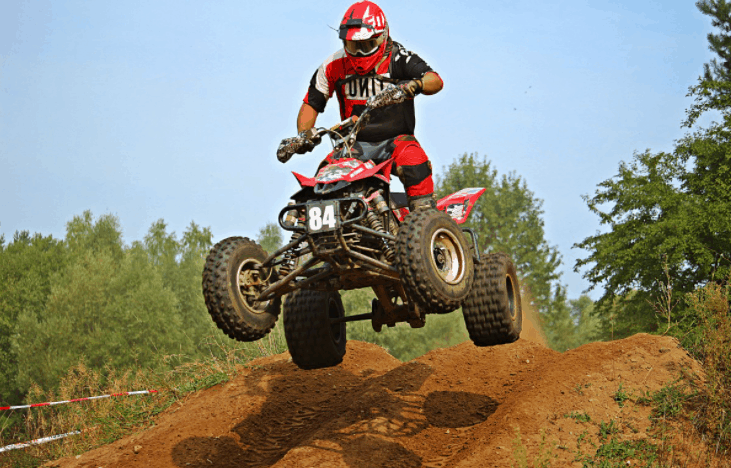 You'll immediately notice a difference in appearance with these machines, too. They have a sportier, more aggressive design. You can modify a sport quad to race in beginner motocross classes and TT races or you can race them in cross-country events stock.
Most of these have five-speed transmissions and manual clutches at the hand. They're more challenging to ride than automatic models, but developing shifting skills will make you a better rider in the long run, especially if you decide to step up to a higher-performing machine.
This class isn't nearly as popular as it used to be, but you can still find some new and quite a few used options out there.
Two-top ATVs
ATVs are traditionally one-rider vehicles, but Bombardier introduced a two-top model in 2002. Since then, Polaris, Can-Am, and Arctic Cat have done the same.
These have a longer wheelbase for more stability, and room for a second rider, of course. They also have a slightly raised back seat and grab bars for the passenger. They also feature another set of footpegs or floorboards.
ATV Buying Guide
There are plenty of things to consider when you're looking at buying an ATV, and while it can be overwhelming, it all boils down to age and experience. What you're going to do with it matters, but those two primary qualifications will get you pretty far.
Being more informed will help you make a much better decision, whether you're looking at pricing, brand, model, or usage. This buying guide should give you the tools you need to recognize the ATV that's right for you.
In addition to the types of ATVs, there are also plenty of different features you may want to identify as useful to you.
Air-cooled vs liquid-cooled engines
This is a relatively simple concept. Engines overheat after they've been running for a long time. Air-cooled engines use – you guessed it – air to cool them. This is a particularly useful thing when you have an open-air machine, which ATVs are.
Most ATVs rely on their motion to cool the engine, which is highly effective, making the machine cheaper to build. They're built with external cooling fins on the cylinder that direct airflow right where it's needed. The primary benefit of an air-cooled ATV is that it allows manufacturers to build a smaller, cheaper unit.
Liquid-cooled, or water-cooled engines, use antifreeze and water to keep the engine cool. They work by pumping the coolant from the radiator to the cylinder. It's the same way a car works, but on a smaller scale. However, what this means is that your ATV not only needs a radiator, but it costs more to build (and likely to buy), and it's larger and heavier. This system is handy when the ATV travels at slower speeds and there's not as much air.
This system is better at cooling all the time, not just when the machine is moving. It can prevent overheating and helps the engine deliver stronger, more consistent power. The overall life of your engine will be increased as well.
Electronic fuel injection
Most sport utility ATVs have this feature. It eliminates the need for a manual choke, making it much easier to start in cold weather or if the engine overheated. This feature uses computer sensors to tell the system exactly how much fuel to send to the carburetor.
It allows the engine to work at its full potential without elevating the temperature, causing misfires, flooding the engine with too much fuel, or choking it out with too little fuel.
One cylinder vs two cylinders
It used to be that single-cylinder ATVs were all you could get. Now, two-cylinder four-wheelers are readily available. The primary advantage of a two-cylinder ATV over a single-cylinder model is more power with the same engine displacement.
A two-cylinder engine of the same size will also rev more quickly, but it will be heavier.
Automatic vs manual transmission
Like most cars, the vast majority of ATVs on the market today have automatic transmissions. They're as easy to drive as the car you drive every day. They have a variable clutch and a belt-drive system similar to what's found in a snowmobile.
Some manufacturers have built these automatic transmissions that are easy to drive on the outside but have complex gear-driven systems on the inside.
The benefit to these systems, while heavier and more expensive to make, is that they're more reliable and won't be affected by deep water. They also don't emit as much heat as belt-driven systems.
If you choose a manual transmission, there are two types. There's a traditional five or six-speed that has a manual hand-clutch or a system that has an automatic clutch. The manual clutch is more popular on racing ATVs and dirt bikes.
The clutch is operated by your left hand while you shift with your left foot. It allows you to control your RPMs and traction more precisely. Learning how to drive a manual transmission can be tricky, but it's beneficial in the long run.
Chain-drive vs shaft-drive
This isn't something most riders will concern themselves with. Shaft-drive ATVs require very little maintenance, and this is what almost all ATVs come with, and it's what most riders will want.
Chain-drive systems are lighter and much less expensive to make than shaft-drive systems. You can change the gear ratios easily, but it doesn't matter much unless you plan to race your ATV.
However, these types of drive systems require a lot more maintenance and they can decrease your ground clearance, leaving you vulnerable in rocky or muddy situations.
Rear suspension systems
There are two primary types of rear suspension systems on ATVs. It might be boring or confusing, but it's an important distinction, especially if you want your ATV to ride a specific way or traverse the land in the way you need it to.
A single-shock, swingarm-style rear suspension has a straight axle. That means the rear wheels move together. It can offer more rigid movement and is used mostly in sport and high-performance ATVs.
An independent rear suspension has single or double A-arms and is used in most utility and sport utility ATVs. In this type of suspension, the rear wheels move independently of one another, just like the front wheels do.
This type of suspension makes it much easier to navigate obstacles and keep the ATV stable. It gives you much more traction but can lose some of that finesse around the corners.
Disc vs drum brakes
Most ATVs today have disc brakes. They're better at stopping, they last longer, and they perform better in wet and muddy conditions. You won't have any problems in the winter with disc brakes freezing.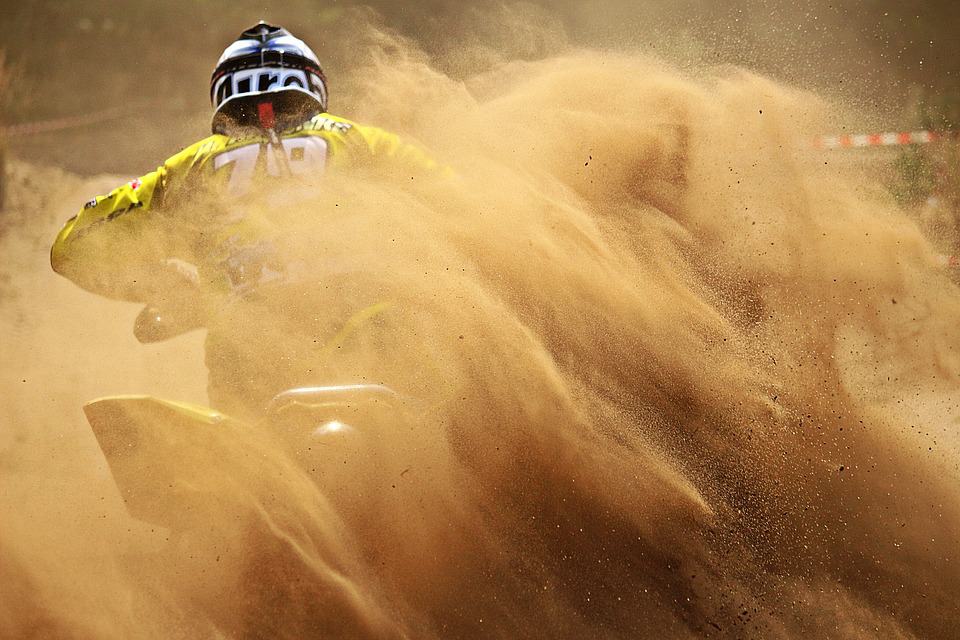 Drum brakes can fill with water and freeze, even if the ATV is in the garage. While some utility and sport utility ATVs still have drum brakes, most have disc brakes, so this is something you may want to pay attention to if you're buying a used machine.
Two-wheel vs four-wheel drive
You would think the nature of the beast requires four-wheel drive, but you'd be surprised at how many people choose to buy ATVs that don't have it. It really depends on how you'll be using it and what kind of terrain you need to use it in.
Four-wheel drive is better for hills, big obstacles, deep water, and mud. It can also plow snow better, carry more cargo, and tow heavier equipment. However, not everyone needs this type of usability, and sport ATVs won't have it.
Most four-wheel drive ATVs have a simple button that allows you to switch back and forth on the fly, but some advanced systems will have sensors that do it for you when they feel you need it.
Differentials
Nearly all four-wheel-drive ATVs have a limited-slip differential that shares power with the wheel that needs it most. If you have one wheel slipping and one getting more traction, the wheel with more traction will provide the power to help pull you out of a rut.
You may also look into an ATV that has a torque-sensing differential, which is even better than a limited-slip differential at getting you better traction where you need it.
Some four-wheel-drive ATVs have what's called a differential lock, which is a combination of the two. The rider can engage a feature that locks the wheels, giving both front wheels equal power.
Locking the front end can give you an extreme amount of power to get out of a variety of situations, but you don't want to leave it locked, because it can make steering incredibly difficult. That's why most four-wheel-drive ATVs are operated in limited-slip or torque-sensing mode most of the time.
Electronic power steering
You'd be surprised at how difficult it is to drive even a small vehicle without power steering. But it comes at a cost. If you want power steering in your ATV, you'll pay around $1000 for it on a new unit. It can really save your shoulders after a long day.
The Best ATV Brands
After understanding the types of ATVs available to you and the features you might want to look into, you'll want to have a good idea of the brands on the market today. There are some manufacturers that have been on the market for decades while others have only been around a short while.
Those that have been around for a long time are affectionately referred to as The Big Six, but there's a seventh that rounds out the most popular options and they're all probably familiar to you.
They each have core competencies, and I don't like to play favorites, so let's discuss these in alphabetical order so you can't tell who I like best.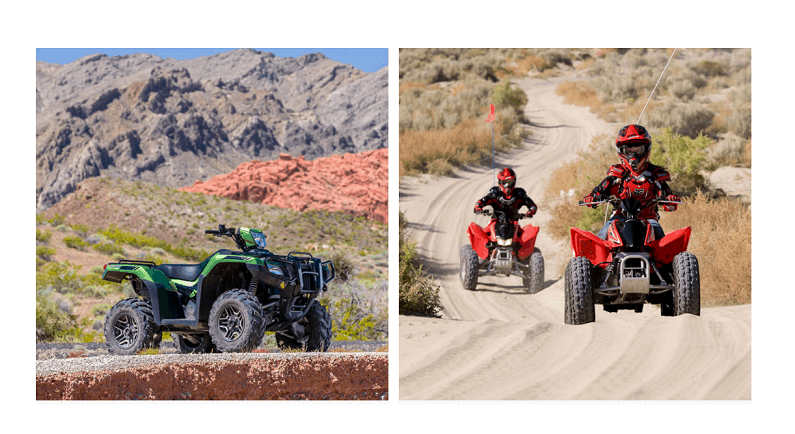 Arctic Cat generally offers the best value. Their average price is a lot lower than the competition and they're pretty easy to shop because their models are well organized. They have important features like electronic fuel injection, independent rear suspension, and power steering.
They're the only one on this list that's not part of The Big Six, but they can still hold their own with the others. They've got a lot of muscle and people love them. Their brand has a future and it should be exciting to watch them develop.
Can-Am is well-known for innovation. They're at the forefront of technology and performance. Fast forward to the 21st century, and that's where Can-Am has been for a while. They have a very unique frame supporting an independent rear suspension with a high-tech front differential. With their revolutionary EPS and a digitally encoded ignition key, they've left nothing to the imagination.
Their ATVs have some of the most powerful engines on the market and top out at 1000rpm and 91 horsepower. They're like the exotic car of the ATV world with awesome performance and sophisticated features. They're popular among a new generation, but even some of the older folks are jumping on board.
If you can count on Honda for anything, it's consistency. They build reliable vehicles, all the time. They may not be fancy, but you know you can trust them. Maintenance is easy and they'll require very little work.
For those looking for a heavy-duty utility vehicle that just goes, this is it. They've been making ATVs since the 1980s, before they were even called ATVs. They're still a bit behind on cutting edge technology, but their products are simple and reliable.
Most of their ATVs have independent rear suspension, their transmissions are practically indestructible, they use metal gears, and you can still get a foot shifted model. They're like the Energizer Bunny's twin. They just keep going.
You can trust Polaris for tradition and toughness. They have been around the block and have a dedicated following of people who love them. They're a pretty close second to Can-Am in terms of technology and they've made massive advances in development in recent years.
Their engines are incredibly powerful, but they also produce rugged utility ATVs, making them an excellent crossover option. They have power and performance with the tech you want for recreation and comfort.
Polaris is known for being heavy, so they're about as tough an ATV as you can get, and they're rated higher than most when it comes to payload.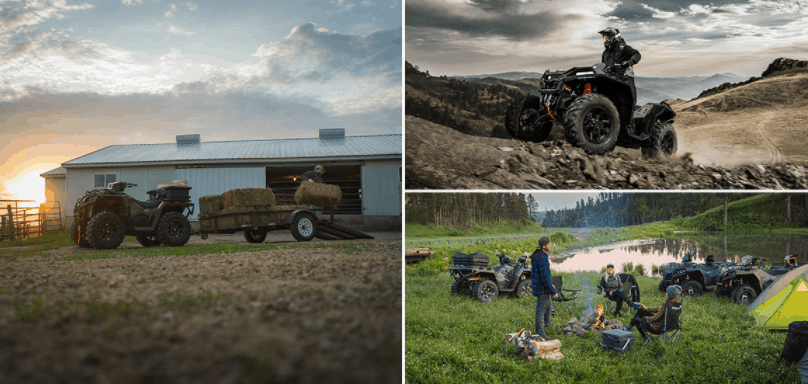 The sport utility class is a newcomer to the ATV game, but Suzuki jumped onboard quickly and nailed it. They produce electronic fuel injection engines that make a 600-pound ATV feel a whole lot lighter than it is.
Suzuki also includes all the features you want to make it fun. They pack their sport ATVs with the same design and technological elements as their sport motorcycles and then load it up with racks and balls to make an excellent crossover utility machine.
Front and rear brakes work independently, so you get precision and control. Suzuki uses aluminum strategically to keep the weight down and preserves strength with steel in other areas. They have a sporty feel with the durability you need.
Whereas Suzuki nails the sport-utility segment, Yamaha corners the true sport market with an endangered species. You can't find many ATVs like this anymore, and Yamaha is really the only manufacturer to make them. Even then, there are only two models left.
This group used to thrive with models from nearly everyone. They had independent rear suspension and plenty of innovation. They were lightning fast with incredible maneuverability and sleek aesthetics.
Unfortunately, it's a class that's long since passed, but you can still get fully manual transmissions and clutches with Yamaha, which likely contributed to their decline since no one seems to be able to drive one anymore.
Hopefully, these don't ever completely disappear.
Product Recommendations
I tend to err on the side of rugged simplicity. In my mind, an ATV is meant to be a bit of sport and a bit of utility. I use one for both. Leave the bells and whistles for a luxury sedan. This is a machine meant to get dirty in exploration of the wilderness.
A clean ATV is a sad ATV. However, that doesn't mean you can't have a ton of great features. So let's get down to business with the best ATVs you can buy.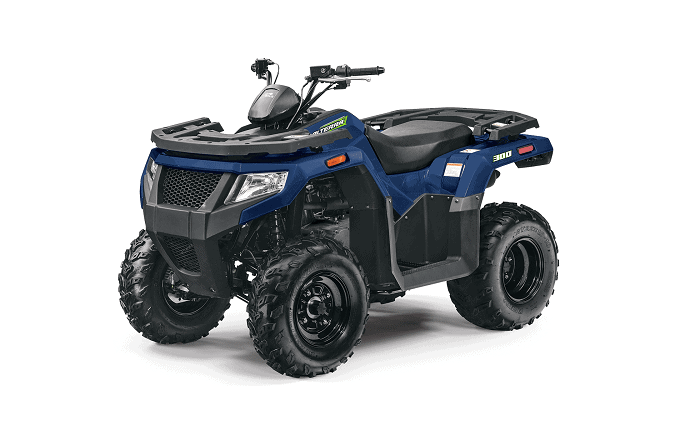 This beginner ATV is a great place to start. It's affordably priced and compact enough for youth. It only weighs 477 pounds, so it's pretty light and manageable. The controls are in the same spot as larger versions, so the transition up will be easy.
Ground clearance is good and the suspension is above average, but the true standout feature is the fuel capacity. It holds a whopping 4.3 gallons, which is way more than its midsize competitors and even a couple of the full-size ones.
If you equip a beginner rider with this engine and a fuel tank of this size, it will run for days. The shorter wheelbase may limit some advanced riders, but beginners and novice riders will enjoy it.
While it's great for beginners, it's also marketed as a workhorse, performing above its weight class. It has usable racks and a decent towing capacity. Even it's lighting and trim are better than the average in its class.
There are more affordable options for youth riders and other beginners, but this ATV delivers more usability than the couple hundred you might save. It can keep a grown rider entertained, perform light-duty jobs around the house, and get your new rider started.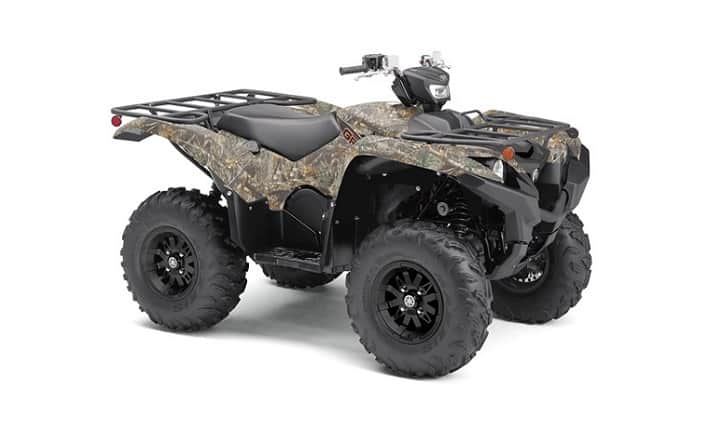 This ATV comes well equipped and can duke it out with contenders in the same class and price range. It's one of the most powerful machines while weighing 100 pounds lighter than the others. It can work hard and play hard with a responsive engine, nimble handling, precise controls, and great hauling ability. The Grizzly has the top chassis in Yamaha's lineup, which leans a bit more toward luxury these days.
It's a comfortable machine, even after a rough day on the trail. It has more legroom with more suspension travel than similar competitors. The Grizzly 700 EPS can also reach farther and soften impacts better than most riders expect. It has great ergonomics with controls that are easy to reach.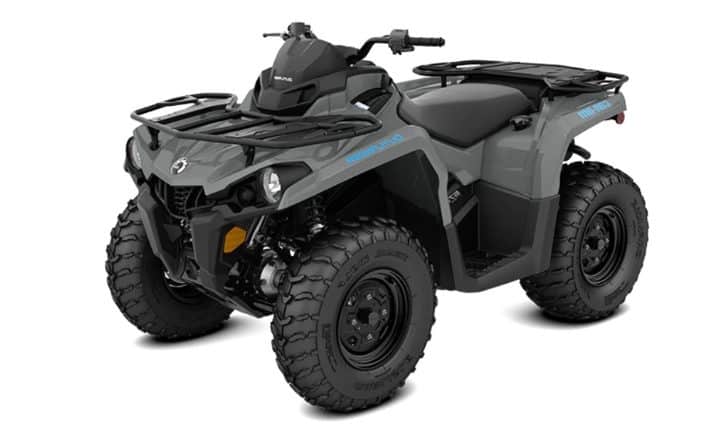 If you're looking for the best value, Can-Am's Outlander is a great machine. It's simple and accessible with just enough bells and whistles. You just can't do much better than this one for the price. The specs on this one used to be exclusive to a much higher price point. It has a massive, 5.4-gallon fuel tank and can reach over nearly any obstacle while still keeping all four tires on the ground.
The full-size chassis and mid-size engine with top-notch suspension deliver a fantastic ride with more performance than most others in this price range. In fact, this engine is notorious for delivering zip and punch above their weight. It often matches the output of engines that are 300cc larger than this one. You should easily expect to pay a lot more for these specs.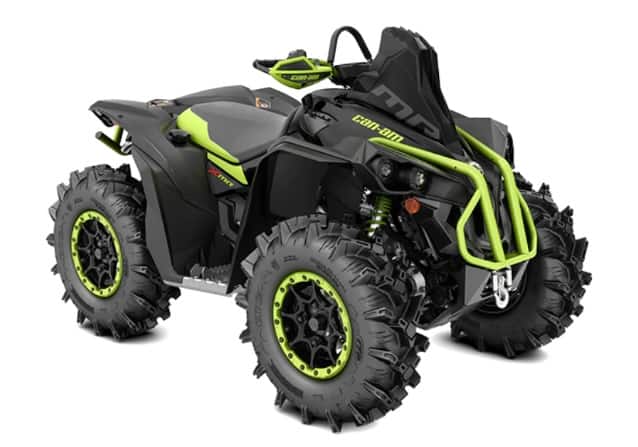 Now we're getting into the top performers, and this one truly is. It has a twin-cylinder engine with ground clearance and suspension travel nearing the double digits.
If you'd rather bring your ATVs abilities back down to earth, you can get the Sportsman with 850cc or an Outlander with 1000cc.
You'll pay the price for this one in weight because it weighs half a ton, but boy are you getting the performance you want. It has independent brakes at the front and rear and the build quality is excellent as well.
FAQs
Question: What is the best ATV on the market?
Answer: This is all a matter of perspective. It depends on your needs. If you're getting an ATV for a child, you're going to want a smaller ATV that's safe and reliable, like a youth ATV from Arctic Cat or Polaris. If you want something that will run with very little maintenance, look into Honda. They're basic without the frills, but they'll run for what feels like forever without ever needing any work.

The Suzuki King Quad 750 AXi and the Yamaha Grizzly 700 EPS are also very good all-around models that are some of the most well-equipped ATVs on the market. They may not be the most powerful, but they offer the most powerful while weighing less than similar models.
Question: What is the most reliable ATV brand?
Answer: Polaris has a huge following. They've been making ATVs since before people knew what ATVs were. Their customers are reliable and unlikely to switch to another brand, no matter what you say.
However, Honda makes some of the most reliable ATVs on the market today. They're basic, without the frills, which means they just run. There's not much to them, so nothing gets in the way of their serious utility operation.
Question: Should I buy a new or used ATV?
There are a lot of factors to consider when deciding if you want to buy new or used. A lot of it depends on your budget. You can get really great used ATVs in your budget, which will save you a lot of money if you feel comfortable buying something that already has some miles on it.

However, if you would much rather break it in yourself, new is probably the way to go. Just be aware that you'll pay more for the same ATV. The one benefit of buying new is that it'll be backed by a warranty.
Final Thoughts
Finding the best ATV isn't hard, but you have to know what you're looking for. It depends on your age and your experience, but it also depends on what you want to do with it. Make sure you understand which brands are the best for your needs as well as the types of ATVs that are best for which purposes.
Once you understand how to shop for an ATV and which ATV you're looking for, you should have no trouble comparing models to find the right one for you.