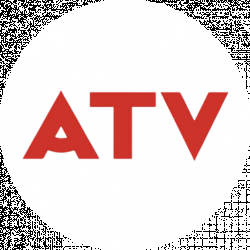 Latest posts by ATV Guyde Team
(see all)
We enjoy driving the ATV, and this has caused the popularity of the sport. It is an exciting sport, but all the same, disgust when you find some of its axles not functioning effectively.
With your ATK's axle failure, you have no other option other than planning to replace it.  Do you even know where to buy them? I guess not! And perhaps I am right.
However, that should not worry you. We have prepared a list of the best aftermarket ATV axles for you.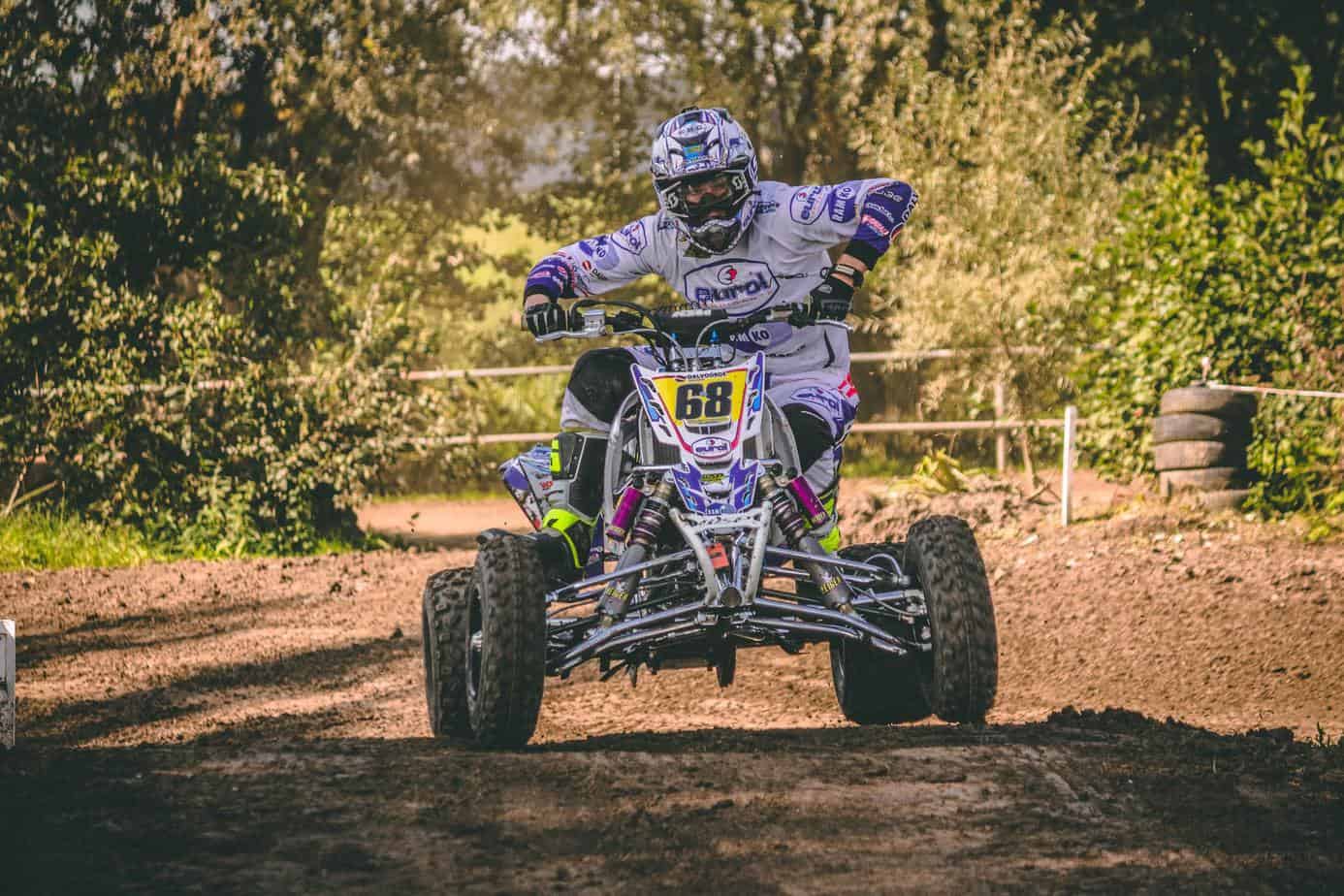 Many of the axles on the market are heavy-duty made from some renowned engineering companies in America.
So what does this tell you?
You are sure of the quality and safety of what you buy through our recommendation.
However, before we recommend anything to you, we would like to arm you with information that will take you a long way in buying the best axles for your ATV.
How To Choose The Best Aftermarket ATV  
If you can approach experienced ATV users, they would so comfortably tell you that not all Aftermarket ATV axles are best for your ATV. While you are in a hurry to replace your ATV axles, it is essential to consider the following factors: they help you choose the best aftermarket ATV axles.
Construction
The condition under which ATV drives is challenging terrain compared to streetcars. Although China uses the same standard as the streetcar when making the axles, the strength required is more. The manufacturing companies use 5140 alloy steel, which is cheap but with high heat technology and excellent performance. Consider checking for this material, as it has proven to heat resistible for driving elements like axles.
Heat treatment
The 5140 alloy steel is good enough but not the best until it is heat-treated. The axles are heat treated through a process known as normalizing. It helps in strengthening the axles towards achieving the country standard.
Size
The OE parts used to be strong enough for a regular drive and not making it in rock crawling and mud race parts in the past. However, aftermarket products are made more prolonged and more extensive to meet the extended suspension and strength.  A shaft usually has a diameter of about 20 % increased following the working space and angle limit.
Grease
Constant velocity joint is a requirement while recognizing that the high temperature and pressure reduce excessive wear and prolong the joint's life. With several grades and different grease in the market, some apply the same levels as cars. In contrast, others like heavy-duty ATV axles use high-grade grease to ensure long lusting and prolonged life of the constant velocity joints.
Profile
One of the factors that determine the strength of an axle is profile. The design of the OE replacement parts should be smooth to avoid stress rise. However, with an experienced engineer, it is never an issue. When you decide to have a customized axle, recall reminding them about the profile.
CV Boot
CV boot is responsible for enclosing and preventing dust and sand particles from getting into the lubrication system. It is a requirement for the boot to have high-temperature resistance, and the material that gives it this ability is TPEE. TPEE has excellent low fatigue resistance, oil resistance, and a long-term erosion of wide working temperature. It is crucial to check on the boot to ensure that the relevant materials are included for effective working.
 What are the Best Aftermarket ATV Axles
Knowing what we should look for when buying ATV axles, let us now jump to some of the best axles for our ATV.
Super ATV heavy-duty rhino 2.0 is an axle that will give a ten-year experience of axle and suspensions. It will provide you with enough confidence in climbing up and down the most formidable terrain without getting worried about speeding.
It is a heavy-duty axle with an unmatched axle following its distinct combination of maximized CV, components, super ATVs, the mixture of materials, and heat treatment.
With this axle, you are buying from the direct manufacturer, tester, and engineer, eliminating the chance of getting counterfeit axles from fake and unauthorized people.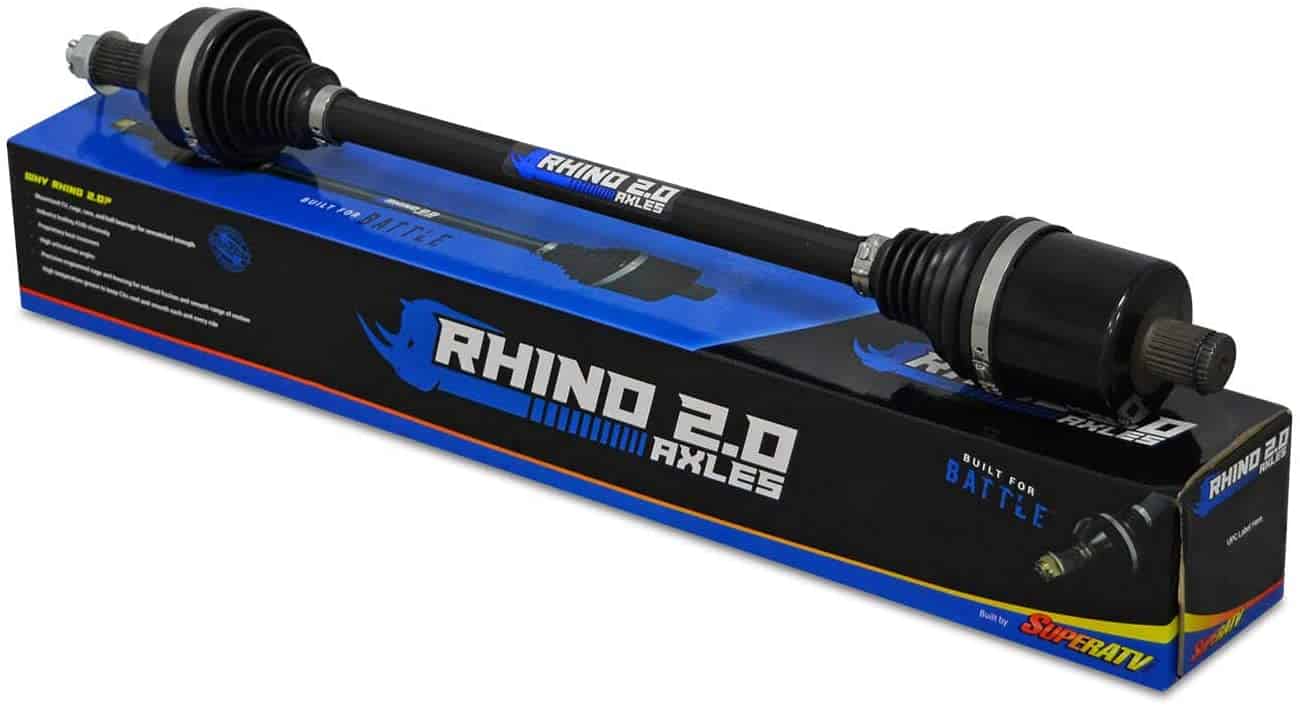 The company then produces using the latest CAD technology making your axle runs the real-life simulations starting from eighty and above MPH, high-quality tire mud rides, and perfect rock crawling smackdowns.
 Before releasing the axles in the market, manufacturers super test them to ensure no breaks in periods and no risk of overheating caused by metallurgical failures.
 Engineers in the lab always concentrate on two things: maintaining overall strength and longevity, a decision made to grant you a super strong axle lasting for miles.
With the high strength 4340 Chromoly steel heated to the exact formula, the combined technology gives the axle an impressive ability to absorb energy and stress without compromising the product's quality.
For flexibility purposes, every shaft returns to the normal state- a better solution to breakages.                      
Pros
Easy to install with the help of various YouTube videos to watch if you get stuck

Axles come with one and a half year warranty.

Adequate testing for endurance

Appropriate heat treatment

Full fitment guaranteed

Save if you buy as a pair.

High-quality product

Heavy-duty axles fit perfectly more robustly than OEM.
ECC PP CV  is an ATV  axle that fits different arctic cat, including the 2002-2004 4*4 arctic cat 400 FIS, 2002-2004 4*4 arctic cat 500 FIS, and finally a 2004 4*4 arctic cat 500 TRV.
It is made to exceed the original equipment manufacturer standard through the original types of equipment replacement ability. This makes the process cheaper and effective.
It also has a boot covering the housing closely while leaving no gaps, chemical resistance ability, and elastic property that prolongs its life.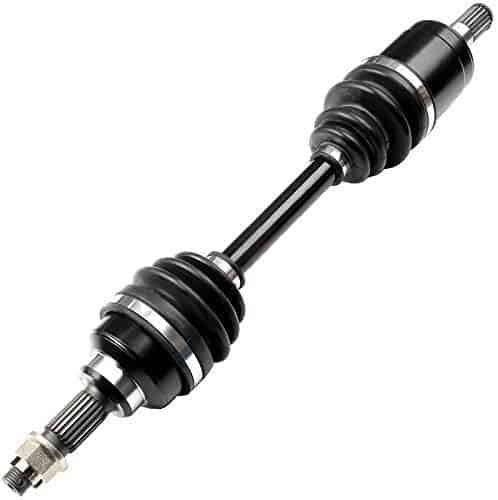 The company also assembles axles with special grease that contributes and ensures reliable performance even under extreme temperatures.
The manufacturer has given the axle more meaning by using a premium and durable material that is smooth and stable during and in all driving conditions while converting power from the engine to the wheels.
Pros
OE part replacement

Made with premium and durable materials

Covering boots guarding against water and sand

High strength steel shaft

Induced heat-treated bearings
Cons
May keep breaking if not fitted well.
The axles have clearly shown why the first Cardone axle failed but fortunately acted like a  stepping stop towards building a new axle without a repeat of the same mistake.
 The new Cardone comes with high-quality grease that can withstand extreme temperatures and torque demands, ensuring durability and reliable performance.

With this axle, neoprene boots have a new design with extra bellows that help resist bellow stress and ozone cracking, leading to boot failure. It also has splines rolled accurately with a proper fit of CV drive axle into the mating hub transmission, saving you the installation hassles.
The axle is machined with a transmission seal diameter after heat treatment to serve an extended seal life. Every constant velocity driveshaft is tested and verified to ensure straightness, vibration-free performance at whatever speed.
Pros
Easy to install

Quality grease withstands extreme temperature and pressure.

Inspection of the axle shaft for running out in preventing vibrations

Elimination of installing hassles by the proper fitting of the splines into the mating hub and transmission.

Extra bellows minimizing the chance of failure

Durable and long-lasting

Outstanding quality
Cons
The boot may leak and fail within a short time.
This is another axle in the market that has replaced several OEMs and is compatible with quite a number of models including 1995- 2002 Polaris magnum 325,425,500/ 1997- 2003 Polaris scrambler 400, 500 / 1996- 2003 Polaris Sportsman 335,400, 500 / 2000- 2003 Polaris Expedition,/ 1996- 2002 Polaris.
It is made of ultra-rugged 4340 chrome-Moly shafts for joints and weighs 7.8 pounds.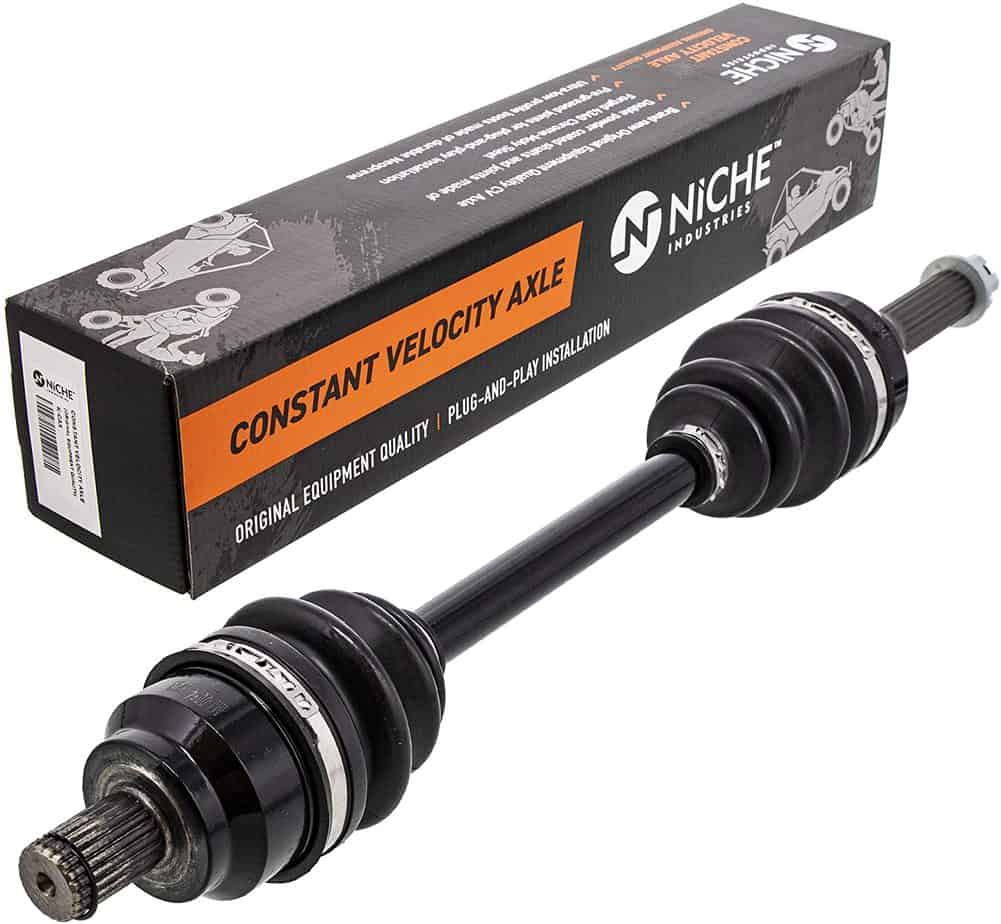 The axles bearing and joints come heat-treated and packed with high-performance grease for lubrication purposes and fully assembled inner and outer joints on the shaft.
The axle's neoprene boots are puncture and UV resistance and profile boot camps that are low and designed so that it resists catching debris. 
Pros
Good quality and standard

Compatible with numerous models

Resistance to puncture and UV

Heat-treated bearings and joints

High-performance and pre-greased

Resistance to catching debris
SCITOO CV axle replaces the rear CV axle for model 2001- 2002 Polaris sportsman 400 and Polaris 1999-2002 sportsman 500.
It is made using the chrome- Moly shaft with higher strength and smooth driving without any vibration experience.
The axle also comes with neoprene boots tight enough to keep the housing free of any dust and sand particles.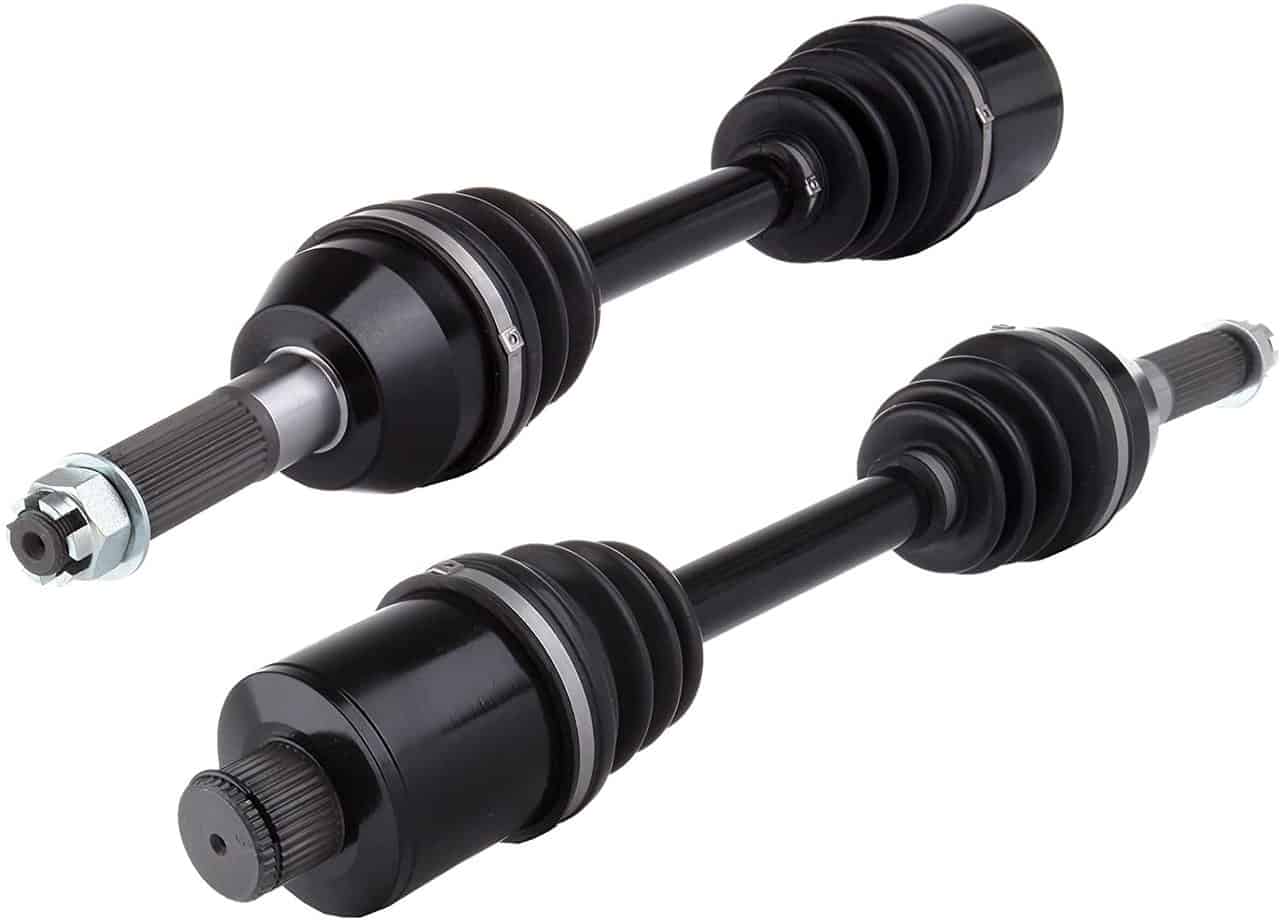 It has an elastic and resistance to chemicals, granting the axle a durable and long life while serving you.
 Notably, the axle also comes with grease for lubrication containing 3% molybdenum disulfide to ensure minimum or no wear and tear of the axle.
 Thank you to the manufacturer, who heat-treats the axle to make sure it, is heat-resistant, making it ideal and the best under extreme temperatures.
Buy this axle and enjoy at least three months of warranty as you check the latter is the performance from the date of receiving it. You are certain of a quality product, and if anything happens within that period, you can contact the seller and have your complaint attended.
When buying, it is always good to check for the reference number of the axle and as for our case, always make sure the reference number is ATV-PO-8-302.
Pros
Boots made of durable rubber that holds up well, fixing up any clinching issue.

Works great even under high temperatures

Smooth and vibration-free driving

Durable and long-lasting due to its elastic and chemical resistance nature

Three months warranty giving plenty of time to cross-examine the axle
It is an axle used to replace axles in Polaris 1999-2000 2001 2002 sportsman 500 and 2001-2002 sportsman 400 and 1999 worker.
It is placed at the rear, either on the right or on the left side, and designed to exceed the original equipment specifications.
 With the manufacturer's design, you are sure of hassle-free placement due to the effortless installation procedure, the threads' precision rolling, and the splines.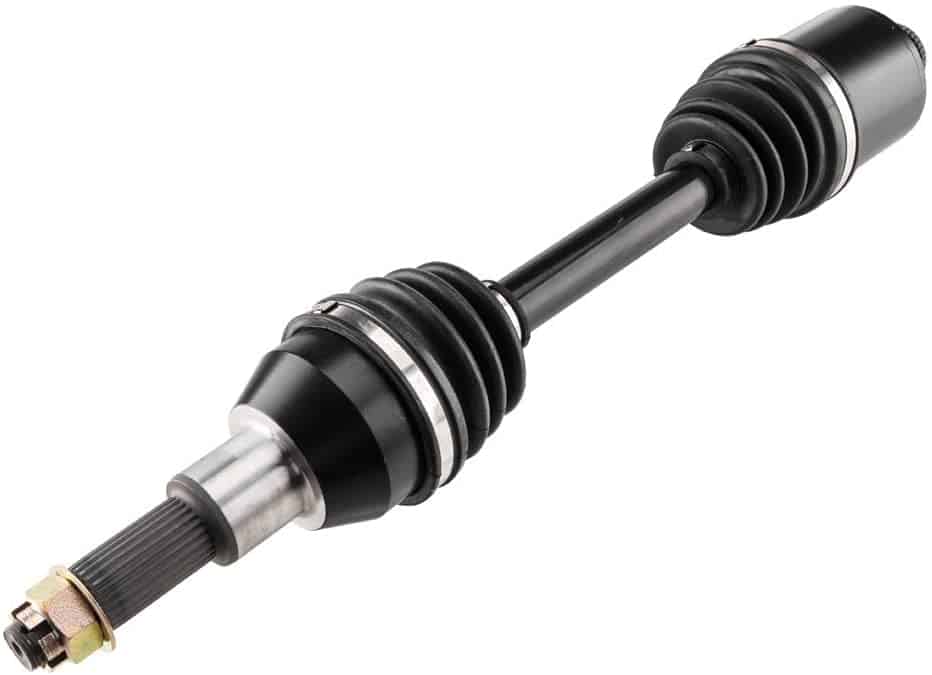 The axle is made using high-grade steel material characterized by durability and excellent quality standards.
 It is also tested to meet the OE manufacturers' outlined standard while improving it to facilitate fitment and product reliability.
The transmission sealer diameter is accurately machined after heat treatment to achieve the correct surface finish, promoting long seal life.
Pros
Made of high-quality material that enhances its durability

Ideal transmission sealer diameter, enhancing prolonged sealer life

Ensured dynamic balancing that guarantees safety when using

Easy to use

Fitment as it can be placed on either the right or left side of the vehicle
Cons
Frequently Asked Questions
Question: How Is An ATV Axle Measured?
Answer: Firstly, make sure you extend the axle to the maximum point possible by pulling on both ends. Secondly, from the outside of each end, cup face to get your extended measurements. Then push the CV's together to the maximum point possible and measure again. In addition, this is your compressed measurements.

The compressed and the extended measurements are among the specifications designers and engineers used to measure the length of an axle. To determine the axle you need to use these specifications.
Question: What Type of Axle Allows Easier And Smooth Turns An ATV?
Answer: A differential axle. It lets the outside wheel rotate faster than the inside wheel, resulting in a more comfortable and smoother turn.
Question: How Do You Remove Your ATV Axles?
Answer:
1. Take your ATV into the pack and raise your machine using a jerk so that the front wheels are off the ground.
2. Using a screw remove the nuts and pull the wheel of the machine.
3. Take back the nut but lightly tightened so that they are not lost.
4. In case your axle nut has caps, remove them, then remove the nuts using nose pliers. To remove the nut, you may need someone pressing and holding brakes to have the required resistance.
5. Remove the brake caliper followed by the fasteners. You can either disconnect the brake hose or leave it like that. However, master the route of the brake so you can take it back the same way.
6. Remove the hub
7. Free up the axle from its attachment by removing the tie rod end from the spindle. While steering the knuckle joint, swinging the carrier assembly down and back, remove the upper steering knuckle joint from the bearing carrier.
8. Assuming your axle is free, now it is time to pull the axle out of the casing. Pull it from a right angle and ensure your ATV will not fall off the jack. Hold on to the shaft while doing some swift tugs. You may need to push it inward first to make sure that the snap ring usually found in, is not preventing it from coming out.
9. In case you find it stuck, spray the casing area using a lubricant and give it a few minutes and then thereafter, you should be able to remove it.
Question: How Do I Know if My ATV Axles Are Bad?
Answer: For you to prove that your axle is bad, try to figure out the following symptoms:
A buzzing sound
Although a buzzing sound may result from inadequate grease, it can also be the sound of a bad wheel.
If you hear the sound of a cluck when you accelerate, slow down, or shift gear
To be sure about this, put the ATV in reverse mode, and then vary it up and down. If the noise gets louder, then you ought to replace your axle.
Hearing a popping or clicking noise when turning
To confirm this, put your machine in reserve mode, switch all the handlebars one way, drive in a circle, and the axle is bad if the noise gets louder.
Vibration on Acceleration
Although the inner or outer joints' movement can cause this, it is usually an indication of a worn-out inner joint.
Conclusion
Despite the above-listed axles being the best, there is one category that I like and prefer most. Rhino brand axles are made to operate at high angles and resist the abuse that comes with including a lift kit and extra tires to your machine. Rhino has established an excellent reputation with its high quality and well-performing axles.
The rhino axles' price ranges from $149- $209 and a warranty for two months. If the axle breaks within two months, the manufacturer replaces it at no cost. If the axle fails after the two months but within the first year of buying, it is still replaced, but now the buyer pays a $50 fee and shipping for both ways, but boots are not covered.