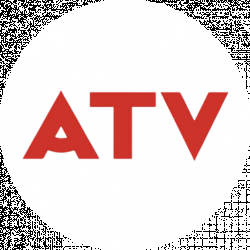 Latest posts by ATV Guyde Team
(see all)
The Kawasaki Mule Pro FXT is an impressive Utility Terrain Vehicle ( UTV) produced by Kawasaki Heavy Industry Ltd. Kawasaki boasts a wide range of products, including All-Terrain Vehicles, ATVs, motorcycles, recreational utility vehicles, and gasoline engines. The company is famous for its high-powered engines and its determination to produce fuel-efficient and clean engines that are environmentally friendly by ensuring its quality control standards are high.
In this review, you will get to know everything about the Kawasaki Mule Pro FXT should you plan to acquire one or just curious to know what makes it unique from the other UTV brands. A decade ago, the Mule was designed purposely for work, but now we find improved versions that correctly undertake sporting activities while still delivering fantastic utility benefits.
However, with all the desirable features and benefits of the Kawasaki Mule Pro FXT, you need to be aware of things to consider before making a UTV purchase. Below are some of the factors to consider.
The Buying Guide for Kawasaki Mule Pro FXT 
Utility vehicles are gaining popularity due to their versatile and functional nature. Their durability and performance make them ideal for construction, farming, hospitals, and mining areas, just to mention a few.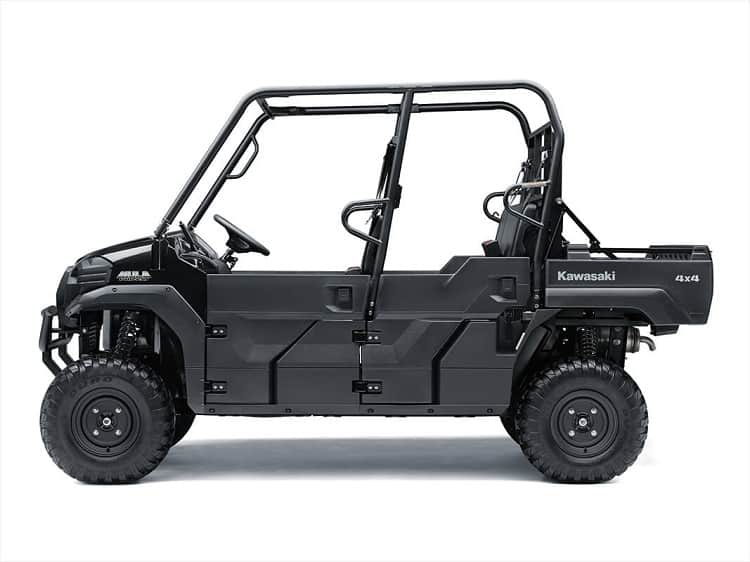 Due to the vast area of use covered by these off-road vehicles, it is wise to look at factors that will enable you to narrow down your choices when picking a UTV as different models suit different works. The factors to consider include:
Passenger capacity
.
A UTV is referred to as a side-by-side vehicle for a reason. The reason is that a driver can have one or two passengers beside him. If you are looking to use your Mule for recreational purposes, having an adventurous drive with your friends, go for the one that accommodates six passengers.
If you plan to be hauling large loads, the vehicle has in mind that the passenger capacity will need to reduce to 3 as you will have to fold the back seat to create more cargo room.
Power needs
The amount you will be spending on gas will depend on what you plan to do with your UTV. Therefore, it is advisable to go for low cc off-roads if you intend to use it for cruising around and high cc for hauling and towing on the farm.
It does not make sense to purchase a UTV that consumes a lot of diesel only to be used to perform light tasks. These machines' purchase price is already high, so consider getting one that efficiently gets work done to save you some coins.
Size and weight of the load
Different cargo comes in different shapes and masses.it is therefore critical to determine the weight of your load before you settle for a particular UTV. Utility vehicles accommodate weight ranging from 300-1200 pounds and more. However, be informed that most of them are built to carry 600 pounds, so if you plan to be hauling and towing weight around that figure, you will have a vast pool to choose from.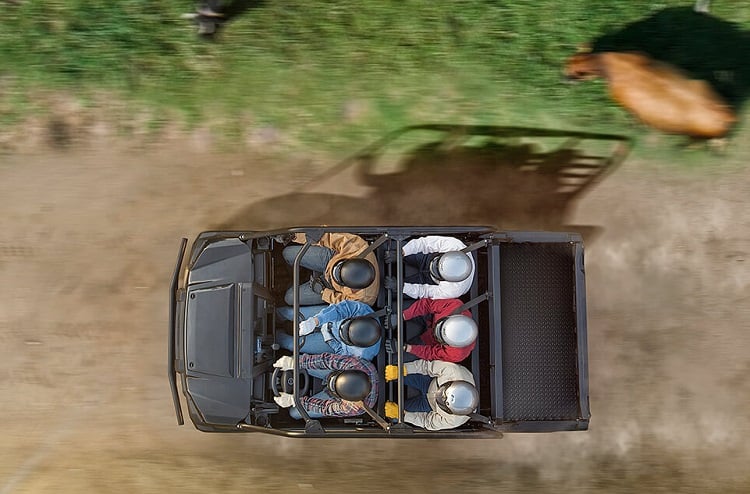 The load's size would help determine how the load will be fixed and removed from the cargo bed. The cargo beds come in hydraulic and manual configurations; therefore, you need to pick your UTV according to how you plan to be mounting and dismount your loads. However, to simplify things for you, it is advisable to go for a hydraulic configured bed to haul heavy loads and a manual one for the lightweights.
Ground clearance
Every utility vehicle comes with ground clearance specs to help you narrow down your choices according to the type of terrain you intend to ride on.UTVs with lower ground clearance tend to be suitable for smooth terrain, while those with higher ground clearance are suitable for rough trails and cross creeks.
If you are looking to load goods manually in your cargo bed, it will save you a lot of lifting energy going for a low ground clearance UTV. However, a low ground clearance vehicle will frustrate you by getting stuck in rough and muddy terrains. Therefore, for a sporty ride in rugged trails, go for high ground clearance models.
New or second hand UTV
This is an essential factor to consider before making a purchase. The reason being that the two differ significantly in terms of cost and condition. Getting a new machine is way better than buying a used one because with a new machine comes a warranty that has you covered should anything go wrong with the vehicle.
With a used off-road, be ready to cater for repair expenses should it break down. If you are not in the right financial position to acquire a new UTV, it is not all doom for you as you might find a well-maintained used one that can even serve you longer than the new one.
However, before making the purchase, be keen on inspecting the used machine. Look out for dirty air filters and engine oils. If you notice any of the two, don't settle for such a machine as it is likely to develop future problems. Do a thorough inspection and, if possible, take a satisfying test drive before sealing the deal.
The Best Kawasaki Mule Pro FXT REVIEW
The Kawasaki Mule Pro FXT was initially made to get work done only, but a decade later, the machine is a favorite to sport-lovers and those who like to get the job done efficiently. Perhaps you are wondering what sets apart the Kawasaki Mule from the rest of UTVs.
Apart from its ability to accommodate both works and play, I am here to tell you that this machine is unique for its high-end style, let alone the less noise emission when spinning compared to other brands.
What Makes The Kawasaki Mule Pro FXT Special?
Despite most UTVs having the ability to perform challenging tasks efficiently, this machine goes beyond efficiency when it comes to its perks. Its full capacity of 3 to 6 passengers puts it ahead of other vehicles when it comes to hauling capabilities, even in a full six-passenger mode.
The Kawasaki Mule Pro FXT also features a three-passenger capacity model leaving the back with a vast cargo room, making it the largest cargo van in this UTV class. The off-road vehicle is convertible when it comes to seat capacity and storage. Simply put, the Mule allows you to fold the back seat and create room for maximum cargo capacity while still being able to accommodate three passengers in the front seat.
The Look And Feel Of The Interior Of The Mule
It is also worth noting that the Mule's cabin is spacious enough to allow good legroom hence enhancing passenger comfort. Should you be planning to use the Kawasaki Mule for long drives in rough and bumpy terrains, worry not, as your comfort is taken care of by the well-padded seats that can even be customized for maximum comfort.
The Mule's Trans Cab system is straightforward and quick to transform the vehicle from a three-passenger to a six-passenger capacity. This is all thanks to the unique two independent front and back suspensions. 
The electric steering makes for effortless and smooth handling for the driver. Powered by a three-cylinder engine with a displacement of 812 ccs, the Pro FXT gets any work done at fast speeds saving you time and energy. The strength of the Kawasaki Mule Pro FXT is evidenced by its ability to haul 1000 pounds of weight and towing capability of 2000 pounds of weight. 
The Mule`s Performance On The Ground?
Apart from its versatility, the Mule comes with a shifter that is easy to handle when selecting gears, while the parking brakes located on the dash make for quick and smooth deployment and release.
If you wonder why the Kawasaki Mule Pro FXT moves in silences even at high speeds, know that it all thanks to its engine. The powerful three-cylinder, four-stroke, and liquid-cooled engine are fitted with a huge muffler that helps quiet things when in motion.
The Mule's 8 inches of travel makes for a smooth ride on bumps and ditches. Climbing steep grounds is effortless and coming down is not different as long as you maintain your foot on the throttle to avoid letting the clutch freewheel. Freewheeling is very common with low rmp when the Mule is descending from high ground.
How much does it cost to acquire the Kawasaki Mule Pro FXT?
The purchase price of Kawasaki Mule starts at $ 13, 099 while its models go as far as $ 16,199. As more innovations are made on the Mule, the quality gets better, hence increasing price with new Editions.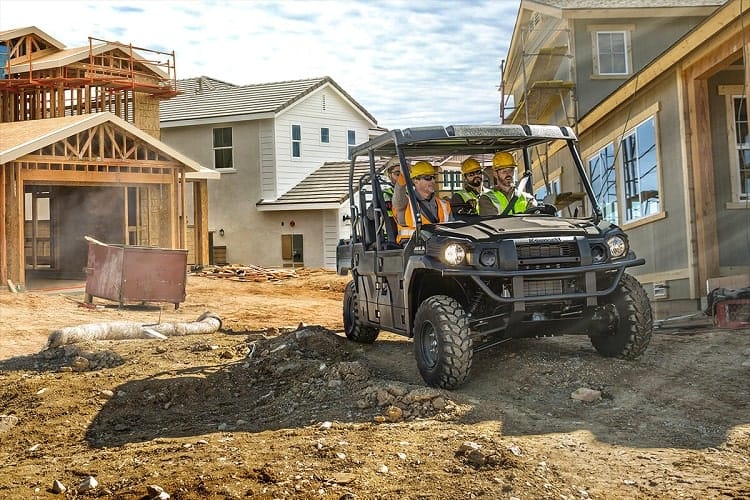 Features
812cc displacement 4 stroke ,three-cylinder, liquid-cooled engine

9:5:1 compression ratio

48lb-ft@3500 torque power

1000-2000 lbs towing weight

2WD/4WD gear system

Continuously Variable Transmission

7.9 gal fuel capacity

A speed-sensitive Electric Power steering.

WARN VRX45 winch of 4500lbs

35/35W outer compact and LED inner headlamps

3 to 6 passenger Trans Cab System.

8.7 inches of suspension

10.2 inches of ground clearance

Steel- based cargo beds

Contoured bench seating with three-point seat belts

The quality appearance of the two-tone design

Three-year warranty                            
Pros
Easy brake deployment

Versatility

Large cargo capacity

Offers a Smooth and quiet ride

With a strong and responsive braking system
Cons
Clutch problems

No warranty for disposable parts like seat belts.

Can get stuck in rough and muddy terrains

Expensive to purchase
The Best Alternative Models To The Kawasaki Mule Pro FXT
Kawasaki Mule Sx 4×4 XC Camo F1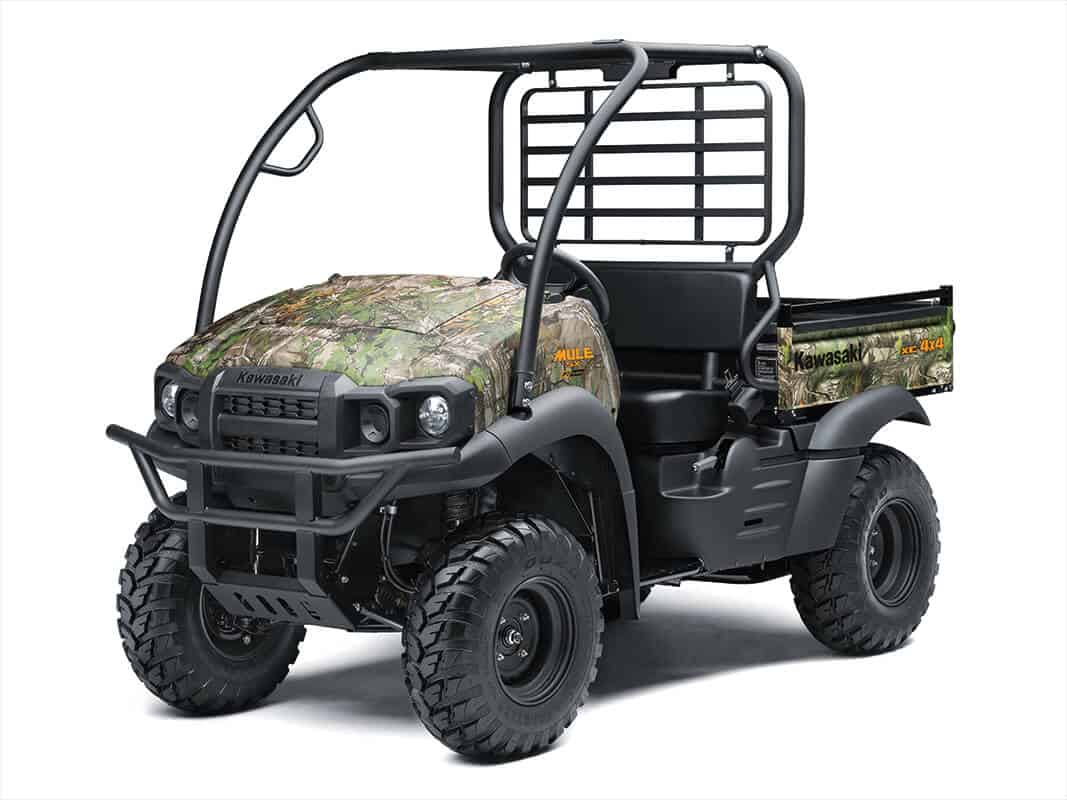 The Kawasaki Mule SX is built with muscle that provides both strength and agility. This Mule is suitable for hauling duties and also a good sport in recreational areas.
Its ability to maneuver through challenging and tight terrains due to its tight turning radius also sets it aside from the other low cc UTVs.
Features 
Four stoke single-cylinder, OHV, air-cooled engine

8:6:1 compression ratio

21.4lb-ft@2400

 rpm torque power

401cc air-cooled 4 –stroke engine

Electric staring

Fuel injection system

1,100 lb towing capacity

16 liters fuel capacity

Cargo bed capacity 400 lb

Two halogen headlights

2WD/4WD selectable gear with a dual-mode rear differential with differential lock

Continuously Variable Transmission (CVT)

Dual hydraulic drums front and back brakes

Two-seater bench

36 months warranty
Pros 
Handles almost all tasks

Strong and Durable steel cargo beds

Reliable engine power

Versatility
Cons 
No warranty for disposable parts like belts

Slipping belts during bumpy rides
Mule Pro-FXT EPS CAMO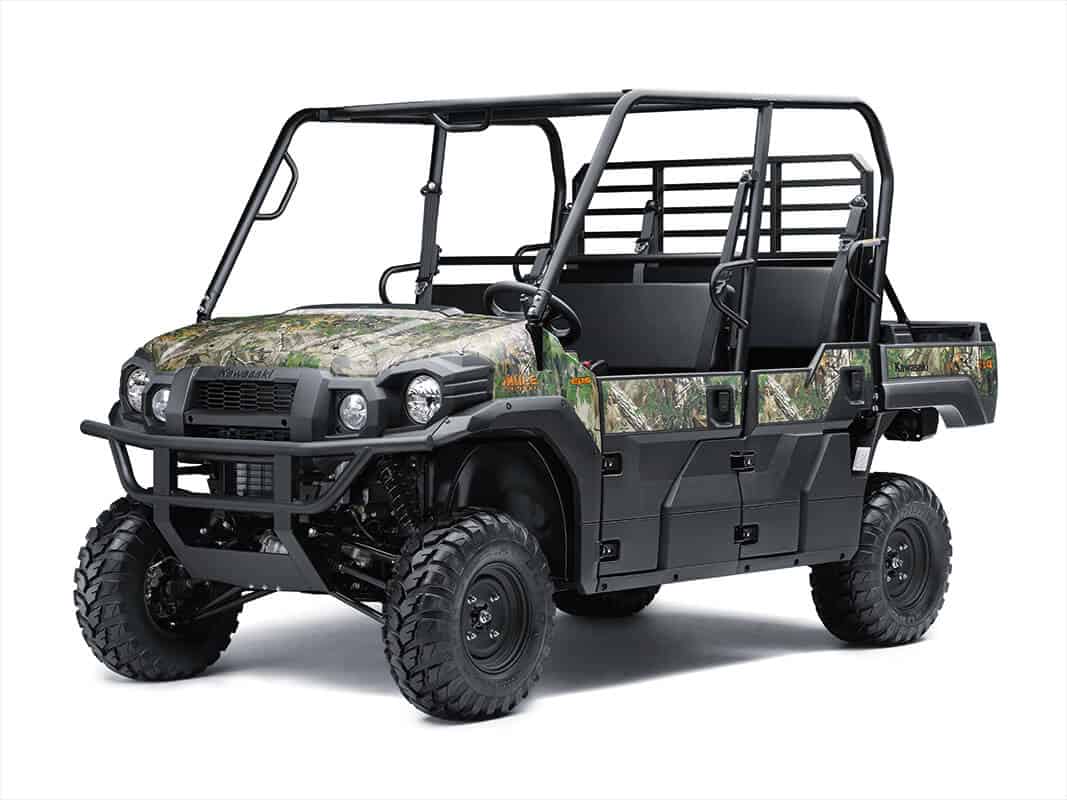 This Mule differs from the Kawasaki Mule Pro FXT majorly in its appearance, curb weight, and a few capabilities. The CAMO Mule is Realtree Extra green in color, while the Pro FXT comes in only in super black color.
Most of the two mules' features are entirely similar, starting from the engine type to the fuel ground clearance. However, the Camo shows some distinct differences in its steering, which uses a rack and piston, while the Mule Pro FXT uses an electric power steering.
Another difference seen between the two is the two halogen headlights seen in the CAMO, while the FXT possesses spectacular three pairs of halogen lights making its illumination brilliant. It is also necessary to indicate that the Camo is slightly heavier, weighing 1916.1lb, while the Mule pro FXT weighs 1887.5lb in carb weight.
Features
Four-stroke, three-cylinder DOH, liquid-cooled engine

812cc displacement

9:5:1 compression ratio

48.0 lb-ft@3500 rpm Maximum torque

DFI 34 mm throttle body fuel system

Continuously Variable Transmission (CVT)

The final drive of the 2WD/4WD selectable gear shaft

92.3 inches of wheelbase

1916.3 lb of Curb weight

Real tree extra green Camo in color

Strong three-year limited warranty.
Pros 
Strong brake system

Reduced noise emission
Cons
Troubleshooting happens at times
Frequently Asked Questions
Question: What is the horsepower of a Kawasaki Mule Pro FXT?
The Mule's horsepower stands at48/35 bhp/Kw @ 5500 RPM with a Torque power of 3500 RPM.
Question: How fast is the Kawasaki Mule Pro FTX?
The Mule tends to max out over 45 mph in high range and is limited to 13 mph when reversing.
Question: How reliable are Kawasaki Mule models?
Kawasaki Mules are robust, durable, and possess high reliability in terms of performance. Despite the Mules being used for both work and play, they don't fascinate in play as much as they do when getting the job done. Its reliability is also evident in its outstanding performance, even with a six-passenger capacity.

Question: How much do Kawasaki Mules cost?
The mules differ in prices, with the cheapest averaging at $8112 while the most expensive ones cost $14,999to $16,000.
Conclusion
As seen from the review, Kawasaki has outdone itself in introducing improved and innovative UTVs, and the Mule is no exception. It keeps getting bigger and better with high-end styling and capabilities.
Initially, the Mule was built for work operations in hospitals, construction sites, manufacturing companies, and even learning institutions to help with moving supplies from one point to another. However, Kawasaki has done a great job by introducing a fun side to the Mule, enabling adventurous riders to get their machine's full value by using it both for work and play.
The wide range of Kawasaki Mule models ranging from the Pro FXT, Mule SX, Terryx2, TeryX4, Mule Pro FXT EPS LE, Mule Pro FXT Ranch Edition, and pro FXT CAMO offer a vast pool of choice for new buyers.
Every Mule has something unique that sets it apart from the others; hence a buyer can decide which model satisfies their needs and preferences. Even though the final decision lies with you, the final user, be careful when inspecting every Mule's specs and, where possible, have a test drive and, of course, go through this review again to make an informed decision.