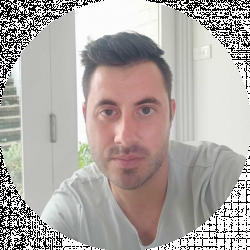 Latest posts by David Borgogni
(see all)
Most UTVs are loud, but in my quietest side-by-side UTVs ranked guide, I will show the top vehicles that operate without giving off a lot of noise.
While many people think that only electric UTVs are quiet, you can find gas-powered models that limit the decibels and won't cause any damage to your hearing after excessive use. I will rank the quietest UTVs on the market and give you an overview of their features and performance.
Bottom Line Up Front: After driving various electric and gas UTVs, my top choice if you want a ride with low noise but also excellent performance is the Kawasaki Mule 4010.
This UTV offers a quiet drive while being a fantastic all-rounder with a decent towing capacity. It is ideal for carrying out work and riding recreationally without deafening you or your passengers.
At a Glance: 6 Quietest Side by Side UTVs
Best Uses for a UTV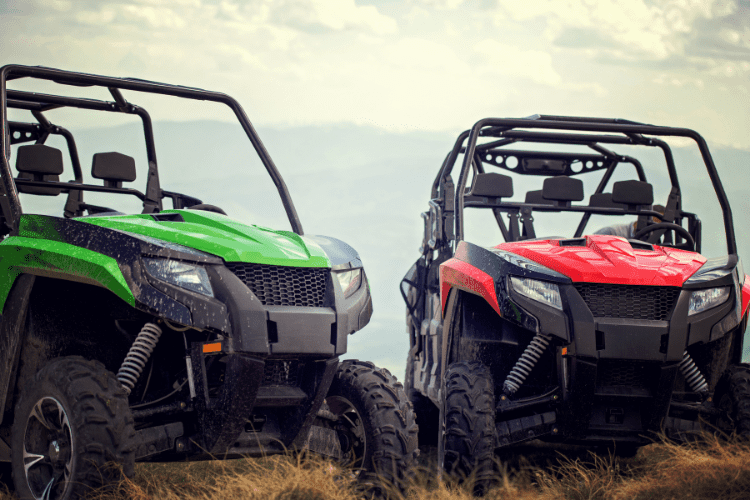 UTVs are incredibly diverse, and you can use these vehicles for various purposes. Some of the main reasons to use a UTV include:
Transporting farming supplies such as hay or feed bags
Raking fields or moving snow with a plow attachment
Hauling heavy tools and equipment
Hunting (quiet UTVs are best for this)
Recreation and driving around off-road trails
You can use a UTV for many jobs, both for work and fun. Unfortunately, these vehicles can often be very loud, so let's find out why UTVs often make substantial noise.
Why are UTVs so Loud?
There are several reasons why side-by-side UTVs make a lot of noise, and many of these problems come from the vehicle's design.
Exhaust
One of the major reasons a side-by-side UTV makes a lot of noise is the exhaust.
If you think about the different features that are designed to reduce noise levels on a car – for example, resonators and multiple catalytic converters – these aren't present on a UTV.
There usually isn't enough room to house any additional parts on a UTV compared to other vehicles, and adding components like a catalytic converter will add to the overall weight.
A good UTV should be as lightweight as possible, and the absence of certain parts to help reduce exhaust noise is one reason the decibel levels remain higher than usual.
Dump Bed
An integral part of an effective UTV is the dump bed.
This is an excellent feature if you need to haul around heavy equipment and the hydraulic design allows you to easily 'dump' loads onto the ground. However, the dump bed is another reason why a UTV makes a lot of noise.
Dump beds are usually made from plastic or metal, and as the exhaust and engine don't have any noise reduction parts, the sound levels of your UTV are amplified by the dump bed. You will also notice this when driving your UTV, as driving on rough terrain with many bumps will seem louder.
Insulation
The insulation, or lack of, in a UTV also contributes heavily to enhanced noise levels.
Other vehicles such as cars and trucks have a high level of soundproofing, especially around the engine. This helps to keep the noise of the car down; however, UTVs are different as they don't offer the same insulation in their design. The lack of insulation is due to the emphasis on keeping the weight of the UTV as low as possible, as this helps to provide maximum performance and efficiency/
The downside is that noise levels are significantly increased.
Engine
Some of the engine parts that you commonly find on a UTV can contribute to a high noise level.
Like all aspects of a UTV, the vehicle is designed to be as low weight as possible. Unfortunately, this means that single-cylinder engines that feature camshafts, pistons, and other parts will make a lot of noise compared to multi-cylinder engines. The problem is that a multi-cylinder engine will add weight to the UTV, which is another reason these vehicles generate more noise than usual.
Loud UTVs You Should Avoid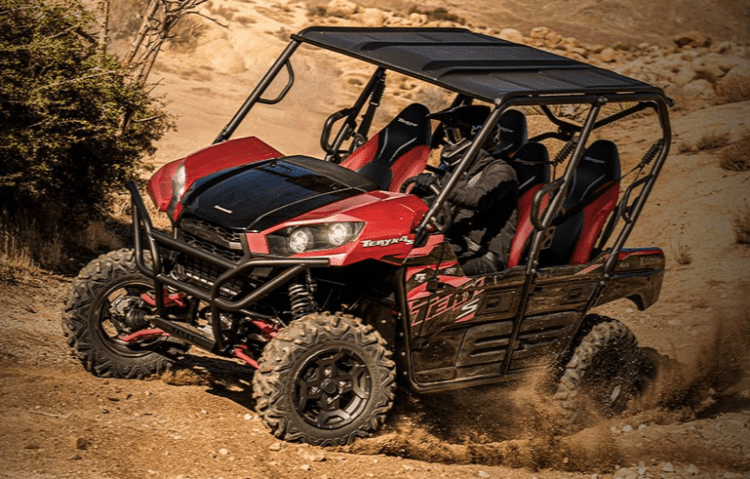 I will review the quietest UTVs on the market shortly, but before I do, there are some UTV models that you should avoid if you don't want to drive a vehicle that makes excessive noise.
The Kawasaki Teryx 4 produces a high decibel level when driving at full acceleration, and this can go up to as high as 106 dB. The Polaris General also makes a ton of noise when driving at high speeds and is just shy of 100dB.
If you are driving these UTVS for an extended time, it is recommended to have adequate ear protection as they give off a lot of noise, and you could be in violation of local noise pollution laws.
Selection Criteria
Buying a low-noise UTV requires the vehicle to have certain features. For example, UTVs are generally loud vehicles; however, to ensure only quiet models made my list, I applied some strict criteria to my choices. The criteria I used included:
Gas and electric models – Most quiet UTVs are electric-powered, but there are many gas models designed to reduce noise, so I have included both on my list.
Under 96 dB – The laws for noise pollution vary between states, but most UTVs need to be below 96 dB, which is why the vehicles on my list are under this noise level.
Performance – Low noise is important, but I also wanted to include UTVs that are quiet when driving and have excellent performance.
6 Quietest Side by Side UTVs
Kawasaki Mule 4010 – Best overall Quietest Side by Side UTV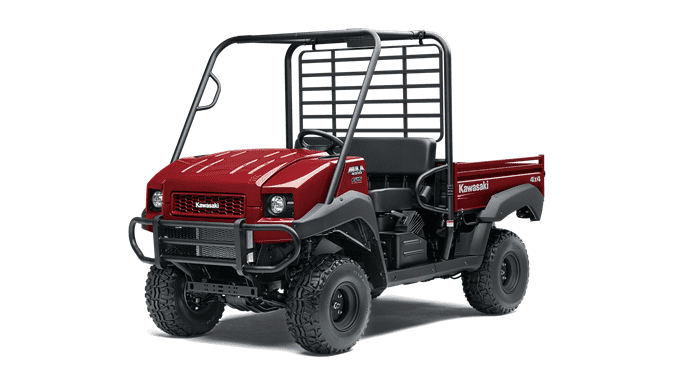 For me, the quietest and best-performing UTV is the Kawasaki Mule 4010.
This is a gas-powered model, so you will find an electric model that doesn't entirely give off as much noise; however, the reason I have chosen this as my top choice is that it performs brilliantly. The noise levels are low with the 4010 and certainly lower than other gas UTVs.
The 617 cc 4-stroke, 2-cylinder, OHV, 90° V Liquid-cooled engine gives off a decent amount of power while handling rough and ready terrain. It can weave its way into tight spaces and still offer good hauling and storage options.
The 800 lbs bed capacity is perhaps on the low end of the scale, but I like the nifty and compactness of the 4010, and it does offer a 1200 lb towing capacity.
The fuel tank is relatively small, but you can easily top it up, which you don't get with an electric model.
Overall, the quiet nature of the Kawasaki Mule 4010, coupled with its excellent performance and very reasonable price, makes it my top pick if you want a quiet ride.
Pros
Drives quietly for a gas-powered UTV
It offers a good towing capacity
Compact and can drive in tight spaces
Available at a reasonable price
Cons
The fuel tank capacity of 6.3 gal is small
It isn't necessarily as quiet as an electric UTV
Polaris Ranger EV – All-Round Impressive Electric UTV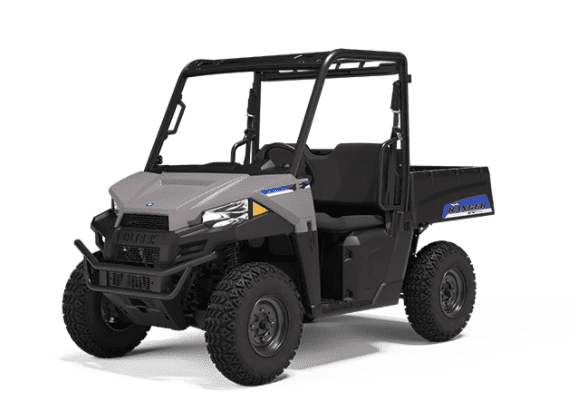 Electric UTVs are often the quietest on the market; however, the noise does rise a bit on the Polaris Ranger EV when you use the True All-Wheel Drive mode. This feature allows you to engage all the wheels to provide more traction and power, which is great, but the increase in noise is why the Ranger EV isn't at the top of my list.
The Ranger EV is a great UTV that offers an ideal two-seater option combined with a high level of performance.
The Ranger EV can tow 1500 lbs, which is impressive for an electric model, and like all Polaris UTVs, the customization options are fantastic. This allows you to extend the functionality of the UTV and really make it your own.
The battery life should last between 35 to 45 miles, limiting it compared to a gas model, but it is still good for an electric UTV. If you do want to opt for an electric UTV that isn't going to give off much noise (but this does increase when in 4wd), the Polaris Ranger EV is an excellent option.
Pros
Electric UTV that runs quietly
Offers good towing capacity
Ideal for the environment
Good battery life
Cons
The noise does increase in True All-Wheel Drive mode
You will need to recharge it between 35 to 45 miles
Honda Pioneer 700 – Driving in Small Spaces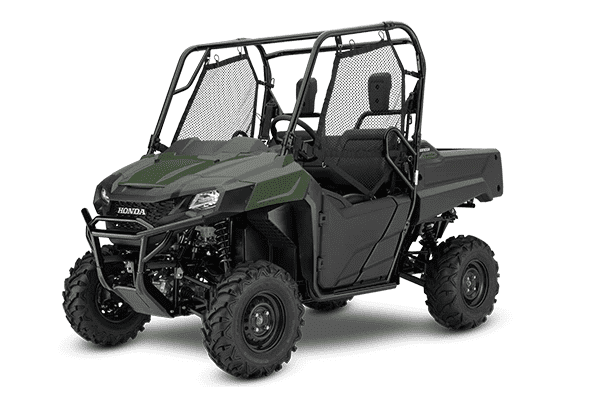 The Honda Pioneer 700 is a compact UTV that provides a quiet ride.
This UTV has a 675cc liquid-cooled OHV single-cylinder four-stroke engine which offers great performance alongside low noise. In fact, this is one of the quietest gas-powered UTVs on the market.
Some other things I like about the Pioneer 700 is the 1500 lbs towing capacity, which puts it on par with the Polaris Ranger EV, and the 1.2-gallon reserve engine in case you run out of fuel.
The downhill assist adds an element of stability and control, especially when you are driving in challenging off-road conditions. You are unlikely to find a better UTV on the market in terms of reliability.
There have been some reports of issuing getting the engine started. In addition, the QuickFlip seating safety latch is in an awkward position as it prevents the cargo bed from completely releasing.
Overall, the Honda Pioneer 700 provides a ride without much noise but plenty of performance.
Pros
Offers a high level of performance and reliability
It doesn't make much noise compared to other gas UTVs
Excellent stability, especially in challenging conditions
Cons
Some problems with starting the engine
Awkward placement of the QuickFlip seating safety latch
Kawasaki Mule Pro-FX EPS LE – Picking Up Significant Speed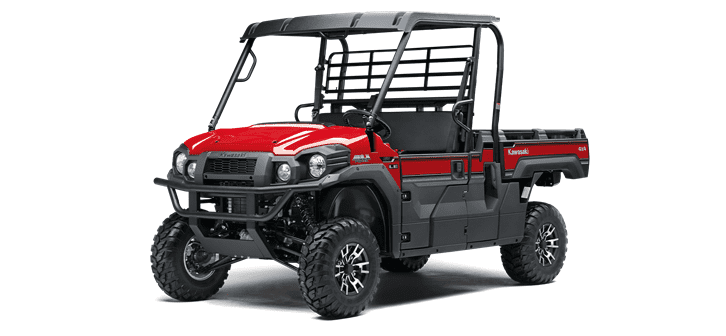 The second Kawasaki UTV on my list is the Kawasaki Mule Pro-FX EPS LE, a superbly quiet vehicle. This gas-powered UTV is so quiet that you can easily talk to the person beside you without raising your voice.
This Mule UTV is perfect for quick rides as it comes with an 812cc 4-stroke, 3-cylinder, DOHC, liquid-cooled engine that allows you to get to around 50 mph.
I love the 2000 lbs towing capacity as it offers a ton of potential to carry heavy loads, and the UTV does offer a reasonably comfortable ride. I would like it to be a little more comfortable for the driver as it can impede aggressive driving, but it is a minor complaint.
If you need to quickly get around large areas such as a ranch or forest, the Kawasaki Mule Pro-FX EPS LE has the speed and performance you require.
Pros
Quiet for a gas-powered UTV
Offers quick speeds up to 50mph
2000 lbs towing capacity
Cons
It could be more comfortable for the driver
Yamaha Wolverine X4 – UTV With Integrated GPS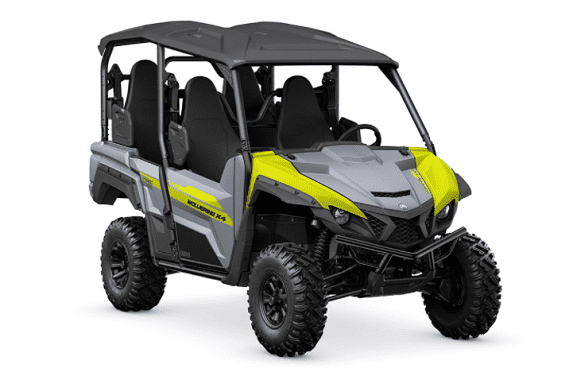 Aside from not bursting your eardrums when driving, the Yamaha Wolverine X4 is excellent if you want integrated GPS. OK, this feature isn't standard on the Wolverine X4; however, it is prewired, and it's something you can add on as customization.
Aside from that, the X4 is a quiet but powerful UTV. The suspension system provides a good level of comfort, and it can absorb shocks and impacts with ease. Also, the design of this UTV is great, and I love the modern and sporty aesthetic that it gives off.
One thing I am not a fan of is the seating position, as it isn't the most comfortable.
You can tow heavy loads due to the 2000 lbs towing capacity, and this UTV is an ideal choice if you want a quiet ride, integrated GP, and superior aesthetics.
Pros
It is pre-wired for integrated GPS
Quiet and smooth ride
Has an outstanding 2000 lbs towing capacity
Cons
I would like a more comfortable seating position
HISUM Sector E1 – Quiet with Impressive Battery Life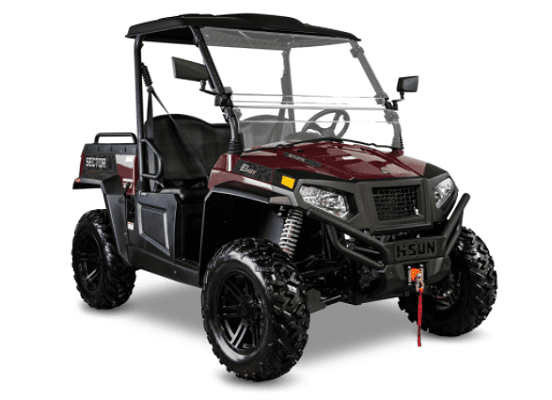 The final UTV on my list that isn't going to break any noise pollution laws is the HISUM Sector E1. This is the second electric UTV I have included. I'm not 100% sure of the decibel level for this UTV, but it is very quiet.
The reason the Sector E1 is on my list, beyond the fact that it runs very quietly, is that it offers an impressive battery life. You can expect up to 50 miles with this electric UTV, which does offer many possibilities in terms of where you can drive it.
The Sector E1 also has 2wd and 4wd options, and it can pick up reasonable speeds too for an electric model. There are some parts to this UTV that feel a bit cheap and flimsy; however, overall, it is fairly sturdy.
You can pick up this electric UTV relatively cheaply, and any customizations and addons are usually available for less than you would pay with a Polaris Ranger.
Pros
Very quiet electric UTV with a good battery life
Offers 2wd and 4wd options
Available at a reasonable cost
Cons
Some aspects of this UTV feel quite cheap
Frequently Asked Questions
Question: What is the Law Around UTV Noise?
Answer: The law around UTV noise differs on a state level; however, in most cases, UTVs have a limit on how much noise they can make on a trail. This is usually between 92 and 96 dB.
Question: Are Electric UTVs Quieter Than Gas-Powered UTVs?
Answer: Yes. Although they come with some limitations, electric-powered UTVs make significantly less noise than gas-powered UTVs.
Question: Can an Exhaust Silencer Make My UTV Quieter?
Answer: Potentially. If you already own a UTV, one way of reducing its noise levels is to install an exhaust silencer. This will limit the noise your UTV produces, although it might not work as well as purchasing a vehicle designed for noise reduction.
Question: Can Driving a Noisy UTV Damage Your Hearing?
Answer: Potentially, yes. If you regularly expose yourself to loud noises from your UTV, this can impact your hearing over the long term. The best thing is to invest in an electric or a low noise gas-powered UTV.
Question: Why is my UTV Loud?
Answer: UTVs are made to be lightweight and offer a high level of performance. This means that parts and components you usually find in other vehicles to limit noise aren't present on a UTV. The result is a higher noise level that can be up to 100 dB.
Question: Do All UTVs Give Off a Lot of Noise?
Answer: No. Many gas-powered and electric UTVs have been designed to reduce the decibels that they give off. Electric UTVs are usually quieter, but there are gas-powered UTVs that provide a very quiet ride.
Which is the Quietest Side by Side UTV?
My pick is the Kawasaki Mule 4010.
This UTV is gas-powered; however, its engine and technology ensure that it doesn't make much noise when driving. Also, the combination of a quiet ride with excellent performance is why this UTV is number one.
This Mule 4010 has a great towing capacity, and it is small enough to fit into small spaces while still being able to tow and carry an impressive amount. If you want a great all-rounder that isn't going damage your hearing when driving, go for the Kawasaki Mule 4010.