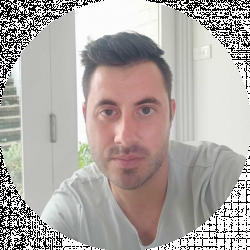 Latest posts by David Borgogni
(see all)
Monitoring the oil level and changing the oil is a major part of ATV maintenance. But, to take good care of your vehicle, you need to know how to find the best oil for ATV engines. Unfortunately, this can be a tedious task due to the vast array of available options and somewhat confusing oil classifications.
Quads and four-wheelers produced by industry-leading brands are equipped with different engines. Hence it is not always possible to use the same oils on ATVs produced by two different brands.
Moreover, all manufacturers recommend oils that are best suited for the engines featured on a specific ATV model. So, the easiest way to find out which engine oil is the best choice for your vehicle is to go through the owner's manual.
In this article, I will take you through the most critical aspects of choosing the engine oil for your ATV an d recommend several products that can help keep your vehicle's engine in perfect condition.
You should check out our guide to ATV replacement parts if one or more of your quad's components have stopped working properly.
At a glance – The 5 Best ATV Engine Oils
Selection criteria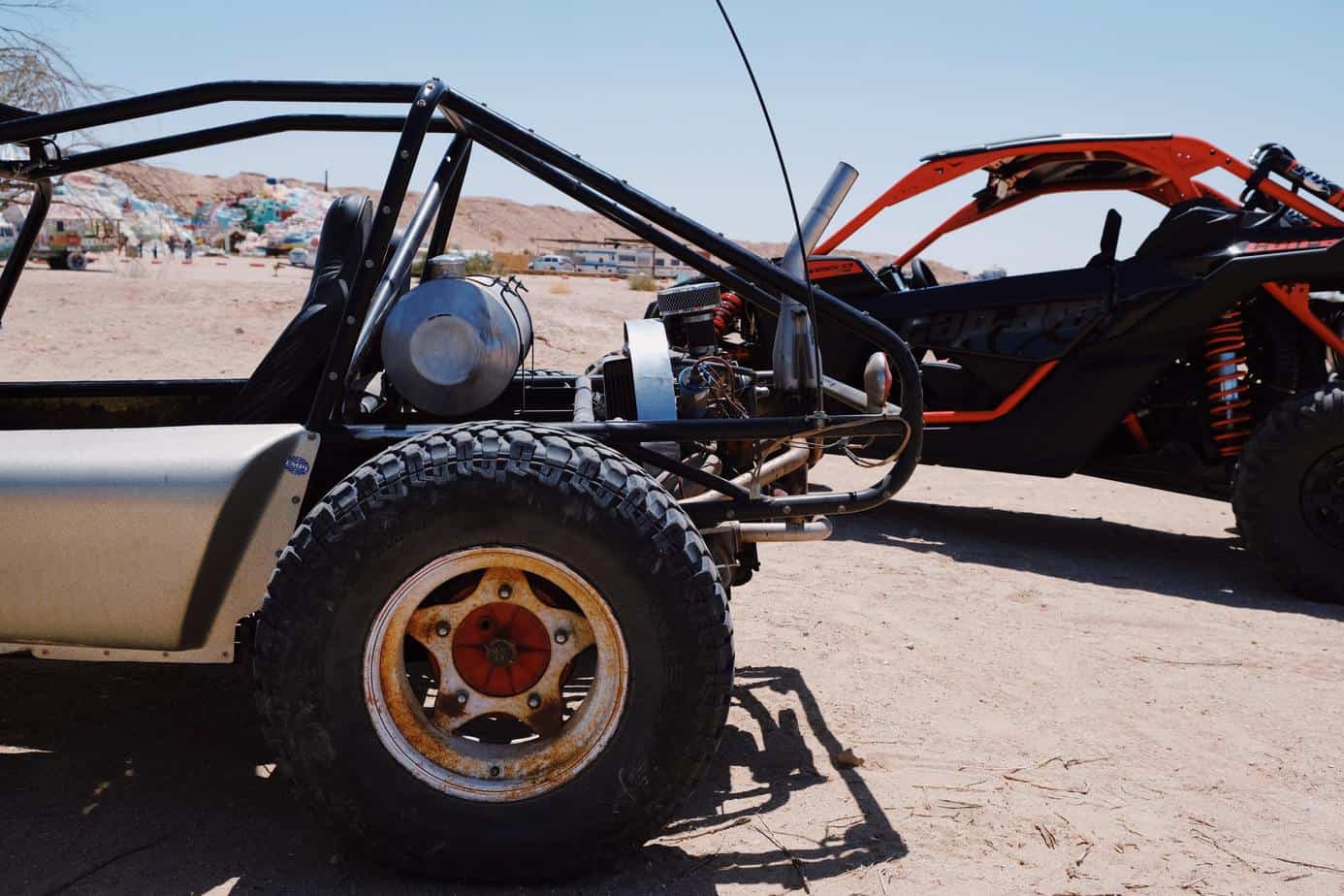 The process of choosing oil for an ATV engine isn't necessarily complicated since there are only a handful of parameters you need to keep your eye on. The huge selection of available models is arguably the greatest challenge you'll face while trying to decide which ATV engine oil to choose.
I used several parameters while choosing models featured in this article to pinpoint the ATV engine oils that offer the best performances on a wide range of ATVs. Here are some of the most important criteria I utilized to shortlist the best oils for ATV engines.
Viscosity rating: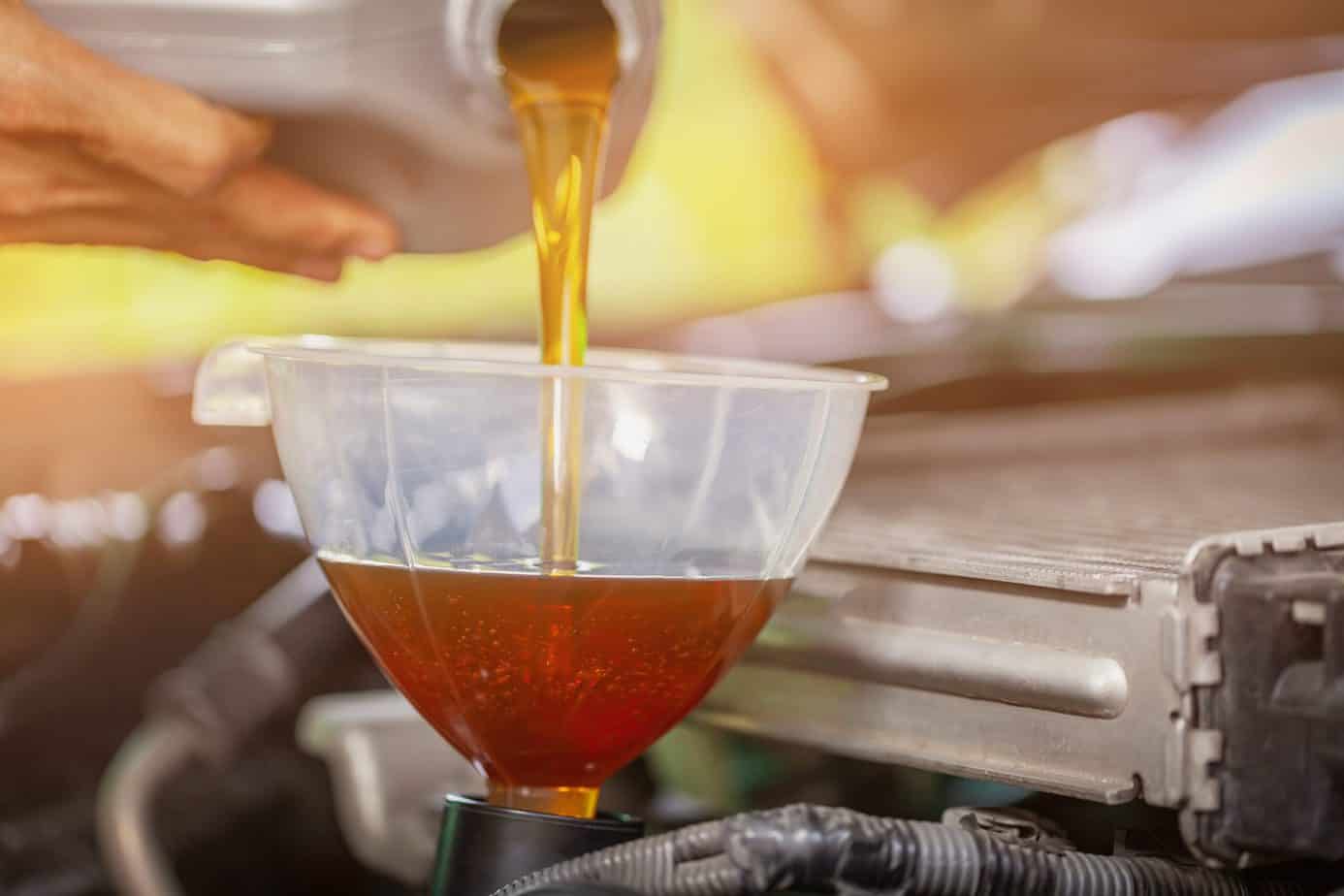 Exposure to high and low temperatures affects the oil's resistance to flow. Hence, the oil will grow thinner as its temperature increases or thicker if its temperature decreases. ATV engine oils I selected remain stable at low and high temperatures.
ATV engine compatibility:
I utilized this parameter to select engine oils suitable for a wide range of quads and four-wheelers.
Please go through our guide to the best ATVs to learn more about the performance capacities of some of the best quad models on the market.
The role of oil in ATV engines
Like all engines, ATV engines contain a lot of moving components that operate at high temperatures. Without proper lubrication and cooling, these components wear out quickly, often causing irreparable damage to the engine.
The key role of oil in ATV engines is to keep the moving parts properly lubricated and to reduce friction between these parts. It also lowers the temperature of parts of the engine the coolant cannot reach, and it works as a sealant that enables the engine to reach the recommended compression.
Oil also slows down the corrosion process of the engine's components and removes the carbon buildup generated by gasoline combustion. Using regular car oils with quad engines isn't advisable because its formula might not have enough film strength for a slow but powerful engine.
In addition, unlike regular engine oil, oils for ATVs lubricate the transmission and ensure the part's optimal performance. Browse through our guide to the best ATV gear to find the accessories that can improve your safety and level of comfort on an ATV trail.
Making sense of ATV engine oil grades and classifications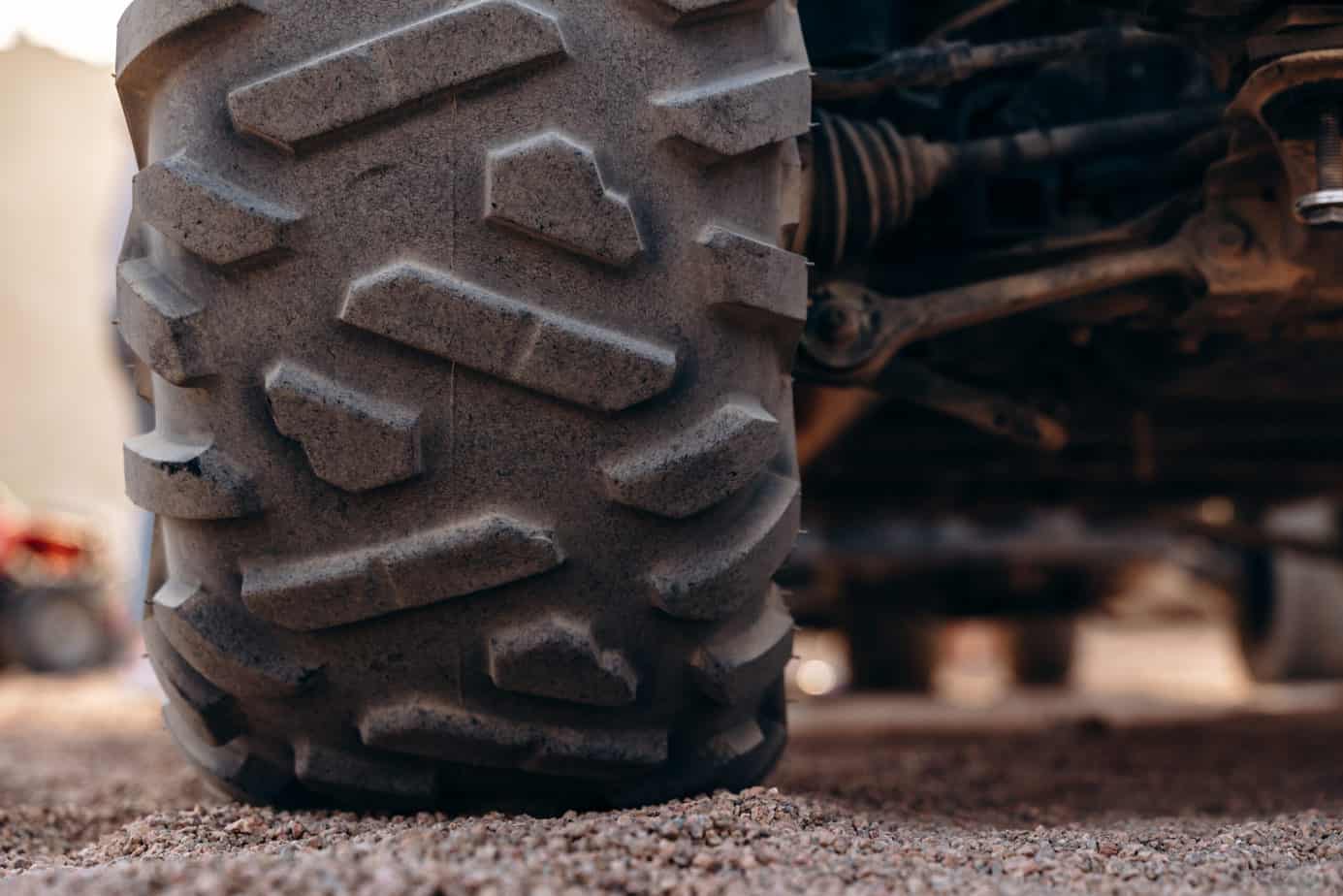 Understanding different types of classifications are perhaps the most challenging part of the ATV engine oil selection process. In most cases, you'll encounter SAE, JASO, or API grades and classifications, so let's take a look at what they mean.
SAE Grade:
This is by far the most common and the most important oil grade. Making sense of it is fairly easy since the first part of the code indicates the oil's viscosity at cold temperatures, while the second part of the code refers to the oil's high-temperature viscosity. Hence, if you're planning on using your ATV during winter, you should get engine oil with an SAE rating of 0W or 5W.
JASO Classifications:
Developed by the Japanese Automotive Standard Organization, the JASO classification denotes oils for four-stroke engines. There are several JASO certification categories, and the ATV engine oil you choose must be from the JASO MA category.
API Classifications:
This is the American version of the JASO classification, and there are five different API groups. The vast majority of ATV engine oils come from the API Group 3 that refers to synthetic oils.
Read our guide to the best GPS for ATV trail riding if you're looking for a way to improve your vehicle's navigation system.
Deciding between OEM and aftermarket ATV engine oils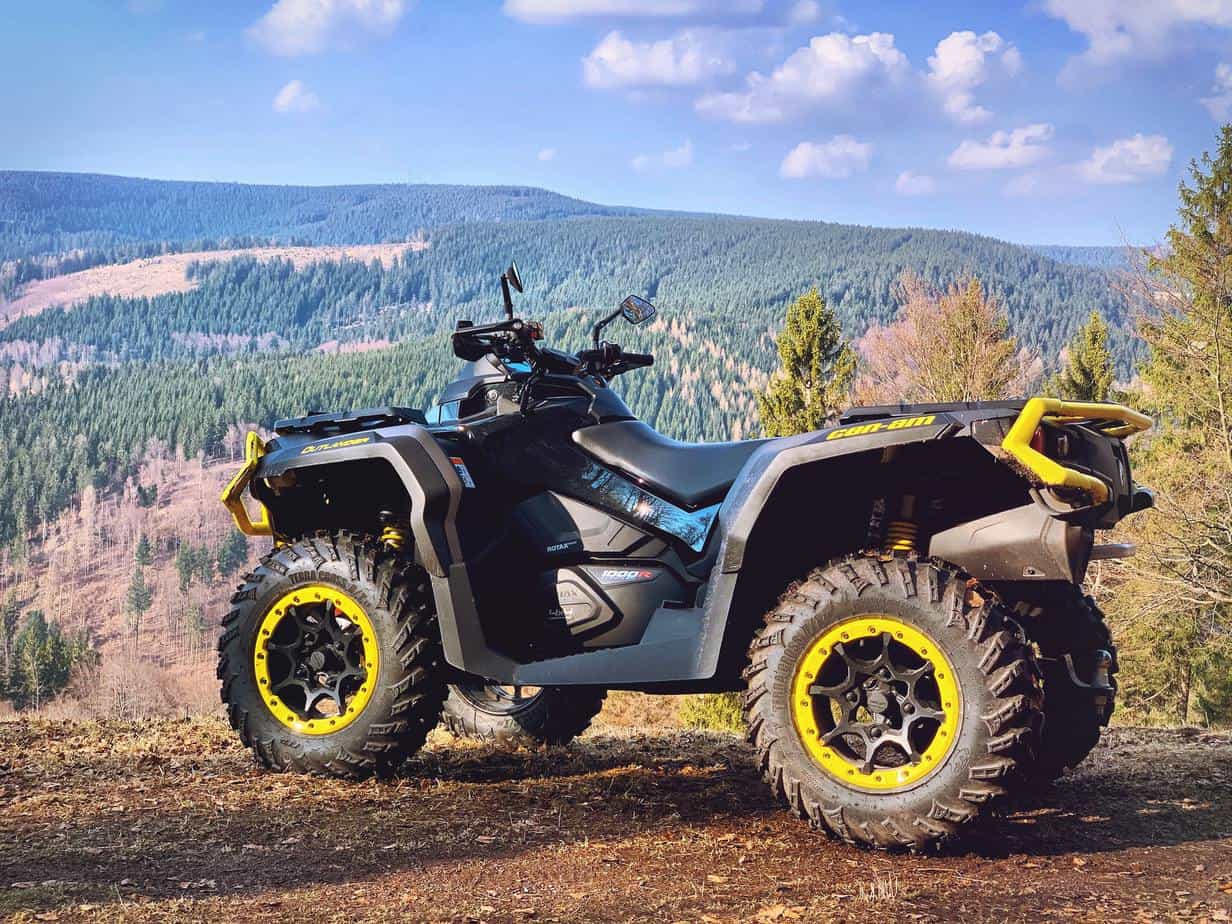 Polaris, Honda, and Yamaha are some of the brands that manufacture engine oils designed specifically for the needs of engines featured on their ATV models. Most manufacturers include the engine oil recommendations in the owner's manual, making it easier to find a good aftermarket option.
OEM oils for ATV engines are considerably more expensive than aftermarket models, and they don't perform equally well on all types of ATV engines. Hence, you cannot use the oil made for Polaris ATV engines on engines that power Can-Am quads.
On the other hand, opting for an aftermarket ATV engine oil might make it more difficult to adjust to the vehicle's requirements since the oil wasn't produced with the needs of a specific engine in mind. So, for instance, if you own a Polaris quad, you'll need an engine oil that has a wide viscosity range.
Go through our guide to the best aftermarket ATV axles if you need a replacement for this component.
What is wet clutch oil?
Before you start searching for the engine oil for your ATV, you must first check which type of clutch the vehicle uses. The term wet clutch refers to a clutch that is lubricated by the engine oil. Dry clutches aren't common on quads and four-wheelers, so in most cases, your vehicle will need a wet clutch oil.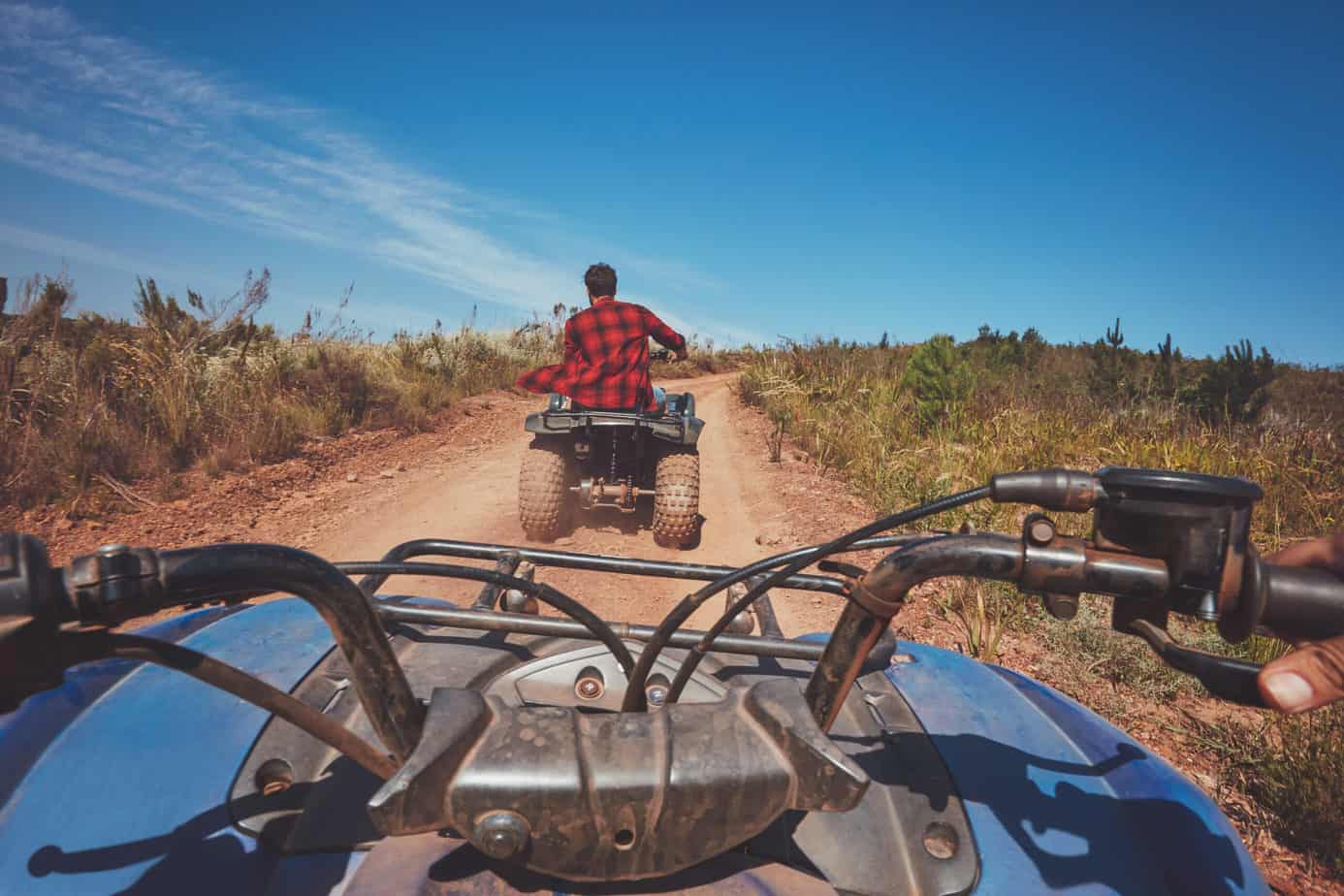 Figuring out if engine oil is suitable for use with wet clutches is simple since most manufacturers include this information on the product's label. Keep in mind that wet clutch oil can get dirty quickly because it because they collect the dust accumulated on clutch pads.
Moreover, you need to check if your ATV has an automatic or manual clutch to determine the correct JASO classification for your vehicle's clutches. In most cases, engine oil with the JASO MA classification will be suitable for ATVs with both automatic and manual wet clutches.
Read our Honda Pioneer review if you're in the market for a new ATV.
The most important factors to consider while choosing oil for ATV engines
Using engine oils that don't have the grades and classifications recommended by the manufacturers creates a risk of lowering the engine's performance. Hence, the first step you'll need to take in searching for an ATV engine oil is to check the recommended SAE grades and API or JASO classifications.
Manufacturers' recommendations aren't the only factor you should take into consideration. That's why I shortlisted several factors that can help you find the engine oil that works best for your ATV.
Brand reliability
All engine oils consist of a mixture of base oils, viscosity additives, detergents, and dispersants. Their quality depends on the quality of these components. Oils produced by well-established brands like Valvoline or Lucas Oil contain components that preserve engine parts and enhance their performance.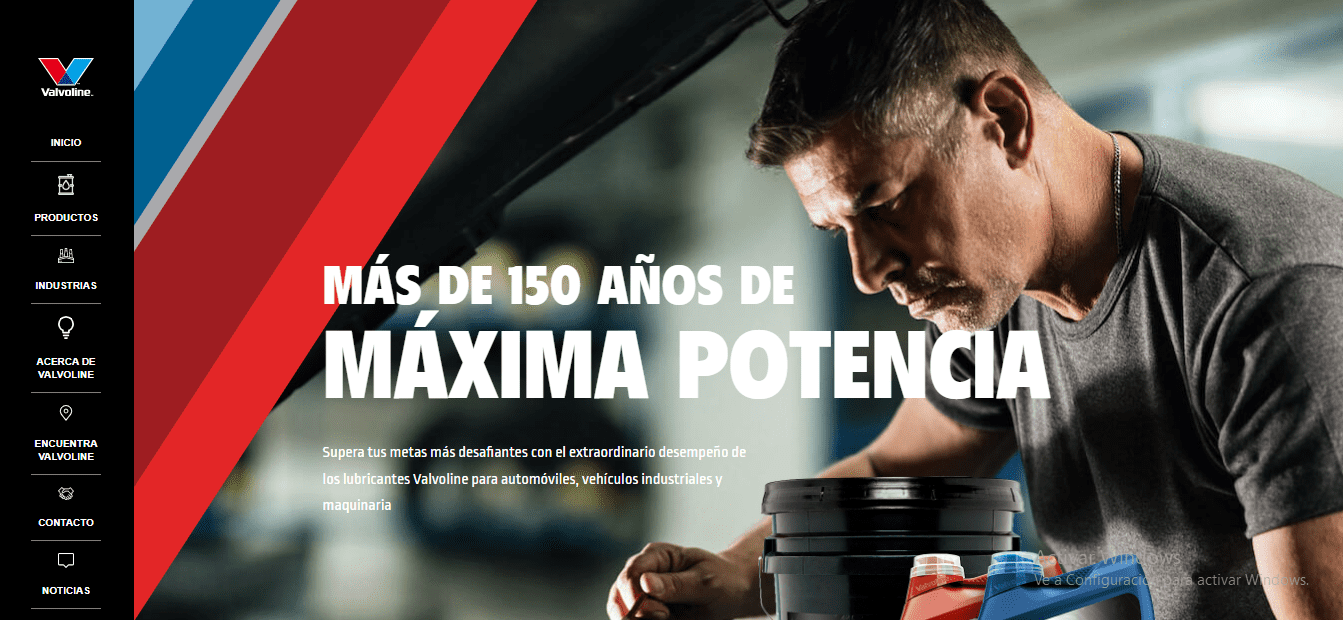 This doesn't mean that you should avoid oils for ATV engines manufactured by less-known brands, but rather that you should pay more attention to their components.
Viscosity rating
All ATV brands include this information in the owner's manual, so the easiest solution is to get the engine oil with the same cold or hot viscosity rating as the vehicle's manufacturer recommended.
In most cases, the cold viscosity of the ATV engine oil will be 0W, 5W, or 10W, while its hot viscosity rating will either be 40W or 50W.
However, if you're planning on using your ATV in extremely cold conditions, you can opt for an 0W ATV engine oil even if the manufacturer recommends an oil with a 5W cold viscosity rating.
Full synthetic or semi-synthetic
ATVs don't use standard engine oil because they're not designed for high-temperature environments. Moreover, oils for ATV engines contain additives that are adjusted to harsh conditions of slow and high RPG engines.
Hence, you'll have to choose between full synthetic and semi-synthetic ATV engine oils. Semi-synthetic or synthetic blend oils are more affordable than full synthetic oils, but they tend to get contaminated quickly.
Despite their high price, full synthetic oils are the best option for frequent ATV riders because they provide excellent protection to all parts of the engine and keep the clutch and transmission in great condition longer than any other type of oil for ATV engines.
ATV's engine type
Quads and four-wheelers can have 2-stroke, 4-stroke, or liquid-cooled engines. Nonetheless, the vast majority of ATV models are equipped with 4-stroke engines, so unless your vehicle has a different type of engine, you should search for the oil designed for 4-stroke ATV engines.
Checking which type of engine your vehicle has will make it easier to find a suitable oil for it.
Price and performance
High-quality ATV engine oils remove carbon buildups efficiently, prevent corrosion inside the engine and ensure that the clutch and transmission are working properly. In addition, the best oils for ATVs tend to stay clean longer than other products, and they're not prone to thickening.
A 64oz bottle of an OEM ATV engine oil can cost as much as $50, while you can purchase an aftermarket model for less than $20. Bear in mind that the product's price depends on the size of the bottle.
The advantages of oils for ATV engines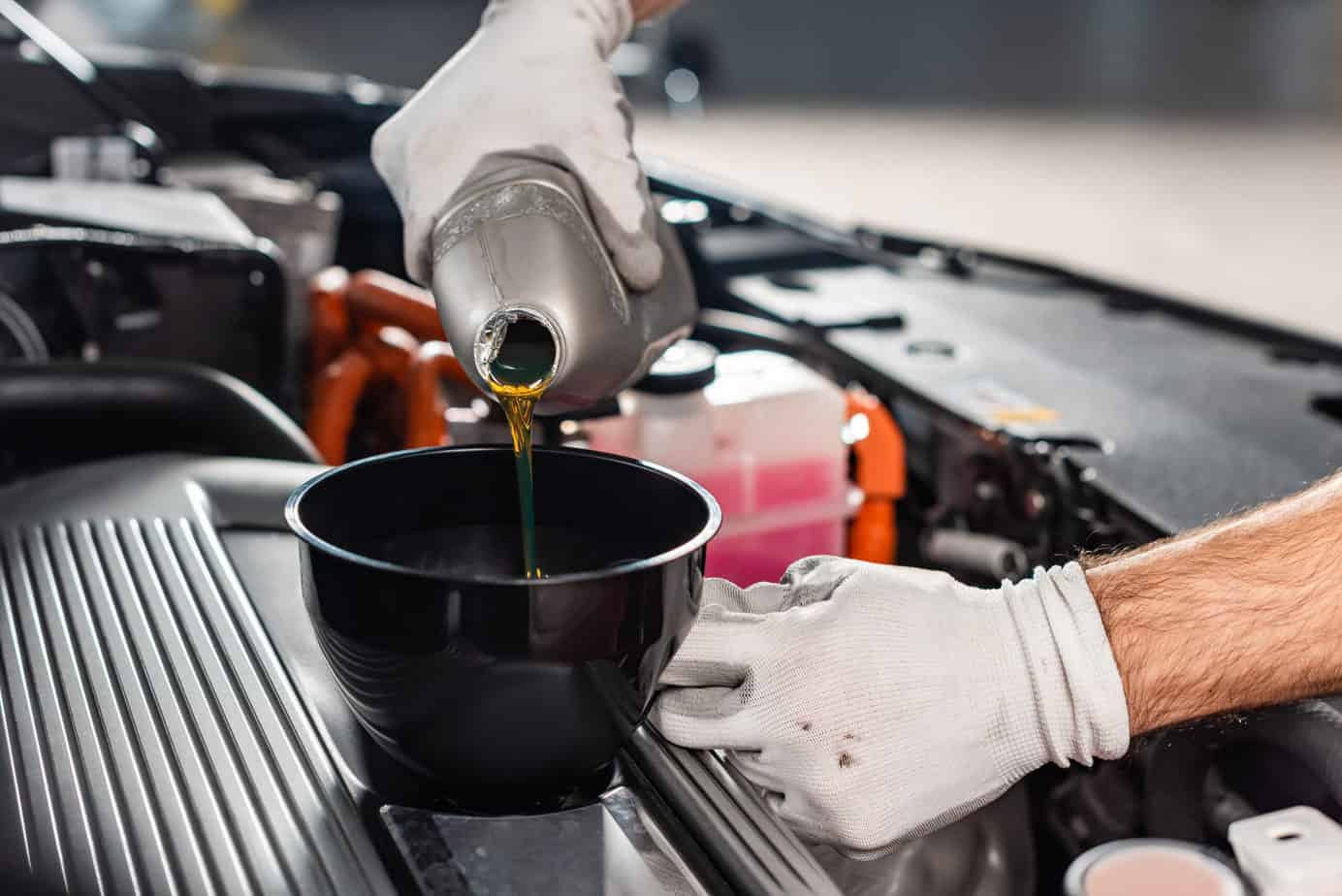 Extends the engine's life
Changing the ATV engine oil regularly will help reduce carbon buildup in the engine, prevent corrosion of its parts and lower the engine's temperature. These oils reduce the wear and tear of the engine's components and lessen the chances of engine failure.
Wide variety of options
Finding an oil for your ATV's engine won't be too difficult because you'll have a broad range of options at your disposal. Nonetheless, you shouldn't opt for engine oil that doesn't fit the manufacturer's recommendations.
Excellent low-temperature performance
Most engine oils for ATV engines maintain their stability even at subzero temperatures. Getting a 10W-40 ATV engine oil will enable you to use your vehicle at temperatures as low as -22F.
The disadvantages of oils for ATV engines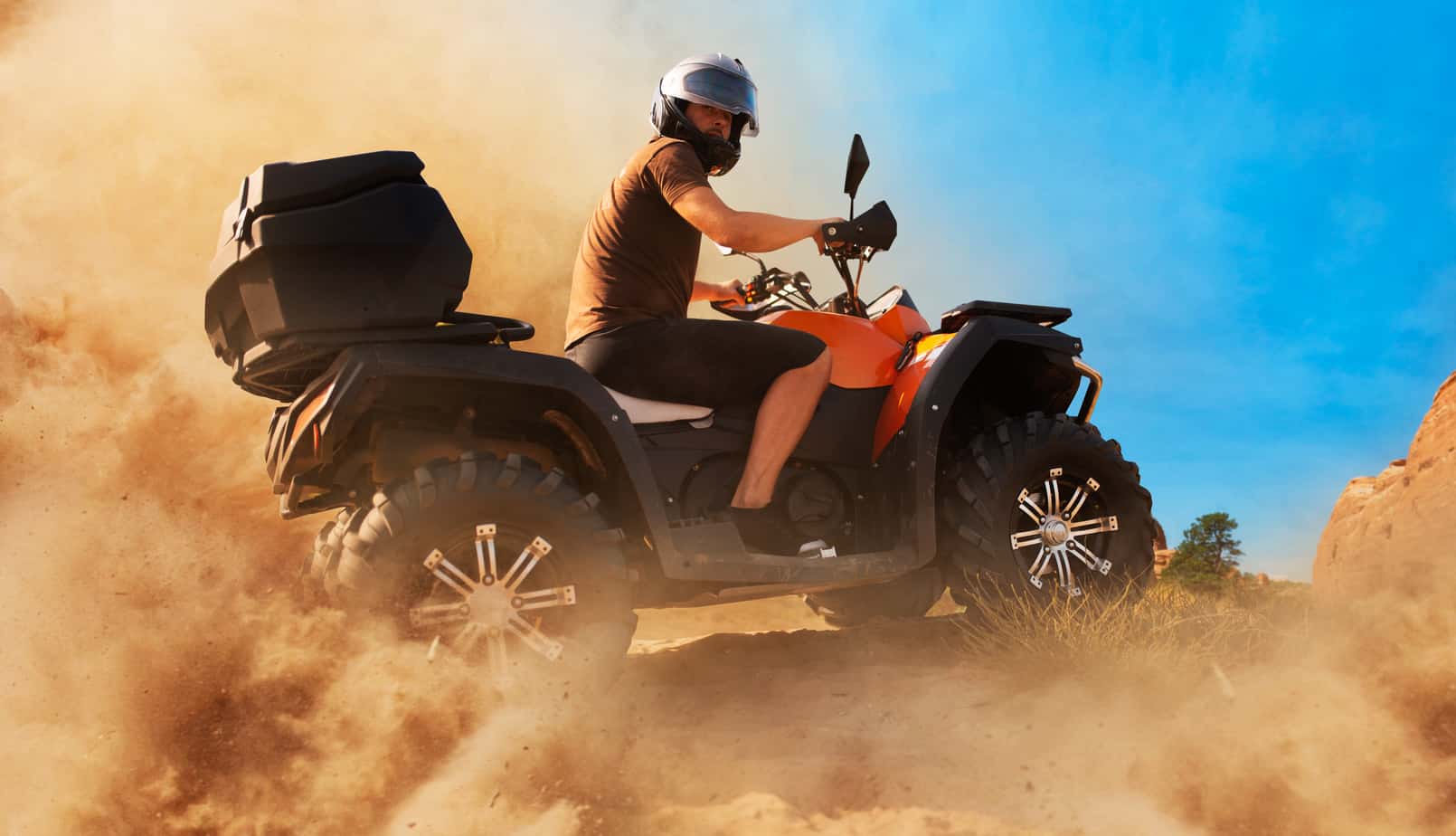 ATV's require frequent oil changes
You have to change the oil after 300 miles or 50 hours of riding an ATV. If you're using your vehicle in races, it is advisable to change the oil after every race.
Top 5 oils for ATV engines
Valvoline ATV/UTV engine oil – The best aftermarket oil for ATV engines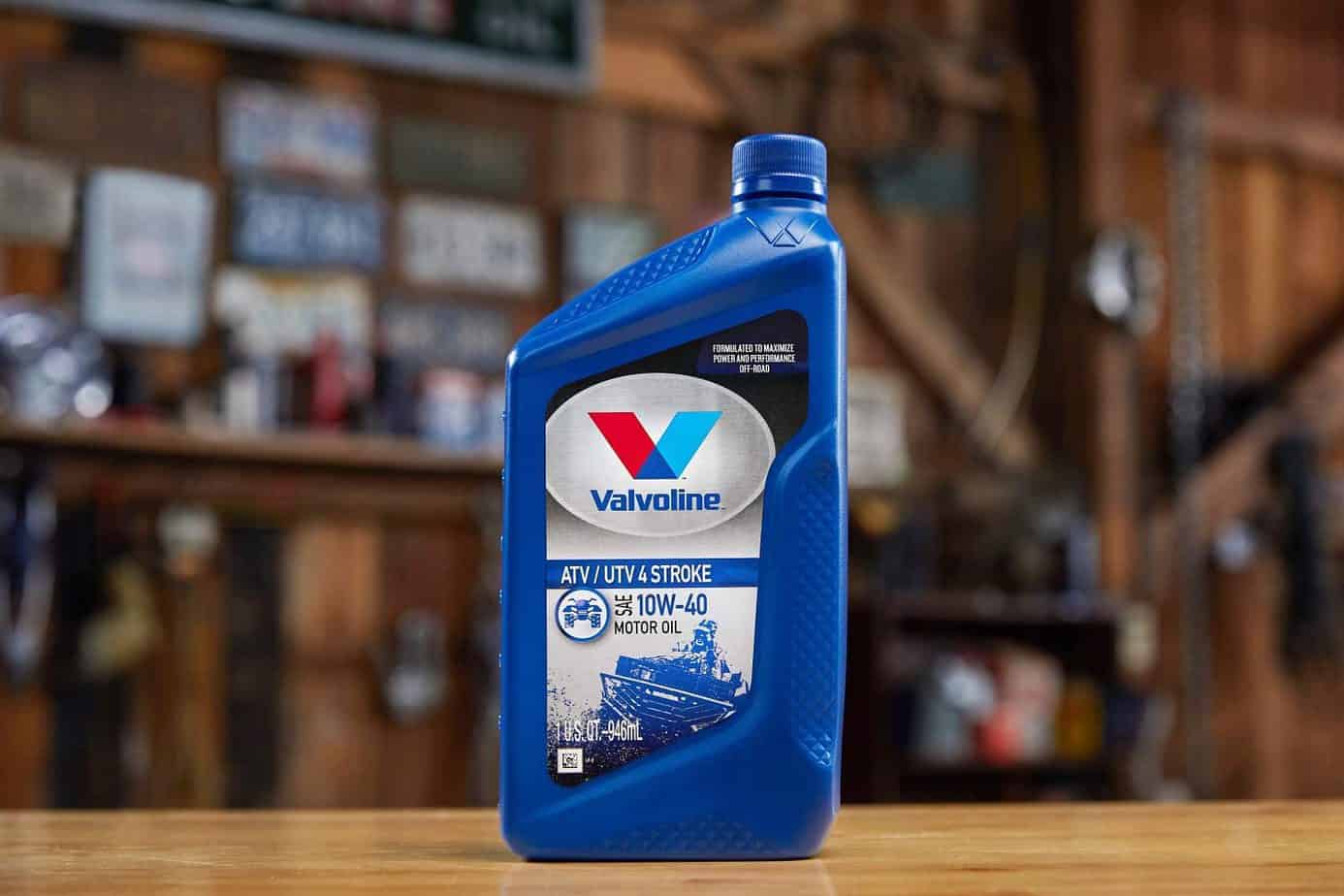 The ability to perform in extreme engine environments makes the Valvoline ATV/UTV engine oil one of the best aftermarket options for ATV engines. The product has SAE 10W-40 grade, so you shouldn't use it in extremely cold conditions.
The Valvoline's engine oil is wet clutch safe, and it improves the vehicle's power transfer. In addition, this oil contains a combination of detergents and dispersants that collect pollutants and clean carbon deposits in the engine.
Pros
Excellent price
Suitable for a wide range of 4-stroke ATV engines
High film strength
Designed to protect wet clutches
Cons
Not a great option for extremely cold weather conditions
Ravenol J1V1402 – The best semi-synthetic oil for ATV engines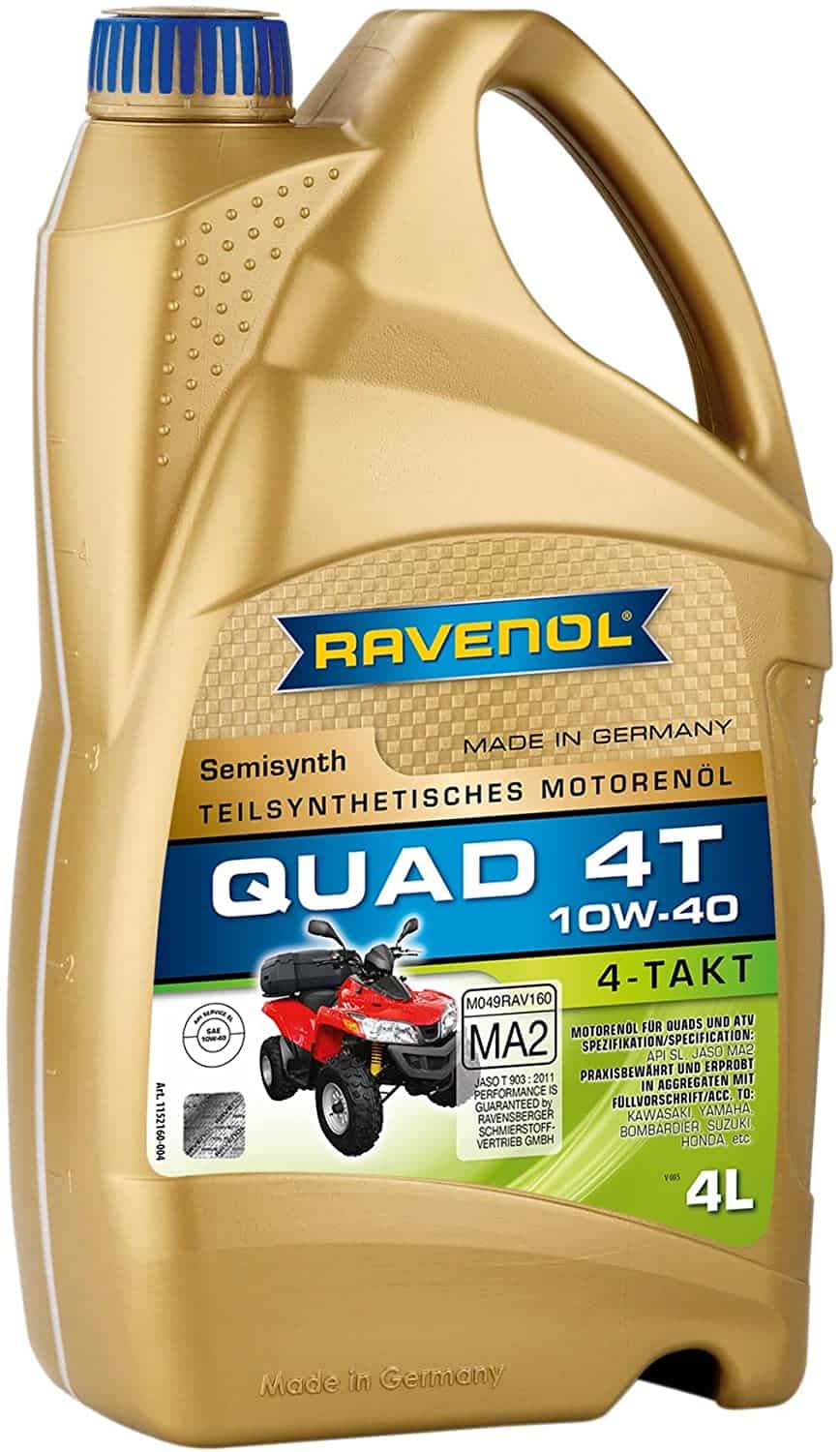 You can add the Ravenol J1V1402 oil to engines on Can-am, Polaris, or Honda ATVs. This oil is compatible with all wet clutch systems and offers a high degree of protection to all engine components. Its SAE 10W-40 rating makes it suitable for use in moderate weather conditions.
This semi-synthetic oil comes in a 1-gallon bottle, which means that you can use it for at least two oil changes. Also, this product is classified as API SL, and you can only use it on 4-stroke engines.
Pros
Wide operating temperature range
Compatible with a broad spectrum of ATVs
Long shelf life
Removes debris and carbon buildup from the engine
Cons
It doesn't perform as well as full synthetic oils
Maxima 33901 – The best oil for 4-cycle ATV engines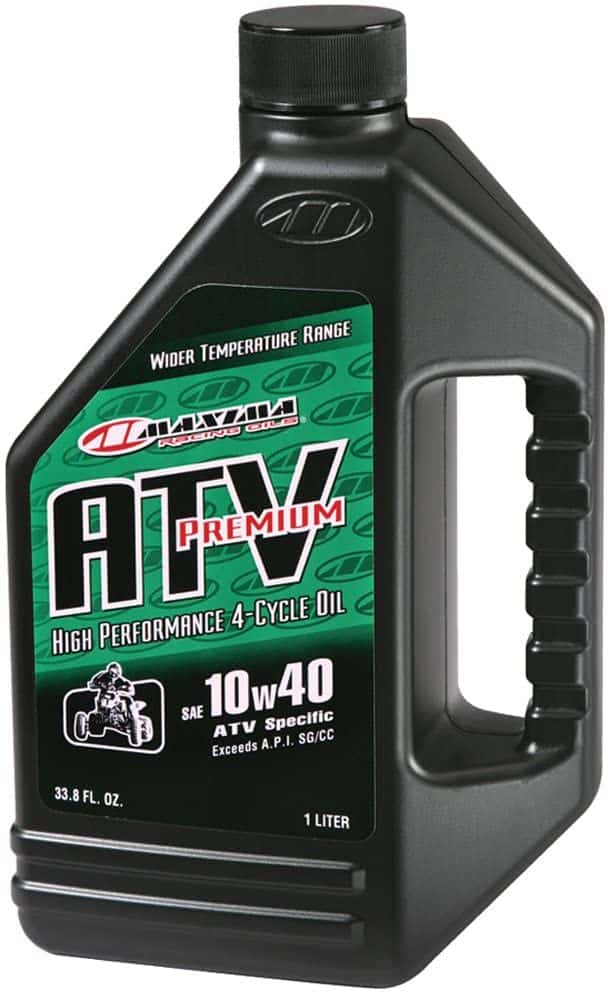 Starting the ATV's engine in all types of weather conditions won't be difficult if you decide to get the Maxima 33901. This oil contains anti-scuff additives that enable it to reduce the wear of all engine parts.
The formula also contains additives that reduce the friction of the engine's components and protect them from corrosion. In addition, Maxima's product is suitable for use with wet clutch systems because it contains additives that protect clutch pads.
This ATV engine oil has the SAE 10W-40 rating, and it maintains stability at temperatures above -22F.
Pros
High-quality ingredients
Works with most 4-stroke ATV engines
Reduces friction
It makes starting the engine easier
Cons
A single pack might not be enough for an oil change
Amsoil ATV/UTV engine oil – The best cold weather oil for ATV engines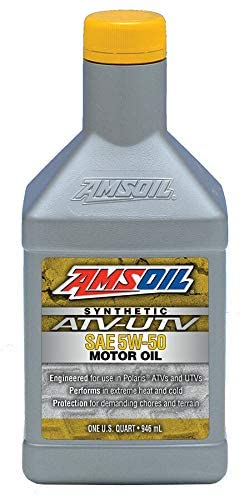 You should take a closer look at the Amsoil ATV/UTV engine oil if you're looking for an engine oil with a wide operating temperature range. The product's SAE 5W-50 rating indicates that it performs equally well in cold and hot conditions.
This fully synthetic oil is designed for extreme environments of 4-stroke ATV engines, and it doesn't get dirty easily. Its formula includes a variety of additives that lower the friction and prevent the corrosion of the engine's parts.
Pros
Prevents cold starts
Enhances engine's performance
Protects wet clutches
Reduces the wear of engine's parts
Cons
This oil is only available in 1-quart bottles
Polaris PS4 – The best engine oil for Polaris ATVs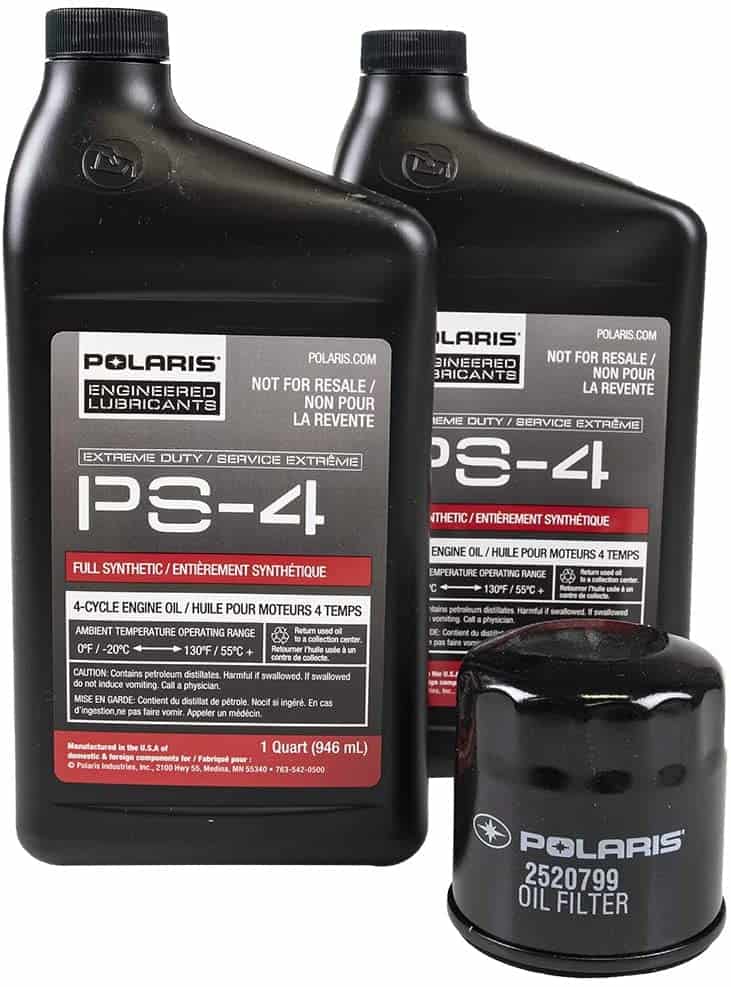 Owners of Polaris Sportsman XP 850 and all other brand's ATVs can benefit from using the Polaris PS4 engine oil. The product remains stable as long as outdoor temperatures are above 0F or below 130F.
This fully synthetic oil is designed for 4-cycle engines, and it contains highly efficient additives and cleaning detergents that protect the engine from damage. However, this product is more expensive than most of its competitors.
Pros
It doesn't thin or thickens at extreme temperatures
Prevents corrosion
Suitable for all Polaris ATVs
It helps regulate the engine's temperature
Cons
Not recommended for ATVs produced by other brands
Frequently asked questions about oils for ATV engines
Question: How often do I have to change engine oil on an ATV?
Answer: You should change the ATV's engine oil every 300 miles, but you have to check the oil level before every ride.
Question: When to change ATV engine oil?
Answer: You should change the oil if your ATV's engine becomes louder than usual or if the vehicle starts shaking while idling.
Question: What is the shelf life of ATV engine oils?
Answer: You can store an open bottle of ATV engine oil for up to five years.
Question: How much oil should I add to an ATV engine?
Answer: The recommended amount of oil for ATV engines is between 1.5 and 2.5 quarts, but you need to check the manual to find out how much oil your ATV's engine needs to function normally.
My verdict: How to choose the best oil for your ATV's engine?
The process of selecting the right oil for your quad or four-wheeler shouldn't be difficult. All you need to know is the recommended SAE grade and API or JASO classifications for a specific engine, and you can start exploring the available options.
If you own a Honda or Polaris ATV, you should consider getting the engine oil produced by these brands, as it can help you avoid compatibility issues. I recommend the Valvoline ATV/UTV engine oil because it contains high-quality base oils and additives that protect the engine from damage.
The Amsoil ATV/UTV engine oil might be a good solution for you if you're planning on using your quad in extreme weather conditions. I hope that this article has helped you discover the best engine oil for your ATV.
Let me know in the comments or continue reading our Yamaha Kodiak vs. Grizzly comparison to find out which of these ATVs is better.