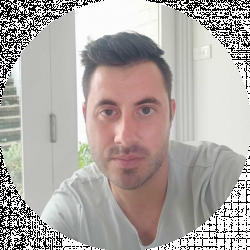 Latest posts by David Borgogni
(see all)
ATVs are powerful vehicles that allow you to do just about anything, from pulling heavy cargo to removing snow from your driveway. However, finding the best ATV for plowing and snow removal can be hard with so many available options.
Brands don't produce quads and four-wheelers specifically for this purpose, so you'll need to know which characteristics an ATV should have to be suitable for snow plowing. Moreover, having at least a vague estimate of how much snow you want to remove can make finding the suitable ATV model easier.
In this article, I will take you through all of the most important features of the best ATVs for plowing and snow removal, and I am going to suggest several models that will enable you to perform this task effortlessly.
You should also check out our guide to finding the best ATVs to learn more about the key characteristics of these vehicles.
At a Glance: The 5 Best ATVs for Plowing and Snow Removal
Selection Criteria
All industry-leading brands manufacture ATVs capable of removing large quantities of snow effortlessly. These vehicles are multifunctional, as they allow you to perform a wide array of activities that require strength and agility.
That's why selecting the best ATVs for snow plowing is not an easy task since there are so many models to choose from. I used a set of parameters to pinpoint quads and four-wheelers that perform admirably in cold-weather conditions.
So let's take a look at the most important criteria I utilized to select the best ATVs for snow plowing.
Engine size – Quads don't have to be fast to remove snow, but they have to be powerful. ATV models I selected are equipped with engines that have displacements ranging from 500cc to 750cc, and they offer more than 50HP.
Plow mount – Opting for a model with a factory-fitted plow mount will save you some time while installing a snowplow. That's why I used this parameter when choosing ATVs for this article.
ATV's traction capabilities – These vehicles need a high amount of traction to push large quantities of snow. That's why all ATVs I included in this article are heavy and equipped with high-traction tires.
Go through our guide to the best ATV tires for snow if you want to upgrade your vehicle's tires for the winter season.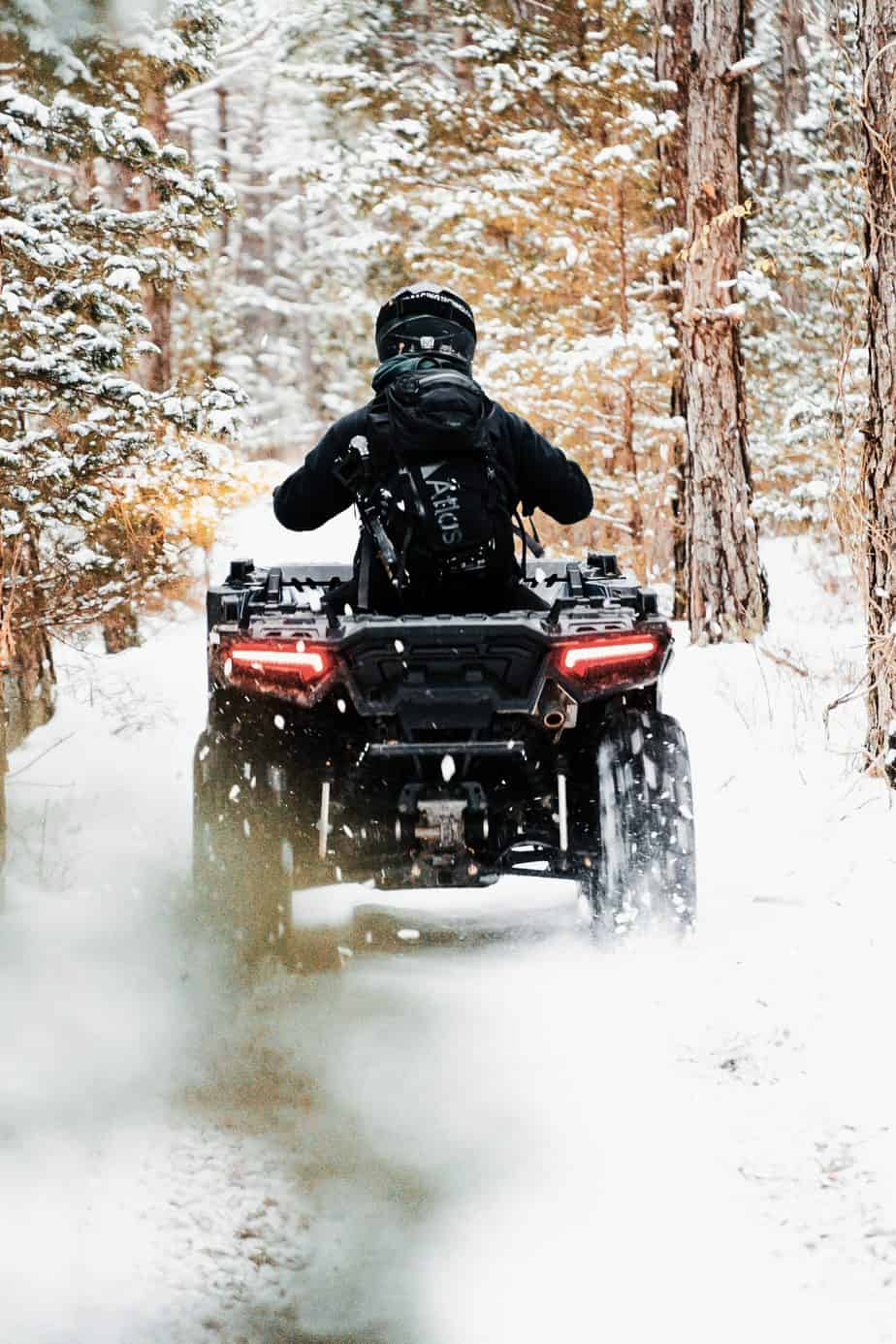 Which Type of ATV Is the Best for Snow Plowing?
Quads and four-wheelers are designed for different purposes, so the model you choose can be designed for racing, trail riding, or hunting.
Although models from either of these categories have engines that are powerful enough to move snow, they might lack other features you're going to need to remove snow from your driveway or a dirt road.
Hence, opting for a utility ATV is arguably your best choice if you're looking for a vehicle that can perform well at low temperatures or offer plenty of towing capacity. Moreover, ATVs from this category have racks that can carry more than 100lbs of cargo.
This enables you to increase the vehicle's traction and improve its stability by adding weight to it, which will allow you to move larger quantities of snow. However, adding too much weight to the vehicle can make it difficult to steer it.
Read our guide to the best ATV gear to learn more about the equipment you're going to need to use an ATV safely.
Recommended Engine Properties
The ATV you're planning to use to remove snow doesn't have to be fast or too powerful. So, there's no need to overspend on models equipped with 1000cc engines since even an ATV with a 400cc engine can provide you with enough power to remove moderate quantities of snow.
Hence, the model you choose should have an engine displacement in the range between 400cc and 800cc. Keep in mind that ATV models fitted with large engines are bulky and difficult to maneuver, so you may struggle to remove snow from tight spaces.
Most ATV owners don't use their vehicles for the sole purpose of plowing snow, so you need to factor in other contexts in which you're planning to use your quad while deciding on the right engine size.
Another thing you need to bear in mind is that 1000cc or 1200cc engines consume more fuel than a 600cc engine. Go through our Yamaha Kodiak vs Grizzly comparison to find out which of these ATVs is better for snow plowing.
ATV's Weight and Towing Capacity
Rather than the amount of power it offers, it is the vehicle's weight that plays a crucial role in its ability to move large quantities of snow. Heavy ATVs create more traction between a snowy or icy surface and its tires, which allows you to plow through wet snow.
Ideally, the quad you choose should weigh between 400lbs and 700lbs, although you can use lighter models to remove snow from your driveway or your courtyard.
Using a heavy AVT to cut through the snow will enable you to operate the vehicle at a low speed, as you won't need a lot of momentum to move the snow. You should also check the model's maximum towing capacity to know how much weight you can add to it.
Most 500cc to 800cc ATVs can't carry more than 1500lbs of weight. Checking how heavy is the snowplow you're planning on using will enable you to know how much more weight you can add to your vehicle.
Browse through our guide to the best ATV replacement parts if you need new brakes or cargo racks for your vehicle.
Useful ATV features for Snow Removal
Plowing through the snow will be much easier if your ATV is equipped with features that allow you to steer the vehicle effortlessly or move easily over icy terrain. Here are some ATV features that can make plowing snow easier.
Fuel injection system – Starting an ATV in freezing temperatures can be difficult if the vehicle's engine doesn't have a fuel injection system. Opting for a model equipped with this feature will enable you to use your quad even under harsh weather conditions.
EPS – Your ATV will face a high degree of resistance while pushing snow, and you might struggle to maneuver it without an electric power steering system.
Four-Wheel Drive – Most utility ATVs come with this feature, as it enables them to move easily through different types of terrains. 4WD quads won't struggle on snowy or icy surfaces.
Read our Honda Pioneer review to find out if you can use it for snow removal.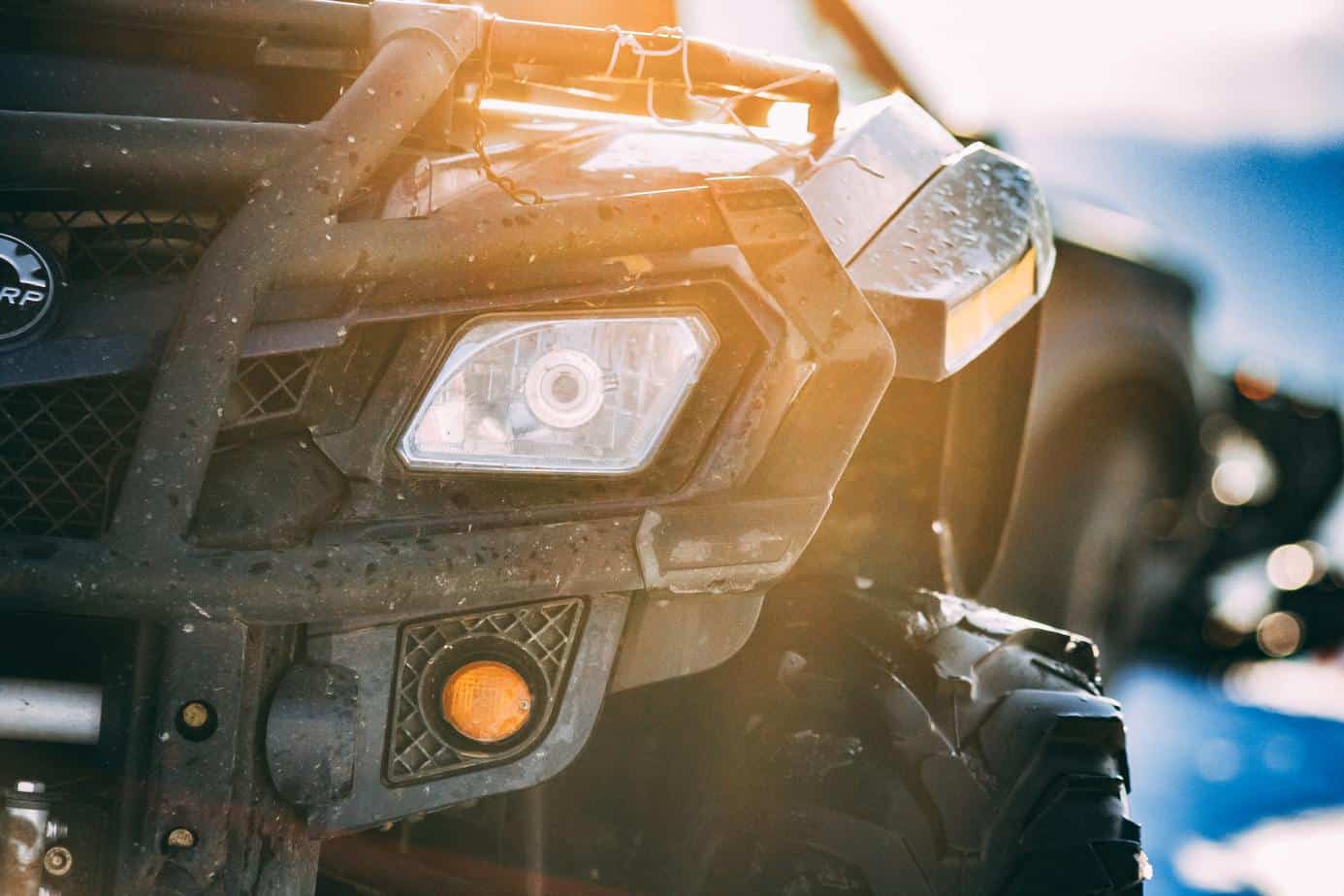 The Most Important Aspects to Consider While Choosing an ATV for Plowing and Snow Removal
Most ATV owners choose models that perform equally well in all weather conditions. That's why quad's snow plowing capabilities should only be one of the parameters you're using to determine if a specific model is a right choice for you.
You need to pay attention to several factors if you're planning to use your vehicle to remove snow. I've shortlisted some of the most important factors that can assist you during your search for the best ATV for snow plowing, so let's take a look at them.
Snow Quantity
Even a model with a 400cc can easily plow through up to 6-inches of snow on relatively flat terrain, so you won't need a quad with an 800cc engine if you just want to remove snow from your driveway or a dirt road.
In case you need to plow through more than 8-inches of snow, you should search for an ATV that has a 600cc or 700cc engine. Dry snow is usually easier to remove than wet snow, so this is also something you need to factor in while choosing a quad for snow removal.
The ATV's Tires
Your vehicle's weight won't be enough to generate sufficient traction if its tires can't get a firm grip of the snow beneath them. That's why you're going to need ATV tires made specifically for winter conditions in order to improve the vehicle's traction and increase its maneuverability.
Optionally, you can add chains to tires to improve traction, but doing so will make it more difficult to control your quad, and it might damage its tires. You won't be able to install chains if your quad doesn't offer enough wheel-well space.
Snowplow Compatibility
The ATV model you choose should have a plow quick mount and front-mounted winch so that you don't have to look for aftermarket plow brackets. Moreover, you need to determine the maximum width of snowplow your vehicle can support.
Most 400cc and 500cc work best with 48-inch snowplows, but you're going to need a more powerful model if you want to use a 60-inch plow. You should also check the snowplow's weight to make sure that it isn't too heavy for your ATV.
Towing Capacities
ATV manufacturers don't offer any information regarding the amount of snow their models can push. Checking the quad's maximum towing capacity can help you estimate the amount of snow it can move. A model with a 1500lbs towing capacity can plow through more than 8 inches of snow easily.
An ATV that can tow approximately 900lbs of weight won't have difficulties moving up to 6 inches of snow. However, the quad's ability to plow snow doesn't solely depend on its towing capacity, as numerous other factors can affect how difficult or easy it will be to remove snow with a specific ATV model.
Price Range and Warranty
ATVs for snow removal can cost between $6,000 and $12,000, depending on the manufacturer, model, and build.
You don't necessarily have to get the most powerful and expensive model available to plow snow since even the most affordable snow plowing ATVs can remove snow efficiently in most situations.
Most brands offer warranties for their quads, but the duration of these warranties varies from six months to five years.
The Advantages of ATVs for Plowing and Snow Removal
Easy Snow Removal
Even ATVs with relatively small engines can plow through thick layers of snow and enable you to clean your driveway quickly. However, your quad must be heavier than 400lbs if you want to use it for this purpose.
No Cold Start Issues
All ATVs for snow removal utilize fuel injection systems that enable you to start their engines even at extremely low temperatures. Hence, you won't have trouble switching on your quad if you need to remove snow urgently.
Versatility
Utility quads and four-wheelers for plowing snow aren't designed solely for this purpose, and you can use them to move cargo, go hunting or simply enjoy an ATV trail during all seasons.
The Disadvantages of ATVs for Plowing and Snow Removal
Limited maneuverability in tight spaces
Bulky ATVsequipped with 700cc or 800cc engines are not easy to control in tight spaces. Hence, it can be difficult to use them to remove snow close to your house or maneuver around different obstacles.
Top 5 ATVs for Plowing and Snow Removal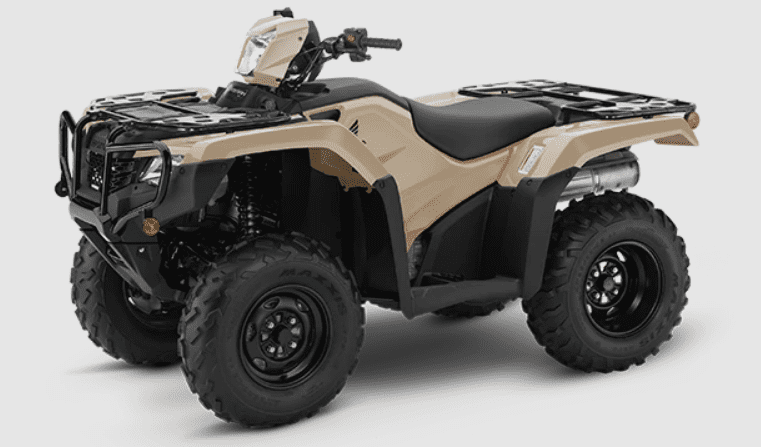 Although its features may not seem impressive when compared to the features offered by other industry-leading four-wheelers, the Honda FourTrax Foreman 4×4 ES EPS is still a great option for snow removal.
This Honda's ATV comes with a 518cc liquid-cooled single-cylinder 4-stroke engine, and it weighs 630lbs. It also features an electric shift program and torque and speed-sensitive electric power steering system.
FourTrax Forman has an electronic differential lock that helps increase traction on icy surfaces, as well as the Traxlock® system that allows you to choose when you want to engage 2WD and 4WD.
Pros
Fuel injection system enhances low-temperature performance
Weighs more than 600lbs
Multiple features ensure a high level of traction
More affordable than most of its competitors
Cons

Even though it is designed for trail riding, the Yamaha Grizzly EPS has all the features you need to remove snow. Its 686cc 4-stroke engine provides you with plenty of power to deal with the resistance of wet snow.
The vehicle weighs 700lbs, and its maximum towing capacity is 1322lbs. Hence, the Yamaha Grizzly shouldn't struggle while removing thick layers of snow. It also has 4WD and 26-inch high-traction tires that ensure it can move effortlessly through icy terrain.
Pros
Consistent braking regardless of weather conditions
High towing capacity
Compatible with multiple snowplows
Three-position 4WD system
Cons
Not ideal for snow removal in tight spaces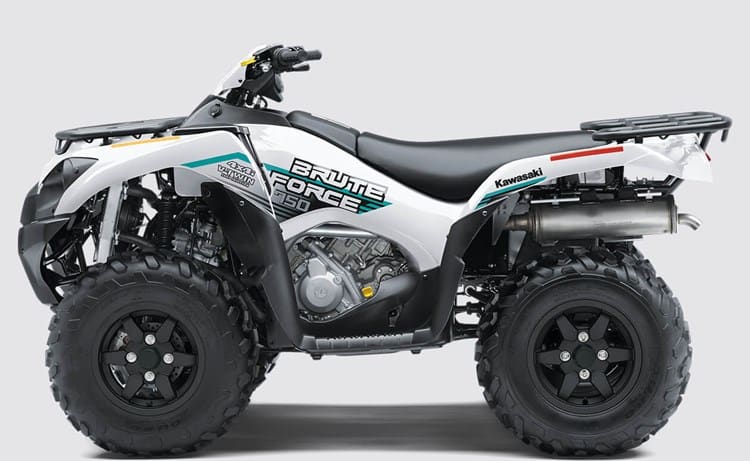 As implicated by the model's name, the Kawasaki Brute Force 750 4x4i EPS is powerful enough to plow through more than 8-inches of snow with ease. The manufacturer offers the Warn Pro winch and 54-inch plow system as accessories for this ATV model.
Its 749cc engine can deliver up to 42.7lbs-ft at 4750rpm of torque, which means that you won't have to use the vehicle's full power capacity for most snow removal tasks. You can tow loads that weigh up to 1250lbs with this quad and use its low range transmission to plow at low speeds.
Pros
Features 35W headlights
High torque output
The vehicle weighs 700lbs
Multiple color options
Cons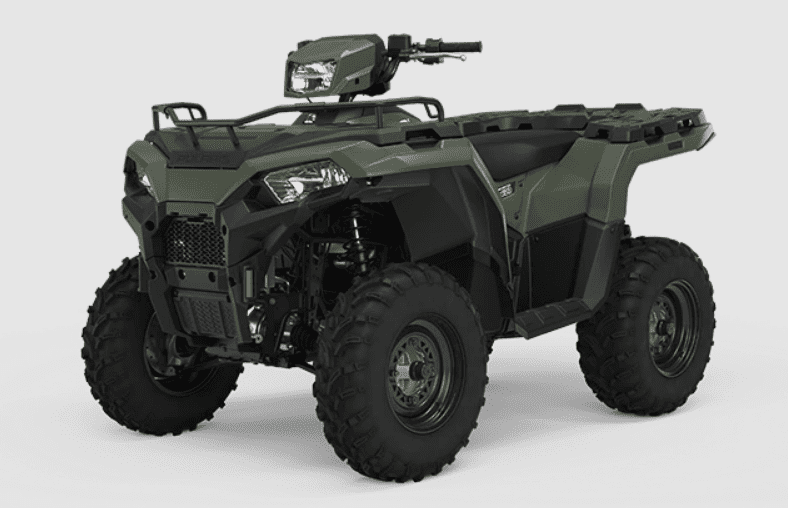 6-ply 25-inch tires, advanced four-wheel-drive system, or plug and play harness for winch and plow installation are among the features that make the Polaris Sportsman 570 Utility HD LE one of the best ATVs for snow removal on the market.
The vehicle's engine isn't as powerful as those you can find on Kawasaki Brute Force or Yamaha Grizzly models, but it still enables you to deal with large quantities of snow. At 705lbs, the Polaris Sportsman is heavy enough to remain stable when confronted with the resistance of the snow.
Pros
Simple snowplow installation process
The 567cc, 44HP engine
Available in multiple builds
High front and rear rack weight capacity helps increase the traction
Cons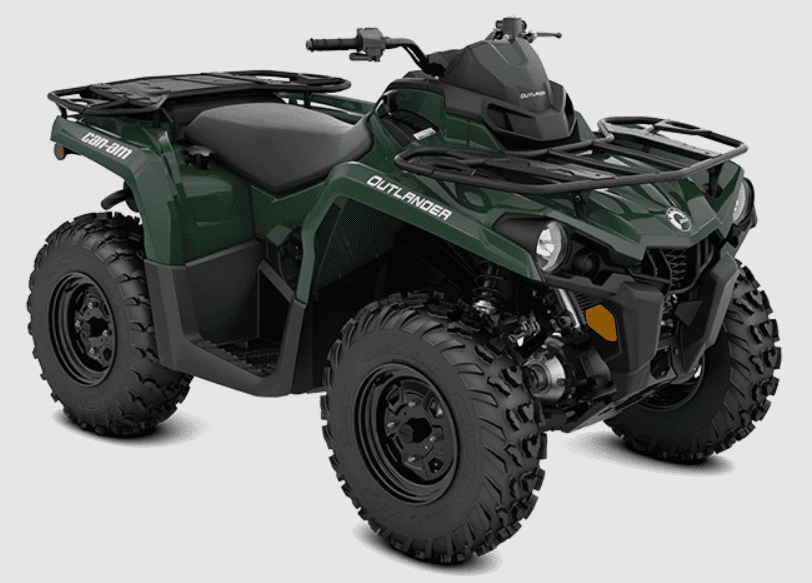 The Can-Am Outlander offers an excellent set of features at a great price. The brand's series contains multiple models, so you can choose the option that best fits your needs.
The base versions of this ATV are available with 450cc and 570cc engines, and you can use either of them to remove moderate amounts of snow. The Can-Am Outlander is primarily a utility ATV, but you can use it for recreational riding or exploring different ATV trails.
Despite having a relatively small engine, the Can-Am Outlander can still tow cargos that weigh up to 1,300lbs.
Pros
Electronic fuel injection system eliminates cold starts
Large 25-inch wheels provide plenty of traction
Prewired for a winch
Multiple lights increase the vehicle's visibility
Cons
CVT transmission might struggle under heavy load in low-temperature conditions
Frequently Asked Questions about ATVs for Plowing and Snow Removal
Question: Are ATVs a good choice for snow plowing?
Answer: Yes, as long as you're not dealing with wet snow because they might struggle to clean up a large area after a heavy snowfall.
Question: How big are snowplows for ATVs?
Answer: The width of snowplows for ATVs varies from 48 to 60 inches, and they can weigh up to 190lbs.
Question: Do ATVs come with snowplows?
Answer: Most quads don't come with snowplows, and you must purchase this accessory separately.
Question: What is the appropriate winch size for plowing?
Answer: You should get an ATV winch in the 2,000lbs to 3,000lbs range if you're planning to use your quad for snow plowing.
My Verdict: Choosing the Best ATV for Plowing and Snow Removal
Utility quads can be used in a wide range of contexts, and they're not designed solely for snow plowing. Nonetheless, these vehicles can remove impressive amounts of snow, but they're usually don't have the capacity to handle a foot of snow.
In most cases, ATVs are used with 50-inch to 60-inch snowplows, which limits their ability to remove large quantities of snow. I recommend the Honda FourTrax Foreman 4×4 ES EPS because it has a powerful engine and enough weight to remove snow from a driveway or courtyard.
A model like the Yamaha Grizzly EPS might be a good choice for you if you need an ATV that can easily handle heavy, wet snow. Which ATV for plowing and snow removal are you going to choose?
Let me know in the comments, or continue reading our guide to the best GPS for ATV trails to learn more about these accessories.