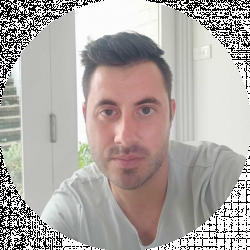 Latest posts by David Borgogni
(see all)
Over the years Honda produced numerous high-performance ATVs that were designed for both leisure and professional purposes. This Honda Pioneer review will grant you a deeper insight into one of the company's most celebrated ATV series.
The Pioneer series features a broad range of models, so in this article, we are going to focus on the Honda Pioneer 1000 EPS that is arguably one of the best all-terrain vehicles you can use during rescue missions or while setting up biking races.
This model has a huge towing capacity and it is equipped with a powerful engine that can develop speeds of up to 55mph. Our Honda Pioneer Review is going to take you through all the 1000 EPS model's specs, features, and pros and cons to help you decide if this is the right ATV for you.
Key Specifications of the Honda Pioneer 1000 EPS
| | |
| --- | --- |
| Engine type | 72 HP 999cc 4-Stroke |
| Transmission | Six-speed DCT automotive-style |
| Power steering  | Standard |
| Bore & Stroke | 92mm x 75.1mm |
| Towing capacity | 2000lbs |
| Number of seats | 3 |
| Brakes | Dual 210mm discs |
| Latest price | Click here for the latest price |
Core features of the Honda Pioneer 1000 EPS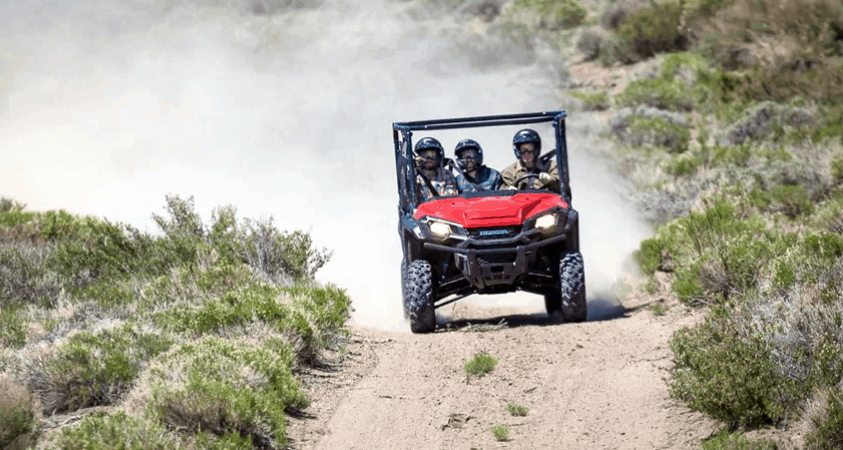 Even a brief look at the Honda Pioneer 1000 EPS' list of features will reveal just how powerful this ATV really is. The model's engine, drivetrain, or rugged and bulky wheels are just a few reasons why this vehicle handles even the roughest terrains with ease.
The model's exterior provides the driver and the passengers with comfort during long rides, and the storage space in the back enables you to take all the supplies or equipment you may need while you're enjoying the countryside or preparing an outdoor sports event.
Let's take a look at all the features this ATV has to offer.
The design and towing capacity
Honda's ATV is 117 inches long, 76 high and it is 63 wide, while its turning radius is 13.8 feet which grants you enough maneuvering space even on narrow roads.
This model is equipped with two doors that can be opened at wide-angle and the interior features a three-seat bench that leaves enough legroom for the passengers. The waterproof glove compartment may not be spacious but it is still large enough to store most items you may need during an off-road ride.
The Pioneer 1000 EPS has a 1000lbs bed capacity as well as a 2-inch receiver located at the rear end of the vehicle. These two features enable you to tow loads that weigh up to 2000lbs and you can use it to transport materials to a construction site or relocate relatively heavy equipment.
Engine type and transmission
All models from the Pioneer 1000 series are equipped with a 72HP 999c parallel-twin engine that has a unique Unicam® design. This liquid-cooled longitudinally mounted engine eliminates the need for right angles in the driveline and transfers the power to the ground efficiently.
Moreover, both the engine and exhaust systems are rubber-mounted so that the vibration and noise levels are reduced to the minimum. The air inlets are located high under the hood which ensures a clear and steady supply of air and proper clearance for water fording.
The Pioneer 1000 EPS features the automatic DCT transmission system that includes the memory function. This feature enables the transmission system to memorize the last transmission mode used before the reverse was engaged.
The six-speed Dual Clutch Transmission is accompanied by the sport mode as well as switch and manual paddle shifters.
The 1.42:1 sub-transmission ratio widens the ATV's gear number from six to 12, and the driver can use the paddle shifters to change the gear even while operating the vehicle in the automatic mode. In addition, the final drive is equipped with Turf, 2WD, 4WD, and 4WD with differential lock modes so that you can adjust it to the terrain you're driving through.
The tires and the maximum speed
The model's rear tires are slightly larger than the front tires. The Honda Pioneer 1000 EPS utilizes 27 x 9 – 12 front tires and 27 x 11 – 12 rear tires. This ATV has an 80.2-inch wheelbase and it features an Electric Power Steering system that reacts promptly to the speed of the vehicle and the steering input.
This Honda's ATV utilizes the Independent Double A-arm front suspension system that contains hydraulic shocks and allows for 10.6 plush travel. The rear suspension system has the Independent Double A-arm that has adjustable hydraulic shocks and permits ten inches of travel.
The maximum speed the Pioneer 1000 EPS can develop is limited to 55mph. Although flagship ATV models from other manufacturers can develop up to 80mph, this Honda's model is still fast enough to enable you to react quickly to emergencies.
What's more, the tilt steering option is available on all models from the Honda's Pioneer series.
The braking system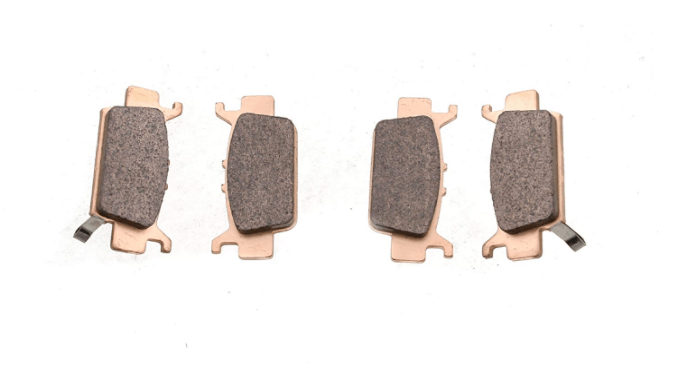 Like most ATVs on the market, the Honda Pioneer 1000 EPS utilizes a braking system that is based on disk brakes. This model is equipped with dual 210mm discs on the front and rear tires that stop the vehicle efficiently regardless of the terrain you're driving through.
However, the factory brake pads on this SXS vehicle have a tendency to wear out over time, but there are plenty of race-driven aftermarket options that enable you to improve the vehicle's braking system.
This model also offers brake-traction control and electronic brake-force distribution features that stop the vehicle even on challenging wet or icy surfaces.
Fuel tank capacity
The fuel tank on Honda Pioneer 1000 EPS can hold 7.9 gallons of fuel and you can drive this ATV for approximately a hundred miles on a single fuel tank.
Moreover, this model has a 1.6-gallon gas reserve that ensures you don't run of fuel during emergencies. Finding storage space for additional 5-gallon gas canisters shouldn't be a problem and in this manner, you can cover a distance larger than a hundred miles.
The Honda Pioneer 1000 EPS runs on gasoline and you can't use diesel or any other type of fuel to power this ATV.
The additional features
This SxS vehicle has a dump bed that can carry loads that weigh up to 1000lbs as well as a dump bed lever that can be accessed either from the outside of the ATV or from the front seat.
Besides an excellent dump bed capacity, this model also has a number of features that make riding in it more comfortable. The seats have extra thick padding which ensures that driving over a road bump is just as comfortable as driving through a smooth terrain.
The Honda Pioneer 1000 EPS has an LCD malfunction screen that displays the current speed, transmission and drive mode, fuel level as well as other important parameters.
The manufacturer offers a variety of accessories that range from a 72'' warn plow kit to roof, windshields, or safety accessories like the horn and alarm kits.
The Pros of Honda Pioneer 1000 EPS
Powerful engine
The 72HP 999c parallel-twin engine is both fuel-efficient and capable of handling large towing loads. This enables you to tow a variety of passenger vehicles or transport construction materials and tools to destinations that cannot be reached with a truck.
Easily adjustable tilt wheel
The Honda Pioneer 1000 EPS wheel adjusts to the driver's demands so that you can customize it in accordance with your needs. You can also move the steering wheel if it obstructs your entrance to the vehicle.
Automatic Dual Clutch Transmission
You can switch between six transmission speeds and change the transmission modes while you are driving which enables you to adjust the engine's power output effortlessly.
Impressive ground clearance
The 12.7 inches of ground clearance ensures that the ATV's have plenty of room to travel. In addition, this model absorbs shock efficiently and drives over uneven terrains effortlessly.
Highly efficient Electric Power Steering system
Keeping control of this vehicle at all times is made simpler by its Electric Power Steering system that reacts to the slightest changes of speed.
Moreover, driving the Honda Pioneer 1000 EPS isn't tiring as its steering system reduces the amount of effort you have to put into controlling this vehicle.
The Cons of Honda Pioneer 1000 EPS
Relatively low maximum speed
Flagship SxS ATV models can develop speeds of up to 80mph. The Honda Pioneer 1000 EPS' maximum speed is just 55mph, which makes it slower than most of its competitors.
Although it may not be the fastest powersport vehicle on the market it still enables you to cover large distances relatively quickly.
More expensive than similar models
This model can be purchased for approximately $15.000. ATVs with similar performance capabilities are available at a more affordable price, which is the reason why Honda Pioneer 1000 EPS is a good choice if you need an ATV with a great towing capacity.
Short warranty period
The manufacturer offers a one-year warranty for this ATV model, and if you want to extend it you must purchase a 24, 36, or 48 months extended coverage package.
Continue reading our full list of the issue you might come across with each series:
The Best Alternatives to Honda Pioneer 1000 EPS
Even though Honda is probably one of the best ATV manufacturers on the market, the company's models are not suited for everyone's budget.
Considering some of the alternatives to Honda Pioneer 1000 EPS will give you a better overview of the available options and give you a chance to compare the features of Honda's ATV to those provided by its competitors.
Let's take a look at some of the best alternatives to the Honda Pioneer 1000 EPS
Polaris Sportsman 450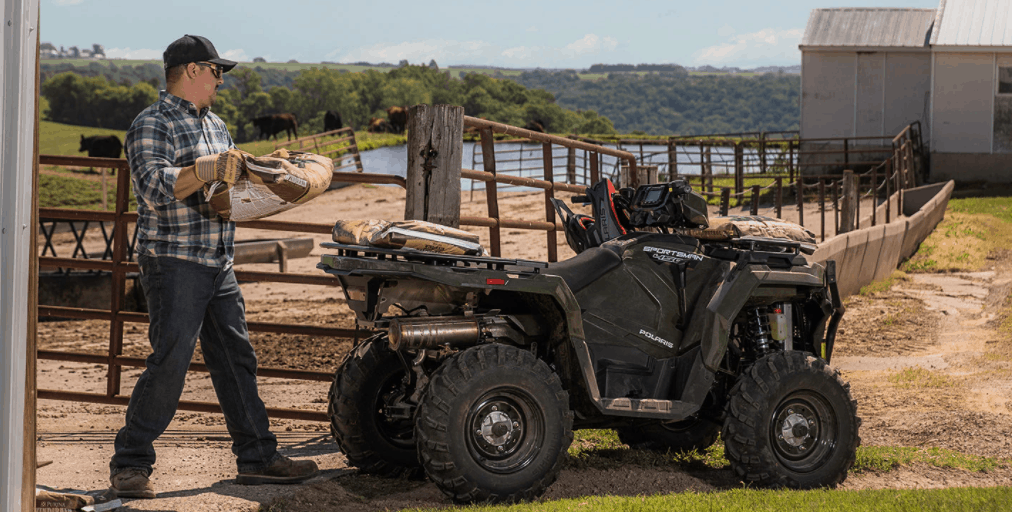 Even though it is not equipped with an Electric Power Steering system, the Polaris Sportsman 450 is remarkably easy to steer. This ATV features a 33 HP 499cc Prostar 4-stroke SOHC Single Cylinder engine that utilizes the electronic fuel injection system.
Consequently, the Sportsman 450 has 1,350lbs towing capacity and 385lbs payload capacity. This model has an 11.5-inch ground clearance that secures sufficient travel space and boosts its shock absorption potential.
The Sportsman's ATV utilizes 25-inch tires and it features the automatic PVT transmission that allows you to shift gears effortlessly. However, this ATV has just one seat and its fuel tank can only hold 4.5 gallons of gasoline.
The Polaris Sportsman 450 is much more affordable than the Pioneer 1000 EPS, but it is less powerful than the Honda's ATV.
Suzuki King Quad 750AXi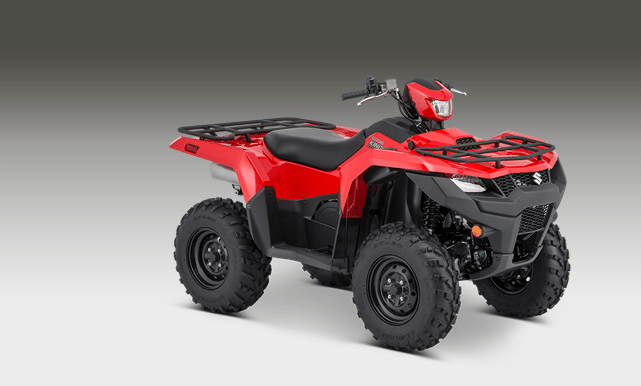 The electric ignitions system enables you to start the Suzuki King Quad 750AXi effortlessly. This model is modernly and stylishly designed and it is available in several different colors. It has a remarkably powerful 722cc DOHC single-cylinder 4-stroke engine that is liquid-cooled.
You can switch between 2WD, 4WD, and 4WD differential lock transmission modes with ease while driving through different types of terrain.
This model utilizes the Quadmatic™ CVT type automatic transmission that reduces free-wheeling with the throttle off and grants better control over the vehicle on steep roads through the advanced engine-backing system.
This quad has the capacity to tow loads that weigh up to 1500lbs and it features a 2-inch heavy-duty hitch. The Suzuki King Quad 750AXi and Honda Pioneer 1000 EPS are similarly priced as you have to spend more than $10.000 if you want to purchase either of these ATVs.
Textron Alterra VLX 700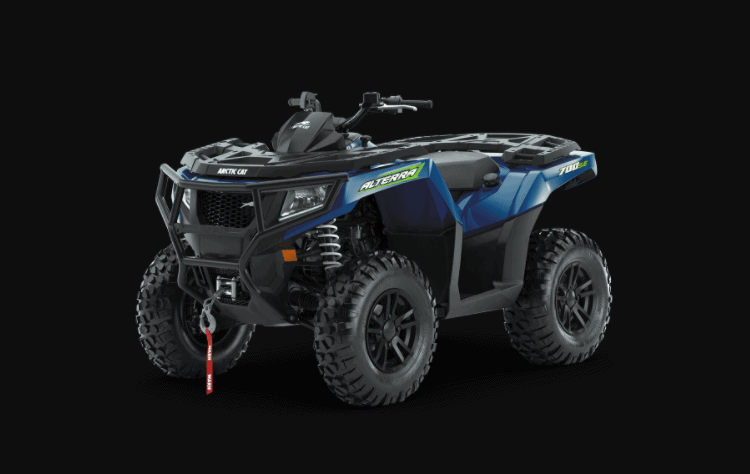 Unlike the Pioneer 1000 EPS, Textron Alterra VLX 700 has just one seat and its engine is significantly less powerful. This is probably best reflected in the vehicle's towing capacity as it cannot tow loads that weigh more than 1050lbs.
This quad features a 695cc liquid-cooled single-cylinder EFI engine that produces moderate noise levels and maximizes the fuel economy. The model has an 11-inch ground clearance that enables it to absorb shocks efficiently and it allows you to choose between 2WD and 4WD drivetrains.
Textron Alterra VLX 700 uses the standard engine braking system and it utilizes the Rapid Traction drive system. The ATV is equipped with an Electronic Power Steering system and it has 25-inch front and rear tires.
In addition, Textron's model features an odometer, speedometer, a fuel gauge, and other standard instrumentation.
FAQs About the Honda Pioneer 1000 EPS
Question: How much oil does Honda Pioneer 1000 EPS use?
Answer: This ATV requires frequent engine lubrication, while transmissions and clutches also must be properly lubricated at all times. Consequently, you will need to check if all of the ATV's components receive sufficient lubrication regularly.
Question: Can I use Honda Pioneer 1000 EPS under harsh weather conditions?
Although the base model doesn't come with a windshield or a fabric roof, acquiring these accessories will enable you to drive this ATV while it is raining or snowing.
Question: How often do I need to change the brake pads on Honda Pioneer 1000 EPS?
Answer: The answer to this question depends on how often you are using the vehicle. Driving through rough terrains frequently will wear out the ATV's brake pads faster. Finding an aftermarket replacement for the model's factory brake pads shouldn't be too difficult.
Question: Is it necessary to perform engine maintenance on Honda Pioneer 1000 EPS?
Answer: Yes, it is. However, reaching the engine compartment may be difficult.
Final thoughts – Is the Honda Pioneer 1000 EPS as good as it looks?
The Honda Pioneer 1000 EPS provides more comfort and power than most of its competitors. The 2000lbs towing capacity or a spacious and comfortable interior make this ATV a great investment.
Although this Honda model is more expensive than most ATVs on the market, it grants you more versatility than models offered by Suzuki or Polaris. In addition to allowing you to transport heavy loads, the Honda Pioneer 1000 EPS enables you to adjust to the road conditions seamlessly.
The model even features the Turf drivetrain mode that prevents it from damaging the grass by unlocking the rear differential and allowing all wheels to rotate at the same speed.
Hopefully, our Honda Pioneer review provided you with all the information you needed to decide if this ATV is the right choice for you? Are you going to opt for the Pioneer 1000 EPS? Leave a comment and let us know or learn more about how to the best ATV equipment.
Related:
Honda Pioneer 700 Common Problems