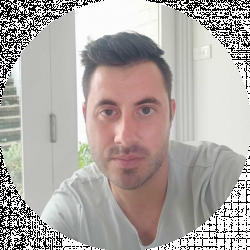 Latest posts by David Borgogni
(see all)
Honda Pioneer vs Polaris Ranger is great, thoughtfully-crafted machines with large customer bases that swear by their respective vehicles. So, how can you decide which one is right for you?
On one hand, you have the long-reigning champion of side-by-side UTVs–the Polaris Ranger. American manufactured, powerful and versatile; what more can you want? Enthusiasts will be all too familiar with the machine as being the gold standard among the industry.
Honda is no small fish either, however. Pioneer has rapidly risen up the ranks to gain its overwhelmingly positive reputation. The Japanese manufacturer is no stranger to vehicle manufacturing, but it's fairly recent dip into the side-by-side market has challenged many long-running market leaders.
But, how does it compare against the Polaris Ranger series?
This guide dives into all the important factors that may influence your decision regarding the two machines. We compare the capabilities, performance and usability of their flagships UTVs – namely, the Honda Pioneer 1000 and Polaris Ranger 1000 – to help you make the correct purchase.
No confusion, no second-guessing; instead you'll be able to make a confident decision that you'd be satisfied with for years to come. Let's get started.
Main Differences Between Honda Pioneer vs Polaris Ranger 
The main differences between Honda Pioneer vs Polaris Ranger are:
Honda Pioneer uses a Dual Clutch Transmission, whereas Polaris Ranger sticks to its PVT Transmission
Honda Pioneer has a lower capacity, whereas Polaris Rangers has a larger payload capacity.
Honda Pioneer offers a higher horsepower of 72 HP, whereas the Polaris Ranger offers 61 HP
To understand the significance of these differences and explore each product a bit more, you need to understand their features and contextualize why it matters. Therefore, read on below for an in-depth analysis of each UTV.
Specifications for Honda Pioneer vs Polaris Ranger
| | |
| --- | --- |
| Honda Pioneer | Polaris Ranger |
| Displacement: 999CC | Displacement: 999CC |
| Horsepower: 72 HP | Horsepower: 61 HP |
| Transmission: DCT | Transmission: PVT |
| Payload Capacity: 1,000 lbs | Payload Capacity: 2,070 lbs |
| Towing Capacity: 2,000 lbs | Towing Capacity: 2,500 lbs |
| Vehicle Dimensions: 116 x 63 x 76 inches | Vehicle Dimensions: 120 x 62.5 x 76 inches |
| Bed Box Dimensions: 36.1 x 55.2 x 10.8 inches | Bed Box Dimensions: 36.75 x 54.25 x 12.5 inches |
Exploring Honda Pioneer vs Polaris Ranger features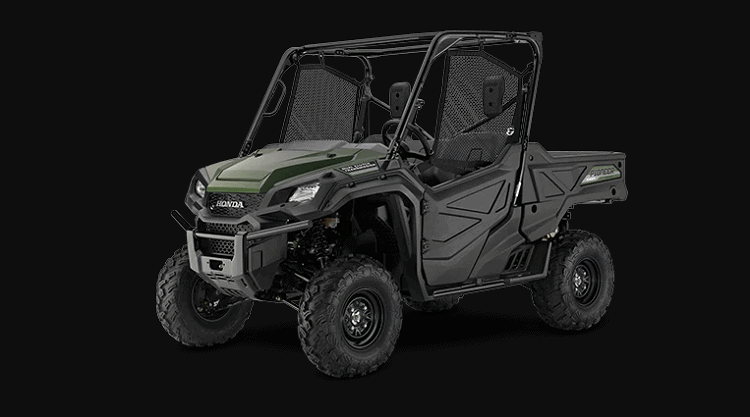 Good UTVs can last through the conditions you put it through–with the proper maintenance protocols of course. It is, therefore, important to note whether your potential vehicle is suited for its job.
As we explore each characteristic and function, keep your original purpose in mind to make the best choice for yourself.
Engine & Performance
ATVs and UTVs were used as horseless carriages around farms to haul materials from one location to another. Their usage has since expanded across various industries and even, into recreational or sports activities. That said, the emphasis on having an engine that is able to power through heavy lifting activities has not lessened.
UTVs, in particular, with their larger seating and storage capacity, need a good amount of horsepower and torque for achieving balanced maneuverability.Our two competitors sport the same 999cc liquid-cooled, 4-stroke, twin-cylinder engine; therefore there's not a huge difference in their basic performance. However, the difference in horsepower does add some variance.
Honda Pioneer has the upper hand here. It offers 72 horsepower with the Dual Clutch Transmission (DCT)–i.e. it has more power and greater flexibility. The dual-clutch provides faster shifts and better fuel economy.
Important to note, however: Dual-clutch transmission takes a bit getting used, and it may be slightly jerky due to its speed and power. Additionally, DCT aware of complex systems; they aren't widely used within the industry as yet. Therefore they tend to be more expensive and may be hard to replace if you don't have a warranty or insurance.
Whereas, the Polaris Ranger has 61 horsepower with an automatic Passive Variable Transmission. While this may seem like a downgrade, it may not be in reality.
Both elements allow for greater control and a smoother experience. Not to mention, the Ranger's consistent rave reviews indicate its utility is far beyond its specs by values alone. PVTs are standard for Polaris UTV vehicles. The company could do with some upgrades, but it is an overall reliable result.
In short, Honda offers modern cutting edge innovations with some great one-paper specifications. Polaris, on the other hand, values being the dependable go-to for all-purpose UTVs.
Design
On first glance, Honda Pioneer and Polaris Ranger seem to have similar enough dimensions. The breakdown is as follows:
Honda Pioneer 1000: 116 x 63 x 76 in, 1,538 lb
Polaris Ranger 1000: 120 x 62.5 x 76 in, 1,537 lb
Not that different, right? And, yet something may seem different. The design of the Ranger is more compact which gives the vehicle an overall open feel. With a wider roof and space usage, the Honda Pioneers looks significantly bulkier and boxed. It may ultimately be a matter of personal preference.
There are some quality of life improvements which may be of note with the Polaris Ranger 1000. The company has widened the egress by 5 inches for a smoother flat floor allowing for easy movement within the vehicle. The seating trim levels have been improved to be plush and allow for custom seating as well. Therefore, if you like the Ranger 1000, these are some added benefits to look forward to.
Capacity
When focusing on design, another element might have stuck out. Namely, the difference in their attached bed boxes.
Pioneer has a smaller box with dimensions of 36.1 x 55.2 x 10.8 inches and a capacity of 1000 lbs (CA model has a significantly lower capacity of 600 lbs). Whereas, Ranger's dimensions are 36.75 x 54.25 x 12.5 in which provides ample space, but it also has an added payload capacity of 2,070 lbs.
Larger capacities aren't always better, but they may serve a purpose according to your work requirements.
Customer Service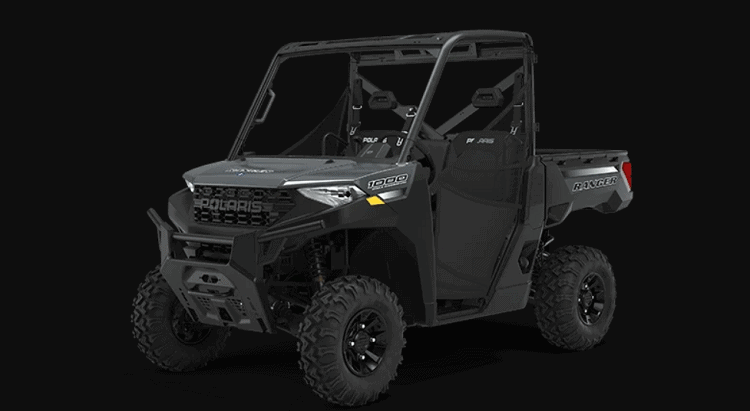 When buying heavy duty equipment, after care services carry weight as well. Mishaps happen or you might just need a small replacement. Having a company that is able to respond is an often overlooked feature, but it is essential.
Now you'll most likely be purchasing your UTV from a local seller and not the company directly. This impacts the customer service available to you. Newer vehicles will likely come with a basic one-year company warranty. There are also options available to extend your warranty if required.
This stands true for both Honda and Polaris. Additionally, when buying used or through a seller, there may be other warranty options available. Make sure you obtain all the information regarding customer service before purchasing a UTV.
Honda Pioneer vs Polaris Ranger – Ease of use
Polaris Ranger is a market leader for a reason. It holds its own when it comes to its flexibility and usability. The UTV provides strong and consistent performance that many swear well. However, Honda has gained popularity–sometimes over Polaris–for a reason. Its performance has won over many buyers.
Therefore, ease of use will be a subjective matter. If you can test drive both UTVs, give each a whirl before you sign any deals. Familiarize yourself with what you're getting and you shouldn't have any buyer's regret. Additionally, you can also find tons of accessories to enhance your experience, such as:
Winch
Roof
Rear View Mirror
Light Bar
Mud Tires
Windshield
Trailers
Navigation and other implements
Comparing Honda Pioneer vs Polaris Ranger – Pricing
Pricing is going to be a crucial element of what you're going to ultimately go for.
Honda Pioneer, due to its design and engine differences, has a higher price tag than the Polaris Ranger. For example, the Pioneer has a nearly $3,000 price difference which makes it the less affordable option.
However, remember, you can always buy used UTVs to snag a deal–with a few trade-offs, of course.
Honda Pioneer vs Polaris Ranger – Pros and Cons
Honda Pioneer
Pros
3-seater multipurpose UTV for utility and recreation
Solid build with innovative, modern design
Uses Dual Clutch Transmission for fast shifts and fuel economy
Considerable loading capacity of 1,000lbs
The towing capacity of 2,000 lbs
Comes with a 1-year warranty, can be extended
Cons
Price on the expensive end
Assembly by sellers is inconsistent causing the screen to be improperly fixed and rattle
Polaris Ranger
Pros
Highly popular, spacious 3-seater UTV
A great payload capacity of 2,080lbs
Standard Polaris design with the company's improvements
A towing capacity of 1,500lbs
Uses Automatic Passive Variable Transmission for great maneuverability
Comes with a 1-year warranty, can be extended.
Cons
Clutch and transmission could be improved for improved performance
Accessories may be required to add in additional safety measures which add in the cost
Are there any alternatives?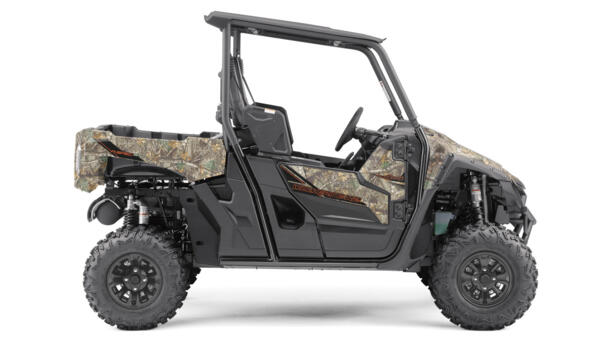 If you're in love with the style and finish of the Honda Pioneer 1000, but want a comparatively smaller version, the Yamaha Wolverine may be right for you.
Although the price difference isn't as significant, the Wolverine has some improvements, depending on your perspective. It uses a CVT transmission which is highly economical and counters some of the problems with DVT transmissions.
Its engine can charge up to 65 HP and has a bed capacity of 500 lbs. However, it can tow up to 2,000 lbs. The idea behind the X2 is to build a compact version that can work in a variety of different settings.
Not to mention, the vehicle comes with a whopping 10-year warranty that is sure to keep you secure for a while.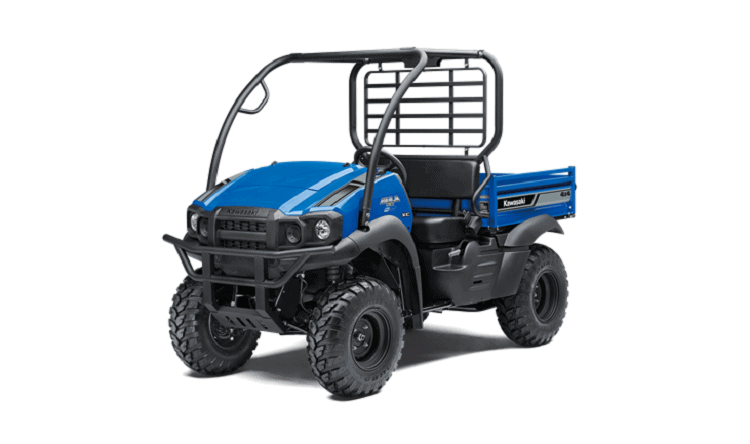 On the other hand, the Kawasaki Mule SX XC is the simple, yet robust budget UTV option. It might not be suitable for very heavy lifting, but it can be great for doing chores around a site or light lifting transport.
Being a smaller model, it has a bed capacity of 400lbs and towing capabilities up to 110lbs. Depending on your daily routine, it might be just right for you.
Overall, the Kawasaki does not have any fancy frills but it can get the job done. If you're on a budget, but are in need of daily light UTV work, you probably won't be disappointed with the Mule SX XC.
FAQs
Question: What Are UTVs Used For?
Answer: UTVs are an alternative to the often lonesome ATV, which only host a single seating option. It offers more carrying space while being more user-friendly. But, UTVs may not be for everyone.

They are generally a good option for those who need to conduct utilitarian work that requires the transport of heavy loads. Many farmlands often employ UTVs to work for various job sites. It's also a good option for individuals who can drive regular vehicles but find ATVs challenging.

It can also be used for recreational use as well. Campers and hunters use UTVs to travel from point A to B in a safe and secure vehicle. ATV enthusiasts who can't stomach the unstable grind of the machine may also look towards UTVs as a viable alternative.
Question: Is Driving Honda Pioneer or Polaris Ranger Street Legal?
Answer: In their original form, it may not be legal to drive your UTV on an ordinary street. However, you can transform your vehicle to fit the meet the necessary requirements. This could include adding:
• Seatbelts,
• Taillights, headlights and brake lights,
• Mufflers
The exact requirement will vary state-to-state so be sure to check what constitutes a vehicle as being street legal before attempting to drive on an open road.
Question: How To Decide Which Honda Pioneer or Polaris Ranger Model To Buy?
Answer: Whether you're buying a UTV for a specific task or just for fun, explore the specifications of each option. Buying the most powerful UTV will not serve you if you're unable to use it in your terrain or if you need a smaller vehicle to get around.

Each product series is according to its seating options, storage capabilities and niche usage. For example, Polaris Youth allows parents to share the experience of riding a UTV with their children while ensuring their safety.

And, of course, do keep your budget front and center. UTVs require maintenance and have a constant running cost. You need to be sure the purchase alone doesn't break the bank for you. Moreover, keep a share allocated for safety gear you need to purchase with your UTV.
Question: What Safety Gear Is Available For UTVs?
Answer: Keeping yourself safe should be your primary concern. Therefore you should consider the cost and purchase of a UTV along with its safety gear. This includes:
• Helmets
• GPS
• Appropriate clothing, gloves, and footwear
• Communication devices
• Gear Bag with troubleshooting tools and gadgets
• First Aid Kit
Our Verdict: Honda Pioneer vs Polaris Ranger – Which is better?
In conclusion, Honda and Polaris are two popular names in the UTV market, and with good reason. They've delivered some high-quality vehicles that have been expertly crafted. That said, they do perform somewhat similarly and there can be only one winner in this comparison.
The Honda Pioneer has come a long way with the Japanese company showcasing its reliability and skill at coming so close to the current market leader. It delivers an excellent experience and seeks to improve some of the shortcomings of the Polaris, namely its transmission. Although it is has a higher price tag, the quality is guaranteed when it comes to Honda.
All that said, our winner has to be the reigning champion, Polaris Ranger. Not only is their flagship model more affordable, but its specifications are also superior even with the improvements Honda brings to the table. Therefore, as yet, Polaris has not been unseated, at least in our books. You, however, should allow the aforementioned considerations to guide you in making the right choice for yourself.
For more information regarding ATVs and UTVs, browse through our blog or alternatively, hit us up through our contact page.