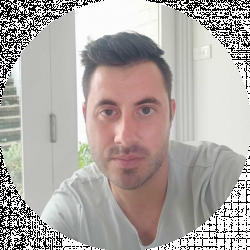 Latest posts by David Borgogni
(see all)
The Cub Cadet brand has been associated with UTVs for a relatively short time, as the company has ventured into the utility terrain vehicle market less than a decade ago. In this Cub Cadet review, we are going to take a closer look at some of the UTV models this company offers.
Cub Cadet launched the Challenger™ series in 2015 and since then it has released several models within this series. Currently, there are 8 different models in the Challenger™ line-up, and in this article, we are going to focus on the Cub Cadet Challenger 750.
This model is available in three almost identical trims, as the only major difference between them is the color. So, our Cub Cadet review will take you through the features of the Challenger 750 model and present you with several alternatives to this powerful UTV.
Key specifications of the Cub Cadet Challenger 750
| | |
| --- | --- |
| Engine type | 38HP EFI 735cc fluid-cooled OHV |
| Transmission | Enclosed CVT |
| Steering system | Electronic Power Steering system |
| Towing capacity | 1,200lbs |
| Drive system | On-demand 4WD |
| Maximum speed | 45mph |
| Fuel type | Gasoline |
| Latest price | Check the latest price here |
Core features of the Cub Cadet Challenger 750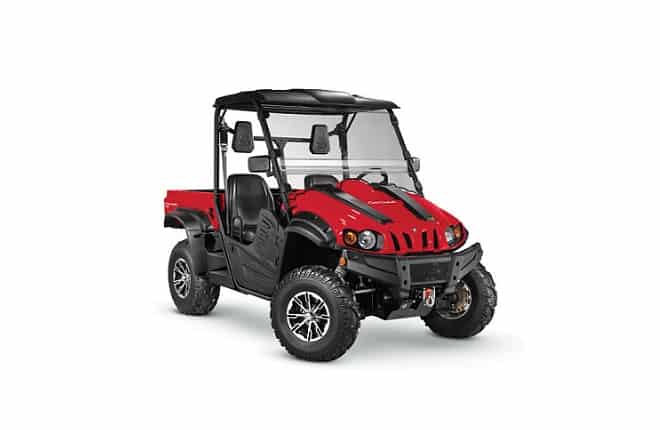 The Challenger 750 is essentially an upgrade of the older Challenger 700 model as it features a more powerful engine and a revamped exterior. Although either of these UTVs can handle rough terrains even under challenging weather conditions, the Challenger 750 offers more power and better overall performance.
Moreover, the manufacturer offers a wide range of accessories that enable you to customize the Challenger 750 model in accordance with your needs. So, let's go through an overview of the features that are available on all base Cub Cadet Challenger 750 models.
You can also check out our full guide on how to find the best UTVs.
The design and towing capacity
With a weight of 1,456lbs and dimensions of 118 x 61 x 76.75 inches this Cub Cadet's UTV is both compact and st urdy. This model has a steel tubing framing that is reinforced with high-strength low alloy steel.
The cockpit has two bench-type seats with cup holders that feature a standard headrest. Moreover, the interior has a spacious glove box and under dash storage space as well as several tool pockets. All of the Challenger 750 models have ¾ Polly doors and standard side-view rearview mirrors.
The digital dash display is equipped with a speedometer and it grants you an overview of the current fuel level and all other important metrics.
The Challenger 750 enables you to tow loads that weigh as much as 1,200lbs or transport payloads that weigh less than 1,100lbs. This UTV also features a cargo bed that can carry loads lighter than 500lbs. This Cub Cadet's model comes with a 3,500lbs winch.
Engine type and transmission system
This UTV can handle such heavy loads largely because it is equipped with a powerful gasoline engine. The Challenger 750 utilizes a 38HP 735cc fluid-cooled OHV engine that employs the wet-sump lubrication method.
The Cub Cadet's model features a 7.6-gallon fuel tank and it can cover approximately 20 miles per gallon, which means that you'll have to refuel this UTV every 140 miles.
The engine is equipped with the Electronic Fuel Injection system that ensures the amount of fuel that reaches the engine is perfectly adjusted to the operating conditions. The manufacturer recommends using the SAE 20W-40 ATV/UV engine oil.
The Challenger 750 features an enclosed CVT transmission system that extends its range of gear ratios. Moreover, this model is equipped with Electronic Power Steering feature that makes controlling the vehicle easier once the 4WD is engaged.
The wheels and the maximum speed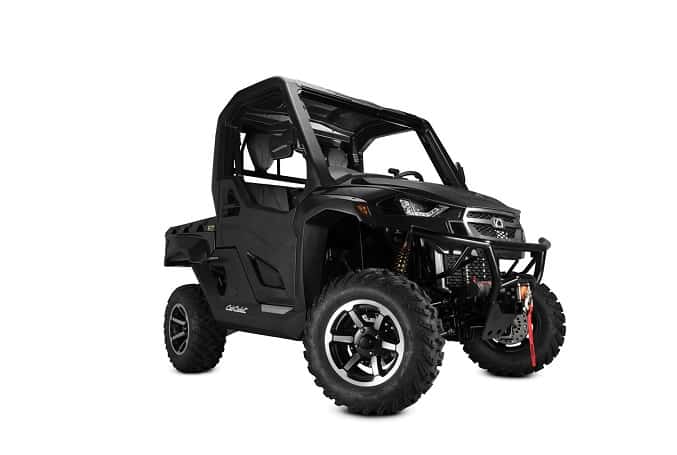 This Cub Cadet's model is capable of developing speeds of up to 45mph and it is not the fastest UTV you can find on the market as most vehicles in its class can develop up to 85mph.
However, the Challenger 750 models have 9 inches of travel on front wheels and 8 inches of travel on the rear wheels. All models from the Challenger series have Independent dual A-arm shocks as well as front and rear suspension systems.
This Cub Cadet's UTV has a minimum of 12 inches of ground clearance which ensures that its undercarriage cannot be easily damaged on rocky terrain. Also, the Challenger 750 has a 76.8-inch wheelbase which ensures that the vehicle is stable enough for off-road driving conditions.
The front tires and wheels with aluminum rims have the dimensions of 26' x 9-14 inches while the rear tires are slightly larger at 26 x 11-14 inches. This model lets you choose between 2WD and 4WD and it offers a selectable locking rear differential lock that allows both rear wheels to travel at the same speed.
The braking system
Despite supporting engine braking, the Challenger 750 is equipped with an unimpressive breaking mechanism that consists of the brake discs and brake pads. The braking system is also one of the Challenger 750's most criticized features as it isn't durable enough to withstand heavy-duty usage.
Although the Challenger 750 usually handles steep descends or ascends remarkably well, you shouldn't rely heavily on its braking system as the factory disk brakes tend to wear out easily. Also, the presence of air in the braking system will diminish its stopping capabilities significantly.
The 4WD with a differential lock improves the model's traction control and grants you better control over the vehicle.
Bed capacity
Like all UTVs the Challenger 750 is designed to manage heavy payloads, which is reflected in its towing and payload capacity.
Besides, having the ability to tow more than a thousand pounds of weight this Cub Cadet model has a 34 x 46 x 11-inch bed that provides you with enough space to store the tools or equipment you need during an off-road ride.
You can transport loads that weigh up to 500lbs in the Challenger 750's bed which means that you can use this vehicle to transport materials you need for a construction job or any other task you need to perform.
The additional features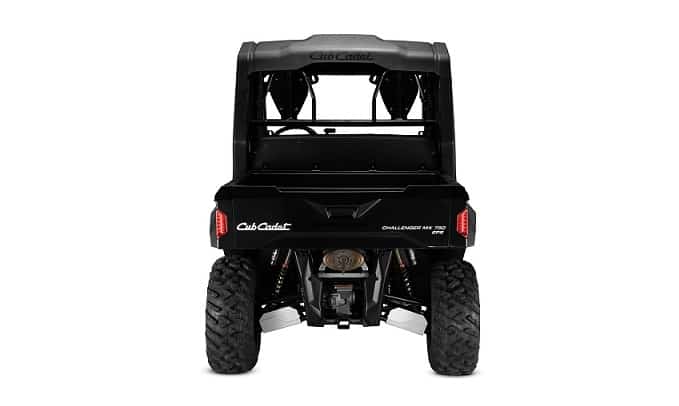 All UTV's from the Challenger 750 series come with a roof that protects you from environmental factors, but some trims may not have a windshield or the rear window.
Accessories like a 72-inch snow blade, rock slider, or a 2,000lbs winch are also available so that you can adjust the vehicle to the context in which you are going to use it. Optionally, you can get a cab enclosure that protects you from rain, snow, or low temperatures.
The manufacturer also offers a spare tire mount and a spare tire with a silver rim that can be useful if you are planning on using this vehicle for more than just recreational purposes.
Moreover, you can replace the factory shocks, with heavy-duty shocks recommended by the manufacturer that have better shock absorption capabilities.
The Pros of the Cub Cadet Challenger 750
Huge towing capacity
This Cub Cadet's model has a 1,200lbs towing capacity and it can be used to transport payloads that weigh less than 1100lbs. This model is also equipped with a 3500lbs winch that enables you to pull heavyweight objects.
A powerful engine
The Challenger 750 has a 33HP engine that employs a fluid-based cooling system. This model also utilizes the electronic fuel injection system that adjusts the fuel that goes into the engine based on the current road conditions.
Excellent drive system
All Cub Cadet's Challenger 750 models let you switch between 2WD and 4WD options. Also, the selectable locking rear differential lock enables you to maintain the same speed on both rear wheels.
Durable frame
The UTV's frame is built from sturdy materials that are resistant to mild impacts, which makes this vehicle well-equipped for use on challenging terrains. The bumper guard provides additional protection against collisions.
Comfortable interior
The Challenger 750 is a two-seat vehicle that features a pair of bench seats with center cup holders and provides sufficient legroom. The manufacturer also offers the option to upgrade the seats at an affordable price.
The Cons of the Cub Cadet Challenger 750
A one-year warranty
All Cub Cadet's Challenger 750 models come with a one-year limited warranty that doesn't cover all of the vehicle's parts. This can be underwhelming especially when the cost of the vehicle is considered.
Low maximum speed
This UTV cannot go faster than 45mph which means that it is slower than most vehicles in its class. Moreover, this model isn't very durable if it is constantly used under challenging road conditions.
Steering the vehicle can be difficult
Although the Challenger 750 is equipped with EPS, steering this vehicle becomes difficult once the 4WD drive is activated. Hence, turning may require extra effort even if you are driving at a low speed.
The Best Alternatives to the Cub Cadet Challenger 750
The overview of the Challenger 750's features reveals that this UTV is a workhorse that can easily manage heavy loads.
Its braking system, the short warranty period, or the limited number of accessories that ship with the base model can be some of the reasons to consider some of the alternatives to the Cub Cadet's UTV.
We've shortlisted a few UTVs that can offer performances that are comparable to those provided by the Challenger 750, so let's take a look at some of the most important features of these vehicles.
Yamaha Wolverine X2 R-Spec

Like the Cub Cadet's model, the Yamaha Wolverine X2R-Spec is a two-seat UTV that has a spacious and comfortable interior. The vehicle's steering wheel can be tilted for 12-degrees so that you can adjust it to your driving style.
The Wolverine X2 has a powerful Parallel Twin, 4-Stroke DOHC engine that is liquid-cooled. This model utilizes the Mikuni fuel injection with Drive by wire fuel system and it is equipped with an electric start system.
This UTV has a Yamaha Ultramatic® CVT automatic V-belt transmission system, while its On-Command® drive system lets you switch between 2WD, 4WD, and 4WD with differential lock options with ease.
These two UTVs have approximately the same bed capacity since the Yamaha Wolverine X2 R-Spec can carry loads that weigh less than 540lbs. However, the Challenger 750's towing capacity is significantly lower as the Wolverine X2 can tow loads up to 2,000lbs.
Polaris Ranger Crew XP 1000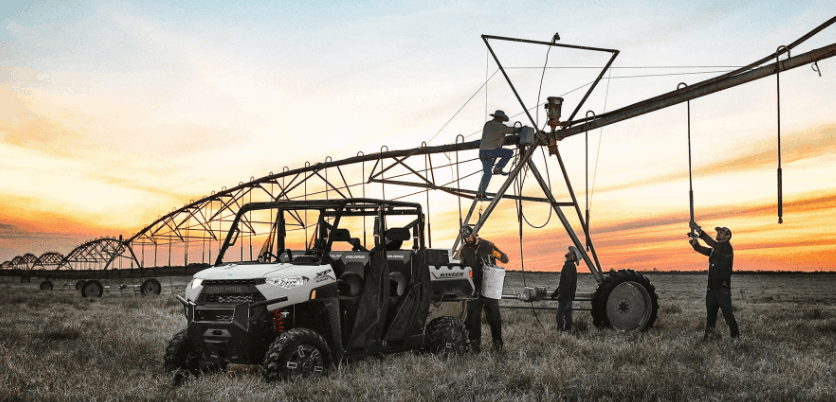 With 2500lbs of towing capacity as well as 1750lbs payload and 1000lbs box capacity, the Polaris Ranger Crew XP 1000 is much more powerful than any of the Challenger 750 models.
This Side-by-Side utility vehicle has an 82HP 999cc 4-Stroke Twin Cylinder DOHC engine that utilizes the electronic fuel injections system. The drive system lets you choose between high performance on-demand true AWD, 2WD, and VersaTrac Turf modes.
The Polaris' UTV is spacious enough to accommodate up to six passengers while maintaining industry-leading 13-inch ground clearance. It also features a 4-inch Rider Information Center that displays all the most important parameters you need to keep an eye on.
The Ranger Crew XP 1000 has a dual glove box that enables you to store all essentials quickly, while it also provides ample storage space for all the equipment and materials you want to transport with this UTV.
Kawasaki Mule Pro-FX EPS LE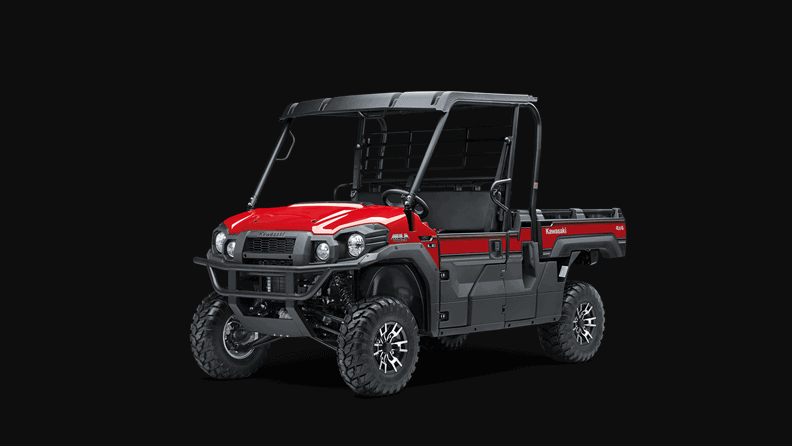 Even though it is much more expensive than the Cub Cadet Challenger 750, the Kawasaki Mule Pro-FX EPS LE is still worth investing in. The UTV's 2,000lbs towing capacity is just one of the advantages this Kawasaki's model has over the Cub Cadet's vehicle.
Besides, the Mule Pro-FX EPS LE can carry 1616lbs of load and it has a 1000lbs bed capacity. This model has an 812cc 4-stroke, 3-cylinder DOHC engine that can produce 48lb-ft of torque at 3500rpm. In addition, it supports engine braking and it utilizes the CVT transmission system.
The UTV can switch between 2WD, 4WD, and dual rear mode with differential lock drive system options and it provides you with 10.4-inches of ground clearance. What's more, the Mule Pro-FX EPS LE has a 16-feet turning radius and 8.7-inches of travel.
Opting for one of the available packages will grant you access to a roof, a windshield or rear bumper, and various other accessories but it will also increase the UTV's price.
FAQs About the Cub Cadet Challenger 750
Question: Where can I use the Cub Cadet Challenger 750?
Answer: This Cub Cadet can be used for anything from driving through your estate to climbing steep hills. Despite offering the engine braking option, its braking system is not designed to withstand frequent heavy-duty usage.
Question: How much does the Cub Cadet Challenger 750 cost?
Answer: You can get this UTV for approximately $10.000 to $12.000, but you should keep in mind that the base model lacks many of the accessories that will make riding this model under different weather conditions much easier.
Question: Which type of headlights and taillights does the Cub Cadet Challenger 750 have?
Answer: This Cub Cadet's model has LED headlight and taillight and you can purchase their replacements directly from the manufacturer.
Question: Does the Cup Cadet Challenger 750 have a hitch receiver?
Answer:Yes, it does. This UTV is equipped with a standard 2-inch hitch receiver that is compatible with most trailers.
Final Thoughts
Cub Cadet's Challenger 750 is not one of the industry-leading UTV's because it doesn't have an engine that can offer the towing capacity of the models like Kawasaki Mule Pro-FX EPS LE or Yamaha Wolverine X2R-Spec.
With that being said, this model features a bed that can withstand 500lbs of weight and you can use this UTV to tow loads that weigh up to 1,200lbs. This UTV performs equally well on rough, icy, or wet terrains, and you can use it regardless of the weather conditions.
The Challenger 750 can climb a steep hill effortlessly, but it may struggle during long and steep descents. The features this UTV offers are well worth the money, as you only have to spend a fraction of what you have to spend on models with a 2,000lbs towing capacity.
Hopefully, this Cub Cadet review supplied you with enough information about this UTV to decide if the Challenger 750 is a good pick for you. Leave a comment and let us know or check out our guide to the best ATVs on the market.